Adadi Mariam Rock Church
ADADI MARIAM ROCK CHURCH
General information, frequently asked questions about Adadi Mariam Rock Church and answers
This is Merit Ethiopian Experience Tours blog post about the church of Adadi Mariam which is dug in to the ground. We provide information about Adadi Mariam church and answer common questions visitors ask about the church.
Adadi Mariam (written as "አዳዲ ማሪያም" in Amharic language) is a rock-hewn church near Addis Ababa. "Adadi Mariam" is also spelled as Adadi Mariyam, or Adadi Maryam.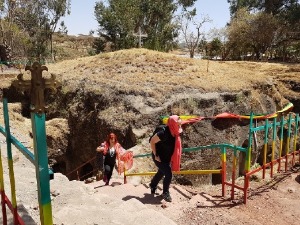 If you are planning a visit to Adadi Mariam Rock Church, please contact us on WhatsApp!
Adadi Mariam Rock Church (አዳዲ ደብረ ምሕረት ቅድስት ማርያም) is located 66 km southwest of Addis Ababa. It is 12 km west of the main Addis Ababa – Butajira road. Adadi Mariam is set at an altitude of 1900 meters (or 6,235 feet) above sea level.
Adadi Mariam is an active church belonging to the Ethiopian Orthodox Tewahido Church. This church was carved out of a solid piece of rock in the 12th or 13th Century AD. Local tradition holds that its establishment is related to King Lalibela's visit to the nearby Ziquala Abo Monastery in 1106AD. King Lalibela is believed to be the founder of Adadi Mariam Rock Church.
The architecture of Adadi Mariam Monastery is semi-monolithic. In Tigray region of Ethiopia's north and at Lalibela, there is a long tradition of carving churches out of rock.
There are three types of rock cut churches in Ethiopia: -
Monolithic Churches are fully carved out of rock. Its four sides and the roof are detached from the surrounding mother rock.
Semi-Monolithic Churches, like Adadi Mariam Rock Church, are partially dug out of the main rock and part of the church is still connected with the ground (cliff).
Cave Built Up Churches are established in already existing churches by building wall partitions. Asheton Mariam church

near Lalibela is a good example of Cave Built Up Church.
ROCK CHURCH OF ADADI MARIAM - Frequently Asked Questions and Answers
You may also wonder about the common questions about Adadi Mariyam visitors ask. Here are a few frequently asked questions regarding Adadi Mariam with their answers.
Why is Adadi Mariyam Church Carved into the rock?
Apart from religious reasons, the short answer is durability and protection. Generally, churches dug into the rock are more durable than constructed ones. And, level of the roof of Adadi Mariyam church aligns with the ground level. This made it concealed from probable attackers.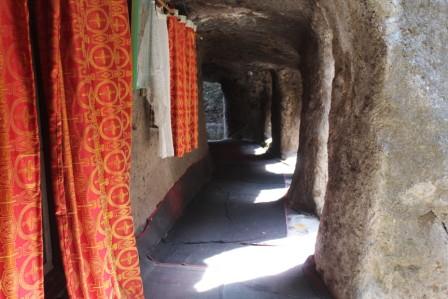 Why King Saint Lalibela carved Adadi Mariyam far away south from the other 11 rock churches of Lalibela of Northern Ethiopia?
According to the legend, the foundation of Adadi Mariam is connected with the arrival of a notable Egyptian Saint - Abune Gabre Menfes Qedus - to Ethiopia. The Saint (named "ABO" in short) came to Ethiopia at the time King Lalibela had just finished carving the famous 11 rock churches of Lalibela in northern Ethiopia. Abo visited the Lalibela Churches and continued his journey south to Mount Zuqualla (also spelled as Ziquala or Ziqawla) where he established a Zuquala Abo Monastery.
Later, King Lalibela visited Zuquala Abo Monastery. It was during that time that King Lalibela established Adadi Mariam Church - led by Heavenly Visions or advised by Abune Gabre Menfes Qedus. Find detailed information about History of Adadi Mariyam Rock Church.
What is the best day of the week to visit Adadi Mariyam Rock Church?
If you visit Adadi on Thursdays or Sundays, there is an added advantage of visiting a weekly held cultural market of the Oromo people at Adadi town. 21st Day of all Ethiopian Months is Saint Mary's Day for whom Adadi Mariam is dedicated to. On these days, you can experience a church service of the Ethiopian Orthodox Church which attended by a number of pilgrims from Addis Ababa.
Why are weekly held markets important in Ethiopia?
Cultural weekly markets are significant in many parts of Ethiopia including the Thursday and Sunday markets at Adadi town. These markets play important role for their cultural and social significance in addition to their economic value.
As the large part of Ethiopian population is engaged in agriculture and live in the countryside far apart from each other, the weekly held markets help locals to get together. During the markets, people share information on what is going on where they live, and other news on marriage, holidays, death, sick, and all-important matters.
These weekly markets are also where a lot of young boys and girls meet their future spouse. With day trips from Addis Ababa, you can experience life including visiting the weekly markets of Adadi Mariam.
How much is the entrance fee to visit Adadi Mariam Rock Church?

For foreign visitors, the admission fee to the church is 200 Ethiopian Birr (5.5 US Dollars per person).
Are there interesting sites to visit near Adadi Mariam?
Visiting the Prehistoric Archaeological site of Melka Kunture and the UNESCO World Heritage Site of the Steles of Tiya can be combined with a day tour from Addis Ababa when visiting Adadi Mariyam Rock Church. The colorful weekly held Thursday and Sunday cultural market at Adadi town is worth visiting.
How to visit Adadi Mariam Rock Church?
If you have one day in Addis Ababa, you can book a one-day trip to visit Adadi Mariam Rock Church and Steles of Tiya with Merit Ethiopian Experience Tours. Or you can arrange your excursion with us directly.
Please check out our other blogs on Ethiopia we post.
To know even more about the history, background, and detailed information about the church, read this informative and useful post about Adadi Mariam Rock Church
See how our previous clients enjoyed their day trip to Adadi Mariam Rock Church with Merit Ethiopian Experience Tours. Or if you travelled with us, please rate and review your trip with us on TripAdvisor by following the link below.
MERIT ETHIOPIAN EXPERIENCE TOURS [MEET]
Book EthioPerience!
---

Contact us soon at
Call us on +251-91-136-0488 OR +251-96-307-8067
Drop us a message or chat with us on WhatsApp
Twitter - Follow us on Twitter
Facebook – Get in touch with us on Facebook
LinkedIn – Connect with us on LinkedIn
Instagram – See where we can take you in Ethiopia
Pinterest – Discover what you can do in Ethiopia with MERIT