About Us
About Merit Ethiopian Experience Tours
Welcome to MERIT ETHIOPIAN EXPERIENCE TOURS [MEET]! We are local tour operators based in Addis Ababa, Ethiopia. Find your best-fit private tours and activities in and around Addis Ababa with us.
Merit Ethiopian Experience Tours [MEET] helps you book best private tours in Ethiopia. Our focus on providing you great tour experience are:-
- Professionalism,
- Personalized tours,
- Insightful experiences, and
- Uniqueness.
Founded in 2008 by Mr. Muluken Girma Tamirat, Merit Ethiopian Experience Tours organizes custom tours of great Merit. Muluken (nicknamed as "MULÉ") is native Ethiopian born and grew up in Addis Ababa city.
WHO WE ARE
Muluken Girma (Mr.) - Founder and Tour Operator
Hello! I am Muluken. I'm a professional Ethiopian tour operator from Addis Ababa. I am a graduate in Accounting from Mekelle University Faculty of Business and Economics, Northern Ethiopia in 2001. But, soon after I started working as an accountant, I believed that it was not a job for me. I waited for a year until the academic year to study tourism started.

I quitted my Accounting job and started studying Travel Operations Management full-time at the Catering and Tourism Training Institute (CTTI) of Ethiopia in Addis Ababa. This institute was the only educational center in Ethiopia training students in Tourism. I was diligent enough to get graduated in Diploma with "Distinctions" Ranking after two years of studying.

After graduation, I worked as a tour guide and tour operator at Paradise Ethiopia Travel and Dinknesh Ethiopia Tour (on permanent basis). As a freelancer tour guide, I had worked at many local tour companies including Teddy Tour and Ethiopian Rift Valley Safaris.

Starting from September 2008, I run Merit Ethiopian Experience Tours. I've been enjoying the merits of providing private trips all over Ethiopia. Since 2015/2016, Merit Ethiopian Experience Tours [MEET] has mainly been serving visitors on few day tours in and around Addis Ababa.

I hope you enjoy our private city tours in Addis Ababa, day tours from Addis Ababa, and tailor-made tours in Ethiopia as much as we enjoy offering them to you. If you have any questions or comments, please don't hesitate to contact us link.
Muluken Girma, Tour Operator and Guide at Merit Ethiopian Experience Tours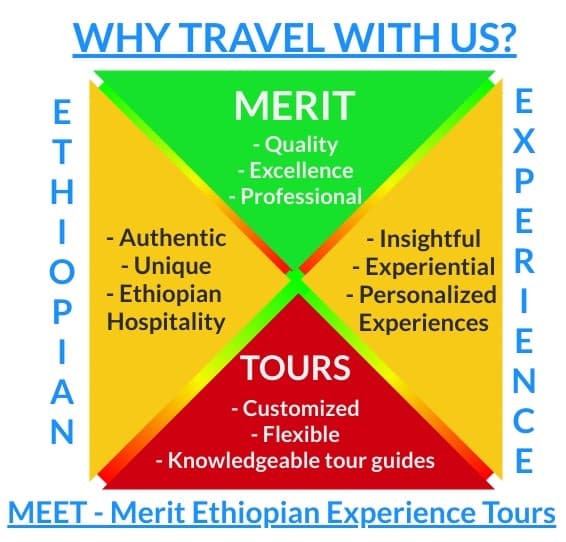 WHAT WE DO
- We offer small group and individual tours in Ethiopia. See the list of our interesting Day Tours from Addis Ababa ranging from half-day to three days trips in Ethiopia.
- We organize your private city tours in Addis Ababa and around. Our tour are designed to fit with your expectations, and travel styles. You can start your tour of Ethiopia according to the arrival and departure times of your flight. We are flexible to offer free pick-up and drop-off, and customize your visit with your other inquiries.
- We provide individualized Addis Ababa tours and travel related services. To offer your typical tour in Ethiopia, we start from the scratch with your questions. Contact and tell us your interests, how long you plan for the tour, your budget, or anything you have in mind. We design our best tour itinerary of visiting Ethiopia depending on your information. Together we keep revising your tour plan until you tell us "THAT IS THE TOUR I MEAN". DONE! Let's MEET at Addis Ababa and discover Ethiopia!
WHY BOOK YOUR TOUR OF ETHIOPIA WITH US?
- MERIT – Tours of great Merit
- ETHIOPIAN – Authentic and unique trips
- EXPERIENCE – Insightful and life-enriching Experiences
- TOURS – Customized Tours with expert tour guides
Once again! Merit Ethiopian Experience Tours [MEET] would like to welcome you to Ethiopia – LAND OF ORIGINS!
MEET the best and travel Ethiopia Merited!
Please, read visitors' testimonials about their Addis Ababa City Tours, day trips around the city or other trips in Ethiopia they booked with Merit Ethiopian Experience Tours. You can also read other visitors' reviews about thier trips with Merit Ethiopian Experience Tours on TripAdvisor. If you visited Addis Ababa with us or booked one of our tours, please share your experience for fellow travelers on TripAdvisor by clicking the following link. Thank you!
GET THE SOLUTION WITH US TO HAVE IT YOUR WAY!
Email us soon at [email protected] or [email protected], or [email protected]
Call us on +251-911-360488 OR +251-963-078067
Drop us a message or chat with us on WhatsApp
Twitter - Follow us on Twitter