TESTIMONIALS
Testimonials about Merit Ethiopian Experience Tours and the founder Muluken Girma on Third Party Websites.
Travelers reviews and ratings for Merit Ethiopian Experience Tours on TripAdvisor about city tours in Addis and day trips from Addis Ababa
TourHQ Visitors' Reviews and Ratings for Muluken Girma as a tour guide
Following are visitors' testimonials in their own words from most recent to oldest. Quick Contact with Merit Ethiopian Experience Tours - let us help you have a special tour in Ethiopia and have your testimonials below.
All staff members of Merit Ethiopian Tours are here to make your travels in Ethiopia a lifetime memory.
If you already traveled with Merit Ethiopian Experience Tours, please click the following link to share your experience on TripAdvisor.
"Professional and Flexible Guide"
"Mule is a professional guide who was very accommodating and flexible for our Full-day private tour in Addis Ababa, especially since we were traveling with a baby and only had a few hours to spend in Addis. We booked the tour on short notice and everything went very smoothly!
TripAdvisor review on Aug 18, 2022 by Timothy Astandu from Indonesia
======
"Great Day in Addis!"
We booked with this company for a day tour of Addis Ababa and had a wonderful experience! Muluken did a great job at coordinating our booking and making us feel welcome in his city.
We visited all of the main sites, with an exception of the National Museum (home of "Lucy"), which was closed. The highlight of our trip was a visit to a local home, where was also had lunch. It was interesting to see how the locals live and also try some local foods. We felt welcome in their home, and we would highly recommend this experience to everyone visiting Ethiopia.
Muluken was great to deal with! He provided excellent communication and was respectful of our own cultures as well.
TripAdvisor review: Full-Day Private City Tour of Addis Ababa
Bobby Hall, from USA, August 2022
======
STOP HERE! This is the guide and tour of Addis Ababa you should go on - professional, informative, reliable, unique, and enjoyable.
Gregg Robinson from Canada in July 2022
Review on ToursByLocals
======
I booked a two days tour at Lalibela rock churches by flight from Addis Ababa (July 16 and 17, 2022) with Muluken Girma and It was really amazing: the visit with the guide, Destaw, was very interesting and everything was perfectly organized. When I was in Addis Ababa I requested two half day tours of the city and the guide, Biruk, was very nice and interesting. I really appreciate the experience and I always felt safe with them! Thank you!!
Elena Abbiati and Isacco Nuvoloni from Italy
Review on Google Business Profile with 5-Stars Rating in July 2022
======
Muluken is such a kind and genuine person. Something about his energy and attitude made
my day trip to Debre Libanos from Addis Ababa so enjoyable. I highly recommend using him for your trip to Ethiopia.
Cameron Mofid from USA
Review on TripAdvisor in April 2022
======
I contacted Muluken for a night tour of Addis Ababa whilst I was in transfer. The attention and replies were extremely prompt and he quickly assisted me in setting up a transit tour in Addis Ababa. The evening was excellent with a lot of sights visited (albeit at night) and numerous exciting details. The guide was very friendly, knowledgeable and passionate, which made the evening tour better and it is making sure that I come back for a much longer period.
My recommendation is that Ethiopian Airlines should reach out to these tour companies and encompass a visit to Addis Ababa whilst passengers are in transit - this will open up the country to more opportunities and allow us to experience the great culture that is Ethiopia.
Carla Ribeiro, April 25, 2022
Review left with 5-Stars Rating on Google Business Profile
======
I had a great time and was well provided for by Muluken. We had an amazing tour from Addis Ababa, and this was an amazing value considering what we did in one day.
We had enough time to enjoy a spectacular view along the way to the Tiya stones, as well as the impressive rock-hewn church (Adadi Mariam), a museum showing ancient hominid tools discovered nearby, and even stop in to a local hut to enjoy an amazing fresh cheese dish with Injera made by locals (including coffee). Culminating in learning about the Tiya stones, it was all in all a very fulfilling experience and we felt safe bringing our young kids along.
Muluken is very knowledgeable about Ethiopia and makes plenty of pit stops for food and water. He will answer any questions you have along the way.
Lidiya and Franz from USA, June 12, 2021
As reviewed on Google My Business – Muluken Girma Addis Ababa Tour Guide
======
We had booked for the two days tour from Addis Ababa to Harar with Muluken for the end of April 2020. He made every effort to adapt the itinerary to fit in with our other travel plans.
Then of course the Covid pandemic arrived. Naively, we rebooked again and again; Muluken running around changing our bookings and keeping in contact. Finally, the inevitable - cancelling.
Muluken had bought our domestic Ethiopian Airlines tickets for us using the deposit we had paid had him. Getting those tickets refunded by Ethiopian Airlines was never going to be straight forward.
However, with Muluken's determination, persistence and a bit of lateral thinking, we got it all sorted. I can only praise Muluken Girma for his organization, dedication and honesty. We will be in contact with Muluken to take the two-day trip from Addis Ababa to Harar, East Ethiopia when the world can finally travel again.
Gene Wijffels, from Australia – June 06, 2021
5* Ratings for Muluken Girma Addis Ababa Tour Guide on Google My Business
======
A well thought out tour giving a good glimpse of Addis Ababa's local life. The family visit especially seemed very genuine and was extremely interesting, showing living conditions and coffee, beer culture. Our tour guide Muluken was excellent with great local knowledge and information.
Deryk Cave from USA, June 04, 2021
As reviewed on TripAdvisor for Addis Ababa - Half Day Cultural Experience
======
It is 2nd tour with Muluken, 2.5 years apart, and great again. Muluken is very professional, friendly & knowledgeable tour guide. We started the tour late because I was delayed at the customs office trying to retrieve a package. He waited for us for more than 1 hour without complaining and arrived with a smile on his face when we were ready. Muluken provided the same great tour of one day from Addis Ababa as if we had started on time. He's a great tour guide.

Ryan Smith, from Brazil, December 2020
======
Ethiopia is for sure a 'must do' travel destination for travellers who love to explore unique and sacred places in The Horn of Africa. Visiting the spiritual churches of Lalibela and sitting high in the mountains of Simien Mountains National Park, surrounded with hundreds of Gelada Baboons is a life-altering experience! I organized this travel all myself and met during my journey great local guides like Muluken Girma based in Addis Ababa.
Linda Hilberdink, from Holland, June 2020 on LinkedIn Post
======
Muluken Girma organised a personalised day tour from Addis Ababa on the day of our layover on our way from Zimbabwe to UK with Ethiopian Airlines. We have had a fantastic experience with Muluken. The main point of the day trip was the Rift Valley Lake of Ziway on a round tour for a total drive on a loop of about 360 km.
We stopped at different outlooks and enjoyed views of the Ethiopian part of the Great East African Rift Valley. There was also a potential visit to the grave site of Tiya, but, unfortunately, it was closed for renovation. We have visited a local family house (around the Steles of Tiya) where the local ways of preparing food were demonstrated to us. It was a very interesting cultural experience.
We would like to thank Muluken for the very well organised tour and also for his personal input and very nice and warm attitude which made us feel very well looked after by a good friend.
Natalie and Roger Mills, from UK, March 2020
======
I was happy to return to Addis Abeba for the first time after 63 years.
I contacted Muluken Girma, the most perfect Tour Guide. He customized a private city tour of Addis Ababa for us after having received vague descriptions of my memories from 1957.

We appreciated his perfect English that enabled us to improvise, i e stops to take photos or to take walks to get the sense of a certain place. I was very happy. Of course we also went to the more famous attractions of Addis Ababa and Muluken could tell us about Ethiopian history and fill us in with specific facts. We were also impressed by the driver who made us feel safe in the hectic traffic of Addis during Adwa celebration day.
Thank you Muluken!
Rigmor and Lars from Sweden
March 2020
======
Muluken was a wonderful and informative tour guide in Addis. He and our driver helped us see a lot of Addis Ababa city in one day. We loved seeing the sites of Addis Ababa, various churches, Lucy fossils at National Museum of Ethiopia, the African Union and having lunch and coffee ceremony at a local restaurant up at Mount Entoto with a great view!
Muluken is very knowledgeable about the history of Addis Ababa and Ethiopia, and we very much appreciated him sharing his knowledge with us. He and our driver were personable and professional, and we would recommend them to all.
Fredrick Miller March 2020
=======
WOW!! As someone who travels often (over 40 countries), the one day city tour in Addis Ababa I took with Merit Ethiopia Tours was one of the best tours ever. The tour guide, Gatahun, is a young man who is passionate about Ethiopia and its history. His English was very good as well.
We visited so many fascinating places of visits in Addis Ababa, including the Holy Trinity Cathedral, National Museum of Ethiopia (my favorite), Addis Mercato (Merkato Market), Red Terror Martyrs Memorial Museum, and much more.
I highly recommend this tour to anyone visiting Addis Ababa even just a long layover (which was my case). The driver, Nebiyu, did an excellent job, too.
Thank you!!
Chris Hamilton, February 2020
======
We are a couple from GB. We were visiting Ethiopia staying with an Ethiopian friend in Addis Ababa. We wanted to see more of the country so looked for someone to organize private tour to Northern Ethiopia, and the Rift Valley while we were in the country. We always prefer to use an in-country tour organizers rather than a UK based agency so that all the funds are spent in the country being visited.
We found Muluken Girma through a search on Trip Advisor. Making the arrangements with Muluken worked well via email, and Muluken responded very well to the requests and suggestions we made.

For our visit to Bahir Dar and Lalibela Muluken arranged for excellent drivers and guides, especially in Lalibela, which was the highlight of our two weeks in Ethiopia. The recommended hotels were very good, except that the bathroom in the Abay Minch Lodge in Bahir Dar was in urgent need of some maintenance. We were particularly pleased with the Mountain View Hotel in Lalibela and Sabana Beach Resort at Langano Lake.
We have recommended that Muluken supply a larger vehicle for journeys of over 2 hours in length given the condition of some roads.
Overall we strongly recommend Muluken Girma who is good to do business with.
David and Linda Wright from Great Britain
February 2020
======
I had a 15 hour layover in Addis Ababa. I signed up for the private full day Addis Ababa City Tour so I could check out the city. The tour guide and the driver met me at Addis Ababa Bole International Airport at the time they said they would. My guide's name is Muluken Girma and he is very knowledgeable. Our driver was a very good navigator and brought us everywhere safely.
As a solo traveler I felt it was a very safe tour as well. By far my favorite part of this experience was the coffee ceremony with at the family's home. If you have a lengthy layover in Addis Ababa and don't want to remain at the airport or hotel the entire time, consider taking this private sightseeing tour in Addis Ababa city!
Derek James, February 2020
======
Really great day with Getahun and Jemal!
We were two friends traveling together and although we usually don't do organized sightseeing tours, having a guide on the first day was a very good decision for two women alone. I was in contact with Muluken Girma via email before our arrival and we were given Getahun's phone number.
We got to see and do some things that alone we'd probably not have felt comfortable doing. Guys from Merit Ethiopian Tours were able to customize the tour according to our wishes (we decided to skip the museums and do them on our own): we got to see the Holy Trinity Cathedral, Entoto Hill, Merkato and Chiromeda markets and several other monuments. They took us to a store to buy some Ethiopian wine (excellent Chardonnay btw) and to Tomoca to buy coffee.
But, the absolute highlight of the city tour of Addis Ababa was the traditional coffee ceremony at a very local place on Entoto, something that we would have never have found on our own. Not only did we get to experience the coffee ceremony, we also were able to try the local beer and hard liquor and we saw how the injera is made.
Getahun was very knowledgeable about all things Ethiopian, from history, religion, to every day customs and unique things. Jamal's driving was excellent in the sometimes very chaotic traffic. Highly recommended!!
Amra Ljubovic, February 2020
======
We had an eventful, impressive day tour from Addis Ababa with Biruk and Jemal today. Biruk provided us with a lot of interesting information regarding history, culture, political situation and everyday life in Ethiopia during this day trip. He is an extremely helpful, committed guide. Everyone has taken us all day with his calm, safe driving through difficult terrain.
We highly recommend this tour!
Gerhard and Ester, January 2020
======
We had a wonderful tour of Addis Ababa today with Muluken Girma as a guide and his chauffeur Jemal in Addis Ababa. Muluken not only gave us information about the history of the city, but explained everything in a humorous and loving way. After an exhausting night flight, we were able to experience a relaxing day with many interesting experiences, personal encounters. Thank you for that!
Ester and Gerhard from Austria, January 2020
======
Our family of six traveled to Addis Ababa for the first time since we adopted our daughters from Ethiopia 12 years ago. Our purpose was to experience the sites and culture with our now high-school-aged adopted daughters. Muluken went above and beyond, connecting us with the director of the now-closed orphanage who provided us with valuable information. In addition, he persistently pursued leads and was able to locate and arrange meetings with several dozen of our daughters' family members, including a brother and sister none of us knew existed. I can't express how much impact Muluken's investment in our experience had for our family. He would have earned his 5 stars from us all without making those additional connections. There's a reason he's the #1 ranked tour guide in Addis Ababa!
T. Waal from USA, January 2020
======
Muluken ensures that every one of his clients has a unique experience. We visited multiple sites over
the course of several days. He was extremely flexible, pleasant, present, engaged, and easy to work
with. I will be using Muluken again the next time we're in Ethiopia.
Hawkosky January 2020
====
We enjoyed our private tour of Northern Ethiopia with Muluken. He was very professional, punctual and accommodating. His knowledge of local sites in Addis Ababa, Bahir Dar and Gondar was impressive. He had a good temperament and made us feel secure in a foreign land. He provided good insight about the society and did not overload us with too much information.

Bulent Ender
December 2019
======
Cannot speak highly enough of this tour guide. Muluken has amazingly deep knowledge of Addis and the surrounding areas. The way in which he imparts the information and his command of English are bound to make for a great day. We enjoyed every minute of the two tours that we did. Great value! We learnt so much and saw some really fascinating sites. Just driving around Addis is a joy in itself.
Mark Laverty
From Great Britain
December 2019
======
The tours I did with Muluken were fantastic. I only had a few days free in Ethiopia and Muluken was able to provide an unforgettable personal experience. Everything was as promised and went smoothly.
Muluken is very pleasant, well informed and was able to provide me with much knowledge about Ethiopian culture, history, economics and politics.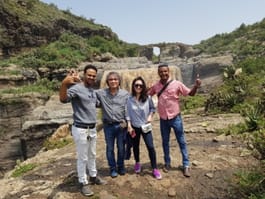 I chose the itinerary Muluken suggested, a day tour to the Debre Libanos Monastery and Jemma river gorge, followed by the 2 day tour to the Rift Valley which included visits to the rock church of Adadi Mariam, a local market, the world heritage Steles of Tiya, staying at the excellent Haile Resort on the shore of Lake Awassa. The return to Addis Ababa featured a visit to local fish market, Abiyatta Shalla national park and Lake Ziway.
For me, highlights were sampling the local food at popular local restaurants, stopping at the homes of villagers, meeting them and seeing how they live. This gave me great insight into modern day Ethiopia, the wonderful diverse cultures and the challenges the country faces. Muluken and his team are to be recommended for the excellent, informative and exciting tours.
Brian Anderson
November 2019
======
Muluken Girma is an uncommon tour guide as he has special skills to introduce tourists in the Ethiopian spirit. Very high quality of professional service and excellent level of English define Muluken as the perfect person to understand the cultures and the beauty of Ethiopian geographic landscapes.
Gustavo Richardson
From Argentina
November 2019
======
The Merit Ethiopian Experience was fantastic, I only had a few days free in Ethiopia and Muluken was able to provide an unforgettable personal experience. Everything was as promised and went smoothly.
Muluken is very pleasant, well informed and was able to provide me with much knowledge about Ethiopian culture, history, economics and politics.
The itinerary Muluken suggested, a day tour to the Debre Libanos Monastery and Jemma river gorge. The local guides at each stop were excellent.
For me the highlights were sampling the local food at popular local restaurants, stopping at the homes of villagers, meeting them and seeing how they live. This gave me great insight into modern day Ethiopia, the wonderful diverse cultures and the challenges the country faces.
Muluken and his team are to be recommended for the excellent, informative and exciting tours.
Brian
November 2019
======
Muluken Girma introduced us to Ethiopian spirit in the deepest way. His high professional level as tour guide and his excellent English skills allowed us to know in each visited places the real Ethiopian way of living
OCT 29, 2019
======
Muluken picked myself and two friends up from the hotel and we then had to walk a little while to the van due to road closures for the Irrecha Festival. The walk itself was an experience and the drive to the countryside where we stopped at a small village was very interesting. The Debre Libanos Monastery was stimulating and the museum was an added bonus. The next stop was the Portuguese Bridge and we were lucky enough to see a troop of Gelada baboons crossing the bridge. Muluken and the driver were extremely friendly and Muluken was very knowledgeable and happy to answer any question. I would thoroughly recommend Muluken and this tour.
OCT 29, 2019
======
I hired Muluken for the three days I was in Addis Ababa because I had little time in Ethiopia and wanted to make the most of it with trips outside of the city. He helped customize my itinerary and made it an unforgettable experience! Plus I got to meet locals in the areas we toured, which I feel added a lot to the sightseeing.
Olga Lexell
August 2019
======
I had an 18 hour layover between flights in Addis on a business trip, and decided that I'd use this as the opportunity to do some reconnaissance to confirm whether or not Ethiopia was somewhere that our family would like to visit in the future.
I absolutely loved the trip, which provided a fascinating and varied introduction to the country's landscape, nature and wildlife (particularly endemic species).
The highlight for me was Portuguese Bridge and the Jemma River gorge. The landscape is stunning, and using a local guide means that you get an excellent perspective on the wildlife. I am a keen birder, so was very excited to see Rupell's black winged cliff chat (whose distinctive call you'll hear reverberating through the gorge), sunbirds and two species of vulture - hooded vulture and lammergeier - as well as several other species.
We were also able to spend some time watching a family group of gelada baboon who - despite having fearsome canines, are vegetarian - who were digging for roots and bulbs.
Lunch was delicious - injera flat bread with a selection of stews, sauces and vegetables, eaten in the traditional style with hands and washed down with a cold Habesha beer. As I visited during Lent, the food was vegetarian, featuring lentils, cabbage and beetroot, so vegetarians could request this meat-free version outside of the fasting season.
Mulu speaks excellent English, and I found him friendly, well informed and very accommodating. When I indicated that I didn't want to attend a coffee ceremony because I have a food intolerance (and didn't want to risk offending my hosts by not drinking what they'd made for me), he was totally unfazed, and rearranged the schedule accordingly. He was happy to make unscheduled stops to explore things that I was interested in (including a lengthy stop by a stand of bushes alive with seed eating birds) and took me to a supermarket in Addis where I could buy local honey and tea to bring home with me. Most importantly, I never felt as though I was being rushed.
I would highly recommend this tour, and on this basis, I am confident that we will be back as a family to explore Ethiopia in the future.
Catherine
March 2019
======
Muluken spoke very good English and was informative about the area we were travelling through and readily responded to any of my questions along the way. The Day Tour was well managed allowing adequate time to experience and enjoy each of the places visited.
Lynley Marett
September 2018
======
Highly recommended! I did two tours with him in two days. Muluken did a great job. He was very responsive to my initial email queries, and was very prompt and flexible. He is a very pleasant young man with vast knowledge of the culture, history and politics of not only Ethiopia, but all of Africa. Hi driver is also great Highly recommended!
James Reinnoldt
September 2018
======
This was an excellent tour covering much of Ethiopia. Muluken, our guide was with us throughout the tour. He was quietly efficient. Everything was highly organised without any fuss. Each day brought new experiences. Muluken answered all our questions, and sorted out any issues. We had excellent fully informed guides when needed on the sites, who all spoke excellent English. We really enjoyed our time in Ethiopia.
Christopher Nursey
March 2018
======
Muluken was a wonderful tour guide. He was extremely well informed, accommodating, and friendly. He even helped me to mail a package to the United States. I would not hesitate to book his services again.
David Kimel
August 2017
======
Muluken - I have NEVER in my life been so touched and impacted by any tour that I have been on, as I have been on my tour with you. You showed to me - your AFRICA. I sit here 2 days after I said goodbye at the Addis airport trying to put into words something that would really "capture" the humanity, the feelings, the people, the lives, the way the people live, the sounds, the resourcefulness, the poverty, the overworked women. This is an awesome tour, a life changing tour, and I cannot thank you enough.
Lois Smith
January 2017
======
This was an amazing trip and Muluken took very good care of us. He was attentive and quick to respond to our questions and wants. He was also extremely accommodating when it came to making extra stops along the way, which made the trip longer but worth it. the drive is less than two hours from Addis Ababa but there is plenty to see along the way. The site itself is beautiful but this trip is all about the beautiful and interesting views along the journey.
January 2015
======
Muluken Girma, before he founded Merit Ethiopian Experience Tours, has hosted a film crew from the famous American TV company - Travel Channel for a program called Bizarre Foods. Watch Muluken's performance on Youtube
======
Muluken is a knowledgeable and likeable young man. He went out of his way to assist us in having a wonderful experience in Ethiopia in August 2013. Flexible and willing to go the extra mile, he ensured that my friend and I had a truly wonderful experience and we fell in love with the country as a result. Together with his driver, Fitsum, we had plenty of fun - and laughter was the order of our days together.
Lois Wagner
South Africa
======
DEAR MULUKEN,
THANK YOU AGAIN FOR ANOTHER UNFORGETTABLE ETHIOPIAN EXPERIENCE!
IT IS ALWAYS A GREAT PLEASURE TO TRAVEL WITH YOU. YOU KNOW WHAT WE LIKE AND YOU ARE ALSO
FLEXIBLE TO ADJUST WHEN THE SITUATION CALLS FOR IT.
THANK YOU ALSO FOR PROVIDING US AN INSIGHT IN THE ETHIOPIAN LIFE AWAY FROM THE STANDARD TOURISM.
KEEP UP THE GOOD WORK AND SEE YOU AGAIN!
JOHAN AND ANJA
(November 2012)
======
Dear reader,
On our first trip to the Omo Valley of Ethiopia we were fortunate to have Muluken as our guide. Though the southern part of Ethiopia is not really touristically developed, Muluken made sure we had great accomodation and that all our wishes - and we had a few! - were met to full satisfaction. It remains as one of our most unforgettable experiences, thanks to no less part to Muluken adjusting the trip to all our requests, monitoring where necessary but letting us freedom whenever needed. The various markets and villages of the different tribes - Hamar, Karo, Dessenech, Mursi etc. - all made up to an utterly fantastic and unbelievable insight of this to most people unknown part of the world.
We were so impressed that we booked another tour with Merit Ethiopian Experience Tours, the very same year, this time exploring the west bank of the Omo River, especially the Surma tribes. Again Muluken made sure that all our wishes - sometime springing to mind in the midst of a tour - were fulfilled to complete satisfaction.
Which tourist can claim to have visited 2 impressive Donga fights on one day? Well, we can, thanks to Muluken. It seems as if Muluken is part of the different Surma families; they all know and respect him and give the same affection to us as Muluken's friends (yes, we felt like friends, not just like mere customers). Also Muluken again knew to impress us with his knowledge and his possibility to move with an astonishing flexibility through the different wishes and situations.
For us it is a sure thing that we will return to Ethiopia, to our beloved Omo Valley. And it is just as sure that we will pick Muluken as our tour organizer and guide again. It just doesn't get any better. Meet Mule and enjoy!
Best regards,
Johan & Anja
Berlin, Germany
======
'Salamno' Mulu!
Great to hear from you!
Everything is fine with us, thanks. As you can imagine it was difficult to go back to work, especially after such a wonderful trip through Ethiopia.
We would be happy to advertise your fantastic tour organization and guiding capabilities since you took such good care of us and showed us so many beautiful (and difficult) parts of your country. We both came away with a better understanding of Ethiopia and how wonderful and strong the people are and how much they want to improve their country and make things better. It was truly an inspiring trip and you opened our eyes by showing us all aspects of life for the people of Ethiopia.
We're sure we'll see you again one day. We would like to see the more of your country and would certainly make sure we could travel with you.
Best of luck to you and take care Mulu.
Best regards,
Chris & Stefi (Luxemburg)
======
I have just completed my third tour with Muluken(Mule) as a guide and organizer - six years ago we travelled to the Danakil Depression/Axum region together, five years ago to the Gambella, Surma and East Omo Valley, and this year we did a tour of southern Ethiopia including a boat trip to Lake Turkana down the Omo River.
I would highly recommend his service and his local knowledge is outstanding and I would have no hesitation in recommending his company to any traveler especially those intending to venture off the beaten tourist tracks.
All the best Mule and we share a lot of memories.
Allen Gray, New Zealand
======
As a seasoned traveler for 25 years, I led a number of groups of tourists to many countries across the globe. This year I organized my trip with Merit Ethiopian Tours [MEET] to the Omo Valley with 10 people to visit the cultural tribes. Mr. Muluken accompanied us and made sure to put us in the best available hotels, in first class camping, and provide us with delicious meals in the middle of nowhere. He organized very good conditioned 4X4 Toyota Land Cruisers. He and his colleagues were always there to assist us get whatever we needed on time.
I don't hesitate to recommend Mr. Muluken's service to anyone who is interested to travel to Ethiopia.
Best,
Kevin Whitney, USA
======
To Mr. Muluken and To whom it may concern!
My self and two friends from Vienna have completed a Toyota Land Cruiser Excursion from Nov 23rd to Dec 5th 2010 with Merit Tours.
After some internet-research for a suitable agency to rent a four-wheel-drive car I found your company with a fair proposal. Your were the only agency who offered a base-price for the car with fuel to be paid by the clients.
After we met Nov.22nd at the Queen of Sheba Hotel in Addis Abeba the decision was quickly made, because you presented an excellent car with only 18000 km on one side and Mr. Bitnaniya as driver - he made a very good and knowledgeable impression from the first moment. There we concluded our deal in short time and I had to cancel the appointments with two other agencies.
The good impression was confirmed after some days of travelling with Mr. Bitnaniya- he drove defensively and cautiously, he was always punctual, he had an excellent knowledge of all the Northern and Southern regions in Ethiopia. Besides he speaks very well English and assisted us always with his mobile phone in finding suitable Hotels on the route.
After approx. 3200 km through all kinds of surface, through two National Parks and several dirt roads, we know that we had made an excellent decision to choose Merit Ethiopian Experience Tours.
So we thank you again for your excellent cooperation.
Yours truly,
Martin KIermaier, Munich, Germany
Contac us now to organize private tour of Ethiopia with Merit Ethiopian Experience Tours and get your testimonials atop.
GET THE SOLUTION WITH US TO HAVE IT YOUR WAY!
Contact us soon at meetmule@yahoo.co.uk or mulukengirma31@gmail.com, or info@meetmule.com
Call us on +251-911-360488 OR +251-963-078067
Drop us a message or chat with us on WhatsApp
Twitter - Follow us on Twitter