Addis Ababa
Attractions in Addis Ababa - Best things to do in Addis Ababa
Major Attractions in Addis Ababa
Attractions in Addis Ababa is about interesting historical and cultural places in the city. It also includes religious and other important attractions in Addis Ababa. It covers top places of visits, and famous tourist sites in Addis Ababa. Find Local activities, and a short history of Addis Ababa at the end.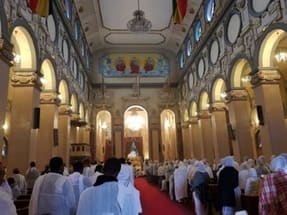 Top Tourist Attractions in Addis Ababa sorted by category curated by Merit Ethiopian Experience Tours [MEET]
Top Museums in Addis Ababa
1. National Museum of Ethiopia – famous for ancient archaeological findings including fossils (skeletons) of Lucy (3.2 million years old)
2. Ethnological (Ethnographic) Museum – where Emperor Haile Sillassie I lived until he made his residence Ethiopia's first university
3. Red Terror Martyrs' Memorial Museum – best for learning the atrocities of Derg Regime (1974 – 1991)
Top Historic Religious Sites in Addis Ababa
1. Holy Trinity Cathedral – notable for its architecture, stained window glasses, paintings and museum
2. Saint Mary Church at Entoto – great for learning about Addis Ababa's foundation and to see Emperor Menelik II's palace
3. Raguel (Elias) Church at Entoto – to see beautiful colorful hand paintings of more than a century
Top Local Markets in Addis Ababa
1. Addis Mercato (Mercato) Market – the biggest of its kind in the African Continent
2. Sholla Market – best for relaxed shopping, experiencing local culture by walking and for photo shoots
3. Shiro Meda Market – top choice to shop for locally hand woven cotton costumes and small gift items
Top Trendy Places to visit in Addis Ababa
1. Andinet or Unity Park – which was the royal residence since the birth of Addis Ababa
2. Entoto Park – nice choice for walking in Eucalyptus trees forest and for enjoying great views of Addis Ababa city
3. Gullele Botanical Garden – ideal garden in Addis Ababa for adventure seekers and nature lovers
Top Historical Monuments in Addis Ababa
1. Tiglachin Monument – relic from the Derg (Communist) Regime and erected in honor of Ethiopian and Cuban soldiers in the war between Ethiopia and Somalia
2. The Lion of Judah Monument – a stone structure of a Lion which was erected during the time of Emperor Haile Sillassie I
3. Statue of Emperor Menelik II – a magnificent statue of the founder of Addis Ababa – Emperor Menelik II

See detailed information below about what-to-do and where-to-go when planning a tour in Addis Ababa. We mention local activities and top ranked things-to-do in Addis Ababa city at the bottom of this page.
Get more ideas on what to do on KAYAK's Addis Ababa Travel Guide.
Name - Addis Ababa – Addis Abeba - አዲስ አበባ
Top Attractions in Addis Ababa
Addis Ababa is Ethiopia's biggest and capital city. The city of Addis Ababa has several attractions of interest to visitors. Historical sights of Addis Ababa are as old as the city itself. But, there are few ancient sites in the vicinity of Addis Ababa. For example the cave church structure at Elias (St. Raguel) church at Entoto, and Washa Michael rock carved building around Yeka Mountain.
Here are the most frequently visited popular tourist attractions in Addis Ababa.
HOLY TRINITY CATHEDRAL
One of the biggest attractions in Addis Abeba is the stunning Holy Trinity Cathedral. The opening of Holy Trinity Cathedral was in 1941/1942. It celebrates Ethiopia's liberation from Italian rule (1936 to 1941).
Holy Trinity Cathedral was built by Ethiopia's final emperor, Haile Sillassie I. He found it upon his return from exile in Britain. Inside the Holy Trinity Cathedral lie the tombs of the emperor and his wife.
The cathedral has a dedicated section which contains the graves of both Empress Menen and Emperor Haile Selassie I. Holy Trinity Cathedral is home to the graves of several prominent Ethiopians. Prime Minister Meles Zenawi and the most famous 20th Century Ethiopian musician Tilahun Gessesse are two examples.
Because of its exquisite architecture and creative stained-glass windows, the Holy Trinity Cathedral is exceptional. Additionally, the church features political and religious hand paintings. Visit its modest yet well-stocked museum.
National Museum of Ethiopia was originally established in 1953 during the reign of Emperor Haile Sillassie. National Museum of Ethiopia in Addis Ababa moved to the current building in 1965.
National Museum of Ethiopia is the most visited museum in Addis Ababa, Ethiopia. This museum is one of the main tourist attractions in Addis Ababa. It is famous for housing the famous fossils of Lucy (or Dinknesh). The best part of the National Museum of Ethiopia is the archaeological section.
The archeological part of the museum gives great information on human evolutions. The well-written displays at this part of the National Museum of Ethiopia is amazing. include million years old fossils of animals and human beings.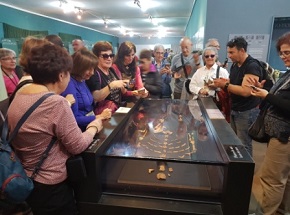 The skeleton of Lucy is at the National Museum of Ethiopia in Addis Ababa. Lucy (or Dinknesh in Amharic language) is the oldest hominid and 3.2 million years old. Dr. Donald Johanson discovered Lucy at Hadar in the North East part of Ethiopia.
The other floors of the National Museum of Ethiopia are not well kept. The displays are not as informative as the ground floor (the archaeological part). Visitors of the museum can get good information about Ethiopia's historical attractions. Especially the Axumite Dynasty – which ruled Ethiopia from Axum (Aksum) Northern Ethiopia. Axum was the capital of Ethiopia for hundreds of years from at least 100 BC to the 7th Century AD.
Visit the National Museum of Ethiopia with #Addis #Ababa #City #Tours with us.
ETHNOLOGICAL MUSEUM
Ethnographic Museum OR Ethnological Museum is one of the best museums in Addis Ababa. It is inside the compound of Addis Ababa University Main Campus at 6 Kilo area.
The Ethnological Museum is a must visit sight in Addis Ababa. The building of the Ethnological Museum was the former house of Emperor Haile Selassie I.
Get a great introduction to Ethiopia's history, people, religion, arts, music and culture.
Things to see and learn at Ethnological (Ethnographic) Museum in Addis Ababa include:-
Learn about the lifecycle of different ethnic groups of Ethiopia

Get basic information about Ethiopia's history, religion and some religious practices

Visit the bedroom of Emperor Haile Sillassie I and his wife Empress Menen

See many musical instruments used in different parts of Ethiopia
Visit Ethnological Museum and explore the best attractions of the city with Full Day City Tour in Addis Ababa.
MOUNT ENTOTO
Entoto Mountain is a few kilometers north of Addis Ababa. The highest point at Mount Entoto is about 3,200 meters above sea level. This elevation qualifies Addis Ababa as the highest elevated capital city in Africa. Addis Ababa is the third-highest capital city in the World after La Paz, Bolivia and Quito, Ecuador.
Mount Entoto (Intoto) is one of the best attractions in Addis Ababa. Visitors have to include in their list of sites to visit in Addis Ababa. Things to see at Mount Entoto start as you drive through the beautiful Eucalyptus Trees Forest. Stop at the famous Shiro Meda Local Market on the way to Mount Entoto.
Other interesting places to visit at Mount Entoto are: -
Saint Raguel (Elias) Church – the oldest church in Addis Ababa

The museum of Saint Mary of Entoto

The grass roofed palace of Emperor Menelik II

Entoto Park, and

Viewpoints to see the city of Addis Ababa
MERKATO (ADDIS MERCATO) MARKET
The gigantic local market of Merkato in Addis Ababa is worth visiting. Merkato is among the must-see and things to do in Addis Ababa. It is well known as "The Biggest Outdoor or Open-Air Market in Africa" You can find almost everything you want in Merkato market - if you know where to look for it.
Best attractions (local spots) at Merkato are:-
- local Ethiopian Spices market,
- Chat (or Khat) leaves market, and
- second-hand (used items) market.
Visiting the recycling area of Merkato to know that almost anything has value at this market.
Discover the best spots of Merkato by walking with Merit Ethiopian Experience Tours! Read details on how you can visit Merkato Market on Half Day Addis Ababa City Tour.
SAINT GEORGE CATHEDRAL
This cathedral is in the Piazza area in Addis Ababa. The octagonal Saint George Cathedral is one of the historic attractions of Addis Ababa. The cathedral is dedicated to Saint George – the patron saint of Ethiopia.
Ethiopians during Emperor Menelik II time went to the Battle of Adwa in 1896. They defended Ethiopia from the colonial invaders. Defeating the Italian invaders, they made Ethiopia never colonized African country.
As they went to the Battle of Adwa, the copy of the Ark of the Covenant from Saint Cathedral accompanied the Ethiopian army. Many believe Saint George helped in defeating the well-armed Italian army.
Saint George Cathedral is notable for its octagonal architecture. The high domes and beautiful mosaics by the renowned Ethiopian artist Afework Tekle are interesting. Saint George Cathedral's other attraction is its small well displayed museum.
RED TERROR MARTYRS' MEMORIAL MUSEUM
This museum is located at Meskel Square – the central square in Addis Ababa. Red Terror Martyrs' Memorial Museum is a nice museum to learn the atrocities of the Derg Regime. Derg ruled Ethiopia from 1974 to 1991.
Entrance to visit Red Terror Martyrs' Memorial Museum is free. Donations at the end of visiting are encouraged.
Brief History of Addis Ababa and things to do in Addis Ababa
Emperor Menelik II is entitled to be the founder of Addis Ababa city. He moved his capital cities from Ankober to Entoto Hills and finally to Addis Ababa. The first temporary camping in Addis Ababa was set up in 1886 around Filwoha Hot Springs.
The wife of Emperor Menelik II, Etege or Empress Taitu christened the site "Addis Ababa" meaning the 'New Flower' in Amharic Language. Bad weather, especially during the rainy seasons, at Entoto Mountain pushed them to move down to Addis Ababa.
Addis Ababa has plenty of spring waters and has a better landscape for living. These and the Natural Hot springs are few pulling factors to set their capital at Addis Ababa.
One of the reasons they had to move their capitals was in search of firewood which was the main source of power. Even after settling at Addis Ababa, Menelik II planned to move to Addis Alem (60 km west of Addis Ababa). Before they moved to Addis Alem, the fast growing Eucalyptus tree reached Addis Ababa. The Eucalyptus helped Addis Ababa to be the last permanent capital city of Ethiopia.
Other interesting things to do and attractions Addis Ababa
ZOMA MUSEUM
The unique place of visit in Addis Ababa of interest to travelers interested in uncommon attractions is Zoma Museum. This museum is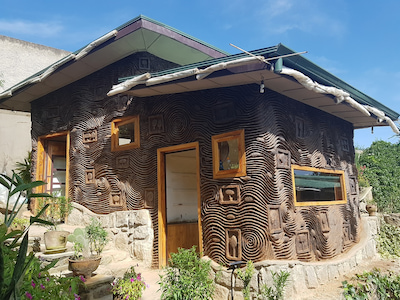 probably the only museum in Addis Ababa known for arts reflected on walls made of dirt (wall). Zoma Museum in Addis Ababa has also a spacious botanical garden. It is a great place to learn about Ethiopia's plants and spices. The restaurant of Zoma Museum prepares tasty food and fresh drinks using its own home-grown vegetables and spices.
MESKEL (MASQAL) SQUARE
Meskel Square is Addis Ababa's central and biggest plaza. Meskel Square is relatively located in the center of Addis Ababa City. The official public demonstration site in Addis Ababa is at Meskel Square.
The name 'Meskel' ('መስቀል' in Ethiopia's Amharic language) means "Cross". Meskel Square is where Addis Ababa's biggest religious ceremony is held at. Meskel celebration is Ethiopian Orthodox Tewahido Church religious festival to honor the findings of the True Cross on which Jesus Christ was crucified on.
Meskel celebration is on September 27th or 28th every year. Meskel Ceremony in Addis Ababa is registered by UNESCO as an Intangible World Heritage.
Meskel Square is an attraction in Addis Ababa to see locals practicing sports in the morning and to experience life at the busy traffic of Addis Ababa Meskel Square is a nice spot take photos of wide lanes, intersecting roads, and the junction of the railway in Addis Ababa.
Local activities to do in Addis Ababa
TRADITIONAL ETHIOPIAN COFFEE CEREMONY
Coffee ("ቡና" in Amharic language) originated in Kaffa (Keffa) area of Western Ethiopia. Coffee Arabica gets its name from the place where it was discovered at in Ethiopia – Kaffa. Coffee is Ethiopia's biggest export item and it plays a significant role for the country's economy.
Coffee takes a big part in Ethiopians social life. Ethiopians enjoy their tasty coffee with a cultural ceremony. The traditional Ethiopian Coffee Ceremony is a cultural get together where neighbors spend time together.
The Ethiopian coffee ceremony takes about an hour. The coffee ceremony starts with picking the bad beans out and washing the coffee beans. It is slowly roasted, pounded and brewed. Ethiopians put fresh green grass on the ground during the coffee ceremony. Burning Frank Incense is part of the Ethiopian Coffee Ceremony.
Ethiopians drink three rounds of cups of coffee during the coffee ceremony. The first round known as "Abol" is the best. As a cultural attraction in Ethiopia and Addis Ababa, take part in the Ethiopian Coffee Ceremony in Addis Ababa.
Take city tour of Addis Ababa with Merit Ethiopian Experience Tours to discover these and other attractions in Addis Ababa.
In addition to the above best places to visit in Addis Ababa, our tour guides help you discover top things to do in the surroundings of the city.
Get more information on other interesting attractions in Ethiopia.
GET THE SOLUTION WITH US TO HAVE IT YOUR WAY!
Contact us soon at meetmule@yahoo.co.uk or mulukengirma31@gmail.com, or info@meetmule.com
Call us on +251-911-360488 OR +251-963-078067
Drop us a message or chat with us on WhatsApp
Twitter - Follow us on Twitter