Day Tours
DAY TRIPS NEAR ADDIS ABABA
Find your perfect 1-day outing from Addis Ababa
Create and book personalized guided trips of one day in and near Addis
Choose from our single day private excursions with start and end at Addis Ababa
🤔 DO YOU HAVE A STOPOVER IN ADDIS ABABA BETWEEN YOUR FLIGHTS?
🤔 WONDERING HOW TO MAKE THE BEST USE OF YOUR LONG LAYOVER IN ADDIS ABABA?
🤔 ARE YOU LOOKING FOR UNIQUE 1-DAY OUTINGS IN OR NEAR ADDIS ABABA?
Choose from the best 1-day tours in Addis Ababa with Merit Ethiopian Experience Tours
UPDATE
TYPICAL ETHIOPIAN has recognized us as one of the Top 10 Tour Companies in Ethiopia for providing outstanding one and two-day private tours in Addis Ababa for the year 2023. Please peruse the reviews of our fellow travelers on TripAdvisor about our Addis Ababa tours. Also, check out our curated list of 1-day private trips in and around Addis Ababa.
And contact us if you need any help to personalize our excursions to meet your needs.
IMPORTANT UPDATE
1 – ENTRY VISA TO ETHIOPIA
The Ethiopian Government stopped issuing visa upon arrival at Addis Ababa Bole Airport. However, if you are using Ethiopian Airlines on your long-haul flights, you may
get on-arrival visa to Ethiopia
. Check if you are eligible to get your Visa to Ethiopia on arrival.
If you're not qualified for it, get your entry visa to Ethiopia in advance by applying online or from Ethiopian Embassy close to you. Click to
apply for your Ethiopian E-Visa
2 – WHAT NOT TO BRING
For security reasons, it is NOT ALLOWED to bring in drones, satellite phones, BINOCULARS, etc. to Addis Ababa. If you carry those items, it is better to check them in to your next destination (when checking in to fly to Addis Ababa).
for quick answers about our day trips in/near Addis Ababa or bookings.
Below is the complete list of 1 full-day private small group guided trips in and departing from Addis Ababa
. Single day-trips with Merit Ethiopian Experience Tours are multi-faceted. Immerse yourself in sightseeing activities, and cultural Ethiopian experiences. You'll also visit the top attractions near Addis Ababa. The following tours are all "private tours".
We conduct only small group private tours with a maximum of 6 travelers. We use clean sanitized private vehicles for all day tours we offer in the city of Addis Ababa and nearby. Our guided-tours are conducted by skilled English-speaking Ethiopian tour guides.
List of day trips near Addis Ababa:-
Addis Ababa day trips take you to some of the city's most significant historical and cultural points of interest. With a day expedition visit natural, religious, and historical attractions near Addis Ababa.
Our Addis Ababa City Sightseeing Tours can be arranged for few hours or for full-day. Discover the best places to visit in Addis Ababa and thing-to-do with the sightseeing city tour with local tour guide.
Do you have only one day to spend in Addis Ababa? Use your time in leisure experiences and activities by booking one of our day trips to Addis and its environs. Make your day in Addis Ababa a "Special Day" with our local guides.
With Addis Ababa day trips, take a guided tour of the city's best attractions. Plan your itinerary of visiting Addis Ababa/Ethiopia with us. Get assistance from professional Ethiopian tour operators.
1-day is all you need to visit selected tourist attractions, local markets, and cultural sites of Addis Ababa and nearby. Do you have questions on our tour offers? Do need a specific piece of information on our Addis Ababa sightseeing day trips? Contact us using WhatsApp, please. We provide you with quick helpful advice.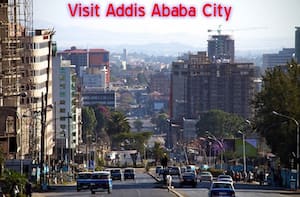 City Tour in Addis Ababa is one of the day trips available.
To see the top sights in Addis Ababa, we have two options of tours depending on duration. The Short Half Day Tour of Addis and the lengthy Full-day City Tour in Addis Ababa are available.
The Half-Day Addis Ababa City Visit takes 4 to 6 hours. The brief tour in Addis Abeba includes stops at a museum and a place of worship. Visiting Merkato or Addis Mercato, a local cultural market, is the best part of the tour.
The thorough Full Day City Tour in Addis Ababa lasts 8 to 9 hours. The comprehensive Full-Day private trip in Addis Ababa covers many things to do and places to visit in the city.
We modify a tour to meet your demands, taking into account any special requirements, time limits, and Addis Ababa sights you want to see.
Ethiopia as a country follows the Ministry of Culture and Tourism's main guidelines. It ensures the safety of the local community, visitors, and people in the Tourism Industry. These steps qualified Ethiopia to receive the World Travel and Tourism Council's - WTTC's Safe Travels Stamp.
As a tour operator, Merit Ethiopian Experience Tours adheres to the following safety precautions. We keep our visitors, employees, and the communities we meet on Addis Ababa day trips SAFE from Coronavirus!
A few reasons to book one-day tours in and around Addis Ababa with Merit Ethiopian Experience Tours are: -
* We provide only small group (family) private tours. This allows you the flexibility to do or visit more of what interests you.
* For safety from Coronavirus (COVID-19), we host only small groups. Most tours are outdoor activities.
* Our tours are personally organized and limited only to one specific group. So visitors won't feel urged to go along with an already set schedule.
* Concerning Coronavirus, we choose times and places which allow more space. We provide hand sanitizers, wipes, and face masks during the tours.
* Our tours are ideal for transit passengers and business travelers in Addis Ababa. It is because we created our 1-day tours in/near Addis Ababa with first-time visitors to the city in mind.
* Visitors decide their pick-up locations for these private guided tours. Your tour guide meets you at your hotel in Addis Ababa. OR at Addis Ababa Bole International Airport (if just arriving).
WE HAVE AVAILABLE LAST-MINUTE TOURS IN ADDIS ABABA TO BOOK BEFORE 6 HOURS.
All our single day trips are perfect for first-time visitors to Addis Ababa. Day trips in Addis Ababa help you to experience local culture. You'll also learn history and religion, and admire wonderful landscapes. Book a private excursion from Addis Ababa with us to spend a great one day you will never forget!
Places to visit in private Addis Ababa Day Tours are: -
Adadi Mariam Rock Cut Church - Founded in the 13th Century AD by King Lalibela. The unique Adadi Maryam Church is carved out of a single piece of rock. It has always served as a church. Adadi Mariam is 65 kilometers (40 miles) south of Addis Ababa. Thursdays and Sundays are the best days of the week for one day trip to visit Adadi Rock Church and its weekly cultural market.
Steles of Tiya - This UNESCO World Heritage Site is a cemetery from 12th to 14th Century AD. At Tiya, visit 40 gravestones decorated with carvings and erected for local hero. Tiya is 82 km south of Addis Ababa. Take some time near Tiya to learn about the Gurage people's distinctive cuisine culture. Enset (False Banana Tree) visits their villages and teaches them how to make bread.
Debre Libanos Monastery is 100 kilometers (62 miles) to the north of Addis Ababa. The largest Ethiopian Orthodox Christian monastery is this Debre Libanos Monastery (ደብረ ሊባኖስ ገዳም). An Ethiopian Saint, Tekle Haimanot, founded the Monastery of Debre Libanos. He established it in the 13th Century AD.
Portuguese Bridge - Visit this handmade stone bridge built in the 16th Century AD. Walk across Portuguese Bridge to take in the stunning landscape of the Jemma River Gorge. Look around to see Ethiopia's indigenous animal, the Gelada Baboon. The pedestrian vaulted arch bridge is unique for its masonry. The "Portuguese Bridge" looks like the first bridge in Ethiopia built by the Portuguese.
Jemma River Gorge - Admire the Jemma River Gorge's magnificent landscape. River Jemma is one tributary of the Blue Nile River - the longest running river in the World. One of the most spectacular sights surrounding Addis Ababa to see in a single day is the Jemma River Gorge.
Bishoftu (ቢሾፍቱ) or Debre Zeit (ደብረ ዘይት) is a well-known resort town 45 km (28 miles) east of Addis Ababa. Studded with scenic volcanic crater lakes, Bishoftu (Debre Zeit) is among the top things to do near Addis Ababa. Kuriftu Water Park at Debre Zeit is a nice kids' playground to visit with a day trip from Addis Ababa. Visit also Lemma Guya Art Gallery at Bishoftu.
Lake Ziway - The northerly Rift Valley Lake in Ethiopia is Lake Ziway, which lies 160 kilometers (100 miles) south of Addis Ababa. Take a private boat ride of one hour at Lake Ziway. Spot a number of Ethiopian birds and encounter families of hippos. With prior arrangement, you can visit Castle Winery at Ziway town.
Crater Lake of Wenchi - This is one of the best scenic spots around Addis Ababa. Walk from the rim to the lake, take a boat ride to an island monastery, and horseback ride back to your vehicle. Other attractions close to the Wenchi Crater Lake are natural hot springs at Ambo and the natural forest of Welisso.
Rift Valley Scenery - Visitors on excursions south of Addis Ababa enjoy captivating scenery. Stops to view the Ethiopian segment of the Great East African Rift Valley are planned. Stop at selected outlooks to take photoshoots of the Rift Valley landscape. Learn about the geographical nature of the Great East African Rift Valley from your local tour guide.
NOTE - Private excursion or day tours from Addis Ababa below can be organized to fit visitors interests and expectations. You can discover fascinating attractions in Addis Ababa with us.
Contact us for details or booking. Or, you can easily browse our day tours near Addis Ababa on our WhatsApp Catalog and start chat.
1. Sightseeing Tour of Addis Ababa
Here is the itinerary of Addis Ababa sightseeing trip. Start this 8 hours full day excursion in Addis Ababa with visiting the National Museum. The National Museum of Ethiopia is famous for its archaeological findings. Here, see the fossil remains of Lucy or Dinknesh (the oldest hominid and 3.18 mil years old).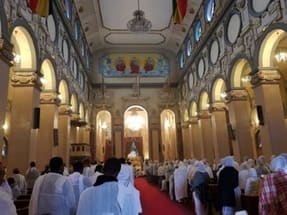 Continue Addis Ababa day tour with visiting the Holy Trinity Cathedral. Emperor Haile Selassie I founded the Trinity Cathedral. Next, visit the interesting Addis Mercato or Merkato Market. This gigantic market is the largest open-air market in Africa.
Addis Ababa sightseeing tours can be organized considering visitors expectations. Contact us!
After lunch, drive to the peak of Mount Entoto (3,200 meters above sea level). Entoto Mountain is the best spot around to enjoy the panoramic view of Addis Ababa. Also visit the oldest church in Addis Ababa which is famous for hand painted colorful wall paintings.
Finally, drive on the main streets of the city to see the historical monuments and major landmarks in Addis Ababa.
We advance your guided tour and experience with us to ETHIOPERIENCE level.
What is ETHIOPERIENCE?
ETHIOPERIENCE™ is our brand term created with combining ETHIOPian + exPERIENCE. ETHIOPERIENCE™ refers to the Private, Personalized and Perfect tour experiences in Ethiopia. Book your EthioPerience with Merit Ethiopian Experience Tours [MEET].
EthioPerience is a word created by Muluken Girma combining the words of Ethiopian Experience. EthioPerience is the private tour experience in Ethiopia we offer. We fine-tune EthioPerience to fit your individual (personal) requests (preferences). Create and book your EthioPerience with Merit Ethiopian Experience Tours [MEET]. MEET the best, EthioPerience with MERIT!
We do it by adding sights, museums, and other things to do in Addis Ababa as per your interests. With this city tour in Addis Ababa, discover the hidden gems of Addis with an expert local tour guide. We are here to make your 1-day trip to Addis Ababa a lifetime experience.
If you are planning vacations to Addis Ababa, read Addis Ababa Attractions to find prime things to discover our city. With our sightseeing tours, get a deeper insight of the best tourist attractions in Addis Ababa.
To help people who arrive at Addis at night, we offer about 4 to 6 hours Overnight Transit Tour in Addis Ababa. This special custom tour is helpful for travelers to try appealing activities in the evening in Addis Ababa.
This is the best tour to visit Addis Ababa in 1-day. It is a perfect visit for transit passengers in Addis Ababa. Travelers on layover stop at Addis Ababa Bole International Airport find it worthy.
2. Excursion to Adadi Mariam Rock Church and the Steles of Tiya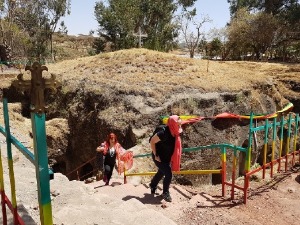 Day trip to Adadi Mariam Rock Church and Tiya is one of our best weekend trips from Addis Ababa. Start with visiting the rock-hewn Adadi Mariam church on this day trip from Addis Ababa (13th Century AD).
Adadi Mariam Rock Church was excavated by the famous Ethiopian King Lalibela. King Lalibela carved 11 more gorgeous rock churches at Lalibela town. The church of Adadi Mariam is carved out of a solid rock and is still used for church services. If you visit Adadi Mariam on the 21st day of an Ethiopian month, you'll see a great church service.
Adadi Mariam is 65 km far from Addis Ababa. The monolithic church of Adadi Mariam is among the best examples of the rock churches of Lalibela. See our 2 days tour to Lalibela Churches from Addis Ababa.
The private excursion from Addis Ababa also includes visiting the Steles of Tiya. Tiya is UNESCO World Heritage Site from12th - 14th Century AD. The Steles of Tiya is a cemetery with 42 huge carved slabs of stone obelisks. The stone grave markers are decorated with swords, banana tree leaves, etc. and were erected as grave markers.
From UNESCO World Heritage Sites in Ethiopia, the Steles of Tiya is the nearest to Addis Ababa. Steles of Tiya are 82 km south of Addis Ababa.
With this pleasure trip, visit local villages for cultural experiences. This private excursion from Addis Ababa has scenic stops to enjoy and take photos of the picturesque views of the Rift Valley.
Read details of Adadi Mariam and Tiya Steles day tour from Addis Ababa.
3. Excursion to Debre Libanos Monastery and the scenic Jemma River Gorge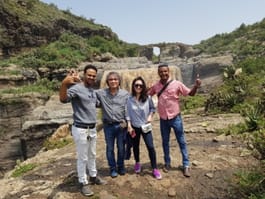 This is one of our best private excursions near Addis Ababa in Ethiopia. Take a day trip to visit the largest monastery in Ethiopia – Debre Libanos Monastery. It is from the 13th Century AD.
At Debre Libanos Monastery, visit a church built in the 1960s. It was founded by Emperor Haile Selassie I. The church is decorated with pretty religious paintings and window glass works.
You will also visit the museum of Debre Libanos Monastery. In the museum, see old historical and religious artifacts.
Take in the beautiful vista of the Jemma River Gorge. Emerging from Lake Tana, the Blue Nile River is fed with the Jemma River.
The other place to visit this excursion from Addis Ababa includes is the Portuguese Bridge. It was built in the 16th Century AD.
See the Gelada Baboon, one of Ethiopia's indigenous mammals, during this day tour. They are known as "the Bleeding-Heart Baboon" for its red patch on its chest.
Please, learn more about the Day Tour from Addis Ababa to Debre Libanos Monastery and around. And contact us even for more details.
4. Excursion to the Rift Valley Lake of Ziway
This full-day private excursion from Addis Ababa is a nature and culture themed tour. A day-trip to the Rift Valley Lake of Ziway has the longest driving distance among the day trips Merit Tours offer.
The day trip from Addis Ababa to Lake Ziway is the longest (11 to 12 hours) day tour we have. This day tour takes you to the Steles of Tiya (UNESCO World Heritage Site), local experience with local village visit, and boat ride on Lake Ziway. Please read reviews of other travelers about Lake Ziway on TripAdvisor.
Discover the wildlife of the Rift Valley Lake of Ziway - notable for its collection of bird species. At Lake Ziway, have a private boat excursion of 1 hour. See families of hippos during the boat ride at Lake Ziway.
Identify many water birds including Spur-Winged Lapwing, African Sacred Ibis, and African Spoonbill. You will also spot Hammerkop, Black Heron, Malachite Kingfisher, African Jacana, Hadada Ibis, etc.
The other stop during this private trip is at the artificial lake of Koka. The man-made Lake of Koka is interesting for its bird life. On the way back to Addis Ababa, stop at one of the five crater lakes of Bishoftu or Debre Ziet. This one day wildlife holiday in Ethiopia is customizable and can be tailor-made to fit travelers' inquiries.
5. Excursion to Wenchi Crater Lake
You will travel to Wenchi Crater Lake on this day trip from Addis Ababa by driving through the Oromo people's rich and rugged terrain. Wenchi Lake is 155 km from Addis Ababa between Ambo and Welisso towns.
In one of the islands at Lake Wenchi there is a monastery founded in the 16th century which is accessible by walking or riding mules, and riding boats.
Learn how to prepare 'Kocho' bread and 'Bulla' porridge (oatmeal). These local meals are prepared from Enset or False Banana tree. During this Wenchi trip, see how important Enset is for large part of the population in southern Ethiopia.
The excursion to Wenchi Crater Lake is among the best weekend getaways from Addis Ababa we offer.
6. Day trip from Addis to Debre Zeit (Bishoftu)
This is our shortest day tour from Addis Ababa. With this one day pleasure trip, drive 45 km east of Addis Ababa to the town of Debre Zeit (written as "ደብረ ዘይት" in Amharic and also known as Bishoftu).
Take one-hour drive on Ethiopia's only toll-road (Addis Ababa-Adama Expressway) from Addis Ababa to Bishoftu (or Debre Zeit). Bishoftu is known for its beautiful crater (volcanic) lakes.
At Bishoftu, take a relaxed walking tour to enjoy bird watching, water sports, or swimming. Admire the scenery of Lake Bishoftu, Lake Babogaya, and Lake Kuriftu.
At Debre Zeit, stop for lunch at a famous Indian Restaurant (7 LAKES Indian Restaurant). Then, visit Lemma Guya Art Gallery, which is famous for its collection of paintings on goat skins. Then drive back to Addis Ababa.
If you have a day for private excursion from Addis Ababa, email us soon. With visitors' interest and time available for the day tours, we can plan a combination of the places of interests to visit with the day tours. Get detailed information about the day tours from Addis Ababa offered by Merit Ethiopian Experience Tours!
For large groups, we organize bus tours in Addis Ababa with adaptable itineraries. Book your guided day tour in Ethiopia with Merit Ethiopian Experience Tours. We also provide Airport shuttle service from Addis Ababa Bole International Airport (ADD) to any hotel in Addis Ababa.
Tell us details of your expectations of your day tour in Addis Ababa and benefit from our tourism professionals' expertise.
REMEMBER - Our Addis Ababa 1-day tours during transit are bookable with short notice of at least 8 hours before tour start time.
Send us text message on WhatsApp for booking or further information.
How do you find your day trips from Addis Ababa with Merit Ethiopian Experience Tours? Please share your experience with fellow visitors on TripAdvisor by using the following link. Thank you!
Besides the above 1-day outings, we offer 2-days/1-night tours from Addis Ababa. Our two days short holidays near Addis Ababa are by driving and by flights.
The tours by driving are to the south of Addis Ababa to the Rift Valley lakes of Ethiopia. Our trips of two-days by flight are to visit the rock-churches of Lalibela and the walled city of Harar.
Click one the following buttons to see the details of the two day tour from Addis.
See also what you can do in three days tours with us.
Did you reserve one of our day tours in Ethiopia?
Great! We hope you enjoyed your trip in Ethiopia with us.
We, at Merit Ethiopian Experience Tours, are always looking for ways to make our tours better for the next visitor. We are keen to improve our day tours in or near Addis Ababa to ensure we keep providing the best private tours.
We're very interested to hear your feedback about our day tours or our services generally! Can you please take a few minutes to share your thoughts on our tours/travel service on Google?
Please, click here OR tap the image below and review Merit Ethiopian Experience Tours on Google. THANK YOU!
MERIT ETHIOPIAN EXPERIENCE TOURS [MEET]
Book EthioPerience!
---

Contact us soon at
Call us on +251-91-136-0488 OR +251-96-307-8067
Drop us a message or chat with us on WhatsApp
Twitter - Follow us on Twitter
Facebook – Get in touch with us on Facebook
LinkedIn – Connect with us on LinkedIn
Instagram – See where we can take you in Ethiopia
Pinterest – Discover what you can do in Ethiopia with MERIT
Visit best places to visit in Addis Ababa and nearby with Day Tours of Merit Ethiopia