1 Day Tours
One-day tours in Addis Ababa and one day trips (excursions) out of Addis Ababa with Merit Ethiopian Experience Tours [MEET]
This page lists top-notch tour destinations to visit in and around Addis Ababa in one day. Find our bookable day trip packages in Addis and nearby with a local guide.
Below are perfect private 1-day trips especially for first-time travelers to Addis Ababa. Find details on our short (4 to 5 hours) and long (about 9 hours) private tours in Addis below.
We also offer an interesting evening stopover tour of Addis Ababa to enjoy the best things-to-do in the city after sunset. Get the checklist of private one-day tours with a start and end in Addis Ababa city.
If you have any questions about planning a day tour in Addis Ababa or nearby, . We'll be back to you shortly.
Keep reading to find out more about our one-day tours near Addis Ababa.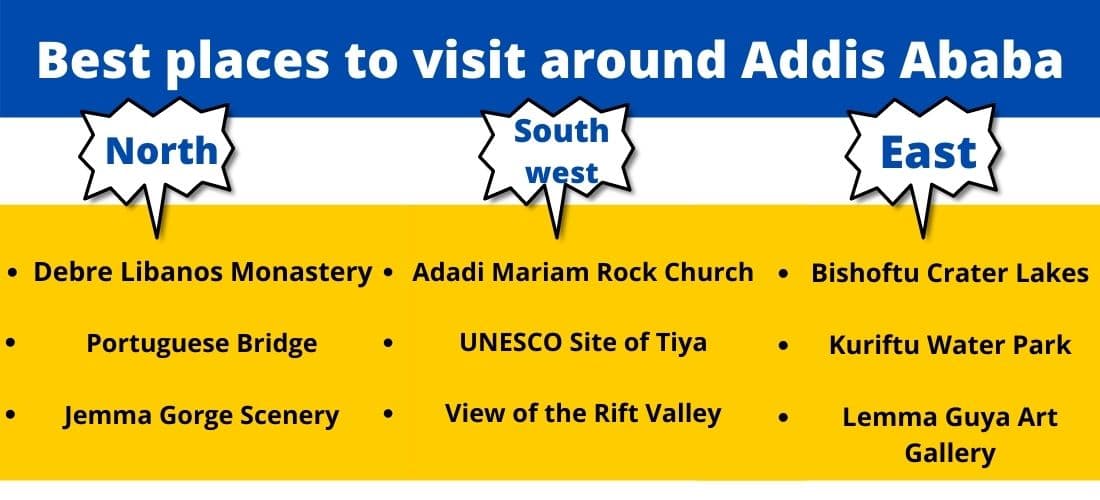 CITY TOURS IN ADDIS ABABA
A private, customizable sightseeing tour in Addis Ababa with a professional local tour guide.
City Tours of Addis Ababa last from 3 to 5 hours (half day) to 10 hours (full day). Sightseeing tours in Addis Ababa take you to visit the most important sites in the city. The half day city tour is ideal for transit passengers at Addis Ababa Bole International Airport. Spend your urban city break in Addis Ababa on a fun, educational, and entertaining tour with us.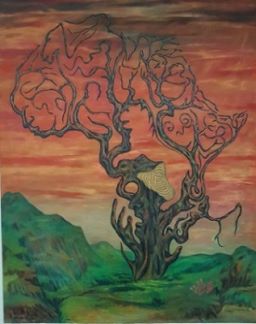 The full day city tour includes visiting museums, churches, and local markets in Addis Ababa. Other local activities you try with our Addis tours are: -
⇒ Attending Ethiopian coffee ceremony culture
⇒ Learning how to cook Ethiopian meals
⇒ Tasting home brewed alcoholic drinks
Visit Addis Ababa booking our half day Addis Ababa city tour (4 – 6 hours). If you're looking for a complete city sightseeing in Addis Ababa, take our full-day guided Addis tour (8–9 hours). The short city trip is best for trippers who want to see the highlights of Addis Ababa in few hours.
Our tour guides arrange your visit by including the top sites you wish to visit in Addis Ababa.
The Full Day Addis Ababa City Tour takes the entire day with a local tour escort. Drive with a private car to top-ranking museums, churches, and domestic markets of the city.
You can incorporate other activities you want to try in Addis Ababa. This long layover tour in Addis helps you gain a deeper insight into Ethiopia's history and Addis Ababa.
Looking for a cultural nightlife experience in Addis Ababa?
We provide a special Cultural LIVE Tour in one of Addis Ababa's top traditional restaurants. Taste delectable Ethiopian dishes and take part in coffee ceremony of Ethiopia. Try "Tej" - Ethiopian Honey Wine, and watch cultural dances performed by Ethiopians LIVE. This cultural nightlife event is at Yod Abyssinia or 2000 Habesha Cultural Ethiopian Restaurant.
Contact us for details on how we can help to perfect your holidays in Addis Ababa!
DAY TOURS NEAR ADDIS ABABA
Excursions near Addis Ababa with a knowledgeable English-speaking Ethiopian tour guide.
Things-to-do and see with a single day trip from Addis Ababa are to see natural attractions and experience local culture. Visit historical and religious sites. You'll also admire view of breathtaking scenery, and discover wildlife around Addis Ababa.
What you'll do when you book one of our day trips out of Addis Ababa
- Have a better perspective into the people's culture and way of life as you visit rural villages.
- Admire breathtaking scenery like the Jemma River Gorge and the Ethiopian section of the Great East African Rift Valley
- Learn about Ethiopia's long and interesting history as you visit the UNESCO World Heritage Site of Steles of Tiya
- And a lot more.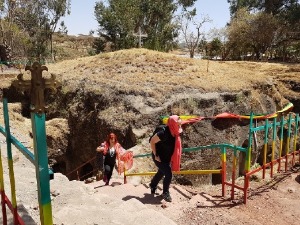 Following are the major attractions and things-to-do in the day tours from Addis Ababa:-
Adadi Mariam Rock Carved Church (13th Century AD) and Steles (Obelisks) of Tiya (14th Century AD and UNESCO World Heritage Site)
Debre Libanos Monastery (13th Century AD and the biggest in Ethiopia)
Scenic view of Jemma River Gorge and Portuguese Bridge (16th Century AD)
Visiting three of the crater lakes of Bishoftu (Debre Ziet)

Rift Valley of Ethiopia and boat ride on Lake Ziway

See Gelada Baboons which live only in Ethiopia
All day tours from Addis Ababa are private – exclusively yours. We accommodate on small tour groups (less than 6 people) in the day excursions. Our customable Addis day-trips are with professional English-speaking tour guides.
For the 1-day trips, we use comfortable Toyota Corolla (1 or 2 people) OR Toyota Minivan (3 to 6 people). Our cars have air conditioning (AC) and shoulder seat belts.
See the list of day trips from Addis Ababa offered by Merit Ethiopian Experience Tours: -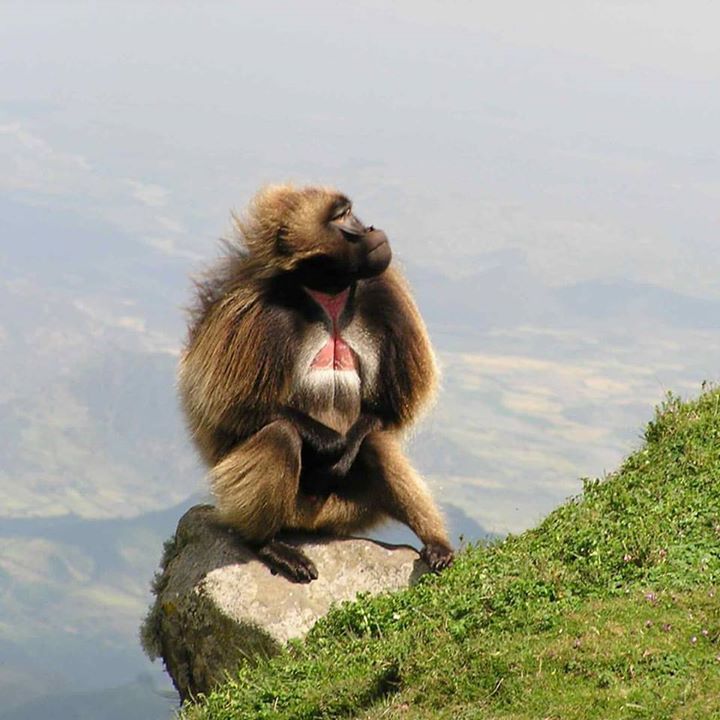 1-day tours near Addis Ababa with us are flexible to get along with your schedule constraints and expectations. You can even pair our day trips with other travel services we offer.
Whatever day trip you imagine to take near Addis Ababa, Merit Ethiopian Experience Tours takes the hassle out of it. Arrange private transportation, flexible pick-up and drop-off in Addis Ababa city. Create your own tour and visit Addis your own way – EthioPerience!
Let our professional, French, German or English-speaking guides explain you the places you visit as you travel in Ethiopia. With our one day trips in or near Addis Ababa, enjoy the freedom to explore attractions you love in greater depth.
Please, contact us for details our tours of one-day. If you reserved our 1-day trips of Addis Ababa or nearby, we love to hear about if from you. Your comment helps us keep improving. Your online reviews help fellow travelers know us better.
Please take a few minutes to share your feedbacks on TripAdvisor about the service of Merit Ethiopian Experience Tours. Click below to rate and review about your one day tours of Addis Ababa. Thank you!
MERIT ETHIOPIAN EXPERIENCE TOURS [MEET]
Book EthioPerience!
---

Contact us soon at
Call us on +251-91-136-0488 OR +251-96-307-8067
Drop us a message or chat with us on WhatsApp
Twitter - Follow us on Twitter
Facebook – Get in touch with us on Facebook
LinkedIn – Connect with us on LinkedIn
Instagram – See where we can take you in Ethiopia
Pinterest – Discover what you can do in Ethiopia with MERIT
If you are looking for 1 day tours in or near Addis Ababa, contact Merit Ethiopian Experience Tours!