Addis Ababa - Virtual LIVE Tour
Addis Ababa - Online Tour
Addis Ababa - Virtual LIVE Tour is online city tour in Addis Ababa with LIVE streaming videos. Addis Ababa Online Tour is a scenic drive on Churchill Street in Addis Ababa with a local tour guide. With this real-time interactive online event, experience the cultural Ethiopian Coffee Ceremony.
Brief Summary of Addis Ababa City Virtual Tour
Addis Ababa - Virtual LIVE Tour is 1 to 1 and half an hour in-the-moment sightseeing tour in Addis Ababa to visit historical monuments, old churches, major landmarks, and main squares in Addis Ababa. This LIVE event in Addis Ababa is hosted by professional tour guide from Addis Ababa – Muluken Girma, and his Ethiopian tourism expert colleagues.
Muluken will drive you on the main streets of Addis Ababa and presents you in person the most famous historical monuments, statues of Ethiopia's important public figures, notable international institutions, and more.
Your knowledgeable tour guide gives you detailed information about all places of interest as you drive in Addis Ababa. At the end of this online tour of Addis Ababa, visitors will virtually experience the famous Ethiopian Coffee Ceremony.
Schedules and Pricing
Public group online tour
Schedule - Tuesday, Thursday, Saturday and Sunday starting from 2:00 PM Ethiopian Time (Greenwich Mean Time - 11:00 AM GMT)
Number of participants per event - Maximum 4 attendees
Price - 35 US Dollars per person
Private virtual tour (exclusively organized for one group)
Schedule - Flexible and set with prior communications. Contact us to arrange your online virtual tour of Addis Ababa.
Number of participants per event - Maximum 4 attendees
Price - 110 US Dollars per event
Why take the Addis Ababa - Virtual LIVE Tour?
- For travelers curious about Ethiopia and Addis Ababa, virtual tours and experiences like Addis Ababa - Virtual LIVE Tour is such a great thing to do especially when bored due to Corona Virus related lock downs.
- With LIVE streaming videos, visitors will learn history of Ethiopia and Addis Ababa, and experience Ethiopian Coffee Ceremony virtually.
- The online event in Addis Ababa allows visitors to ask question and get answers from the knowledgeable tour guide in-person.
- Flexibility to take the virtual tour as part of a scheduled group LIVE webinar or organize it as a private experience
- Flexible to enjoy it with wide choice of online Telecommuting and Webinar platforms
Detailed Description of Online Tour of Addis Ababa
The current state of taking tours and activities in-person is limited by the inability to travel around the world by the Corona Crisis.
To face these challenges, Merit Ethiopian Experience Tours starts incorporating tours and activities in Addis Ababa and around into a digital travel product visitors enjoy online from the comfort of their homes.
To make the virtual tours and experience in Addis Ababa available and bookable online, we use few travel distribution technologies and webinar platforms.
Prior to the virtual tour, attendees of the online tour of Addis Ababa will be given with necessary documents, instructions, and website links to get prepared and to make the event online more interactive.
Addis Ababa LIVE Tour Itinerary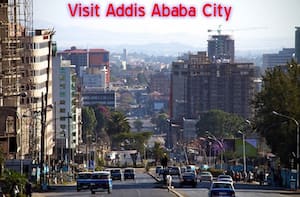 Trial session on the tour begins 10 minutes before the scheduled start time of the online tour. With the Trial session, we will make sure all audio and video settings are good with all attendees for the actual tour of Addis Ababa.
The online tour of Addis Ababa starts at Emperor Menelik II historical statue. Menelik II is the emperor who founded Addis Ababa in 1887. Emperor Menelik II is also a national hero as he defeated Fascist Italian invaders in 1896 at the battle of Adwa. He helped Ethiopia to be labeled as an African nation which was never colonized.
Continue visiting Addis Ababa with a short stop at St. George Cathedral – one of the oldest churches in Ethiopia. The founder of Addis Ababa, Emperor Menelik II, built St. George Cathedral at the end of the 19th Century in honor of his remarkable victory in 1896 at the battle of Adwa against Fascist Italian invaders.
Then, drive and walk on the most famous street in Addis Ababa named after President Winston Churchill – Churchill Road.

The scenic drive on this part of the Online Tour of Addis Ababa gives historical background of: -
- Tewodros II Square - See the copy of a seven-ton mortar made by European missionaries in the 1850s in Ethiopia. This canon was named Sebastopol that Emperor Tewodros II, after the site of a battle during the Crimean War. At Tewodros Square, learn a bit of Ethiopian history of the late 19th Century and about Emperor Tewodros II.
- Tiglachin or Our Struggle Monument - Tiglachin or "Our Struggle" Monument is a 50 meters tall huge tower on Churchill Street. This monument was erected in honor for Cuban and Ethiopian
soldiers who participated and lost their lives at the Ogaden War fought between Ethiopia and Somalia (July 1977 - March 1978). Cuba was supporting the then Socialist Ethiopia.
- Lion of Judah Monument – With this virtual tour in Addis Ababa, tour guide will show and explain about two statues of Lion of Judah at Churchill Street.
- Ethio-Djibouti Railway Station - Djibouti - Ethiopia Railway Station OR Chemin de Fer Djibouto-Éthiopien (known locally as "Lagar") was built to connect Addis Ababa with the Port of Djibouti (French Somaliland). Construction of the railway which took more than 20 years was completed in 1917. The station's building displays a unique architecture.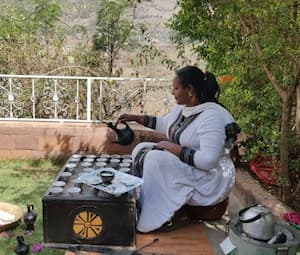 The LIVE Virtual tour of Addis Ababa will be concluded with an interesting cultural activity – Traditional Ethiopian Coffee Ceremony. We will stop along a street in Addis Ababa to experience how Ethiopians enjoy coffee with a traditional ceremony.
Your local tour guide gives highlights of the Coffee Ceremony – how and where in Ethiopia Coffee was originally discovered, how coffee is important for Ethiopians socially, culturally, and economically.
Whether you prefer our ready-made itinerary of visiting Addis Ababa virtually, or to design tour of your own style, we are committed to working with you in the entire trip planning and booking process.
You can adpat this online tour in Addis Ababa for your other needs other than visiting. If you want to shop for authentic products from Addis Ababa's local markets, if you want to visit a project in Addis, or if you want to visit a family/relative with online video tour, we can work with you to best satisfy your expectations. Just let us know.
Bonus - Merit Ethiopian Experience Tours also offers free post-tour follow up to answer questions visitors may have.
Note - Other private online tours in Addis Ababa we organize based on visitors' special interest and request include Merkato Market LIVE Tour and Exclusive Ethiopian Cultural Coffee Ceremony. We also arrange a LIVE Cultural Dance Shows of Ethiopian tribal groups (7:00 PM - 10:00 PM +3 GMT) for the Virtual Online Tour.
Following is the road map of the LIVE Tour in Addis Ababa starting from St. George Cathedral to the Lion of Judah Monument
Please, refer our complete Addis Ababa city visit of full-day. Get ideas of worth visiting places in Addis Abeba, if you may choose to visit other attractions online instead of the above. And, contact us if you need any advice.
MERIT ETHIOPIAN EXPERIENCE TOURS [MEET]
Book EthioPerience!
---

Contact us soon at
Call us on +251-91-136-0488 OR +251-96-307-8067
Drop us a message or chat with us on WhatsApp
Twitter - Follow us on Twitter