Full Day City Tour in Addis Ababa
Addis Ababa Full Day City Tour - Private Guided Tour by Drive – Long layover 8-hour tour of Addis Ababa city with free airport/hotel pick up and drop offs
Private Entire Day Sightseeing City Trip of Addis Ababa with Merit Ethiopian Experience Tours
YOU HAVE 1-DAY TO VISIT ADDIS ABABA SITES?
YOU WANT TO MAKE THE BEST USE OF YOUR DAY IN ADDIS ABABA?
DO YOU WISH TO CREATE AND ENJOY YOUR TOUR YOUR OWN WAY?
EM…, YOU ARE NOT QUITE SURE ON "HOW"?
We are local tourism professionals from Addis Ababa. We're here to help you create your personalized Addis Ababa city
tour itinerary. Customizing private tours in and around Addis Ababa is what we do BEST.
Keep reading and find out how we do it. And contact us for any Addis Ababa city visit related inquires.
DESCRIPTION
This complete Addis Ababa sightseeing visit covers the top places of interest. This is a great way to know Addis Ababa's best tourist attractions. An insightful local tour guide narrates the history and background of Addis Ababa.
TripAdvisor highly ranks our Full-Day City Tour in Addis Ababa.
To spend a great day visiting the best of Addis Ababa, book our private full day city tour. To help us offer you the best tour in Addis Ababa, please inform us your points of interest and your travel style.
Our private Addis Ababa City Tours allow flexible tour start and end time. We pick you from any hotel in Addis Ababa you are staying at. You are free to create your custom itinerary of visiting Addis. We provide your ideal Addis Ababa trip, considering what you want to do and where to go in Addis Ababa.
Make the best of your time in Addis Ababa on a day transit visit. Your private Addis Ababa city tours let you have a glimpse of the huge Ethiopia. Your tour guide adjusts the visits to fit with your pace and interests. Planning a private trip to explore top sights and things to do in Addis Ababa is exactly what we do perfect.
The private full day city tour in Addis Ababa is best for first-time visitors. The tour is a great combination of visiting museums, churches, and local markets. Driving on scenic routes of the city and trying unique Ethiopian cultural activities are part of Addis Ababa city tour.
Addis Ababa (sometimes spelled as Addis Abeba) is the biggest and capital city of Ethiopia. "Addis Ababa - written as "አዲስ አበባ" means "New Flower" in Ethiopia's Amharic language. Addis Ababa was founded by Emperor Menelik II in 1880s. Please, see details of visiting Addis Ababa with us below.
This tour is with best local tour guides from Addis Ababa. It is by drive with a regularly sanitized private vehicle. Full Day City Tour of Addis Ababa is the extension of our Half Day Addis Ababa City Tour. Merit Ethiopian Experience Tours offers this flexible #sightseeing #tour of #Addis #Ababa. This trip in Addis Ababa is best for individuals, couples, family and small groups of visitors.
Visit interesting churches of Ethiopian Orthodox Christians. Shop at interesting local markets like Merkato (or Addis Mercato). Learn Ethiopian history visiting top museums and famous monuments in Addis Ababa. Cultural activities include traditional Coffee Ceremony of Ethiopia. Tour also includes learning to cook local meals. Meeting locals and sharing experiences are part of Addis Ababa sightseeing tours.
TOUR DETAILS
Duration – 8 to 9 hours
Means of Transport – For 1 or 2 travelers - Toyota Corolla
From 3 to 6 travelers – Toyota Minivan of 2016 Model
Vehicles we use for Addis Ababa Full day tour are insured, clean, and comfortable. Our vehicles are all equipped with Air Conditioning and seat belts.
Attractions to visit and things to do in Addis Ababa tour include: -
- National Museum of Ethiopia
- Ethnological Museum
- Holy Trinity Cathedral
- Merkato (Addis Mercato) Market
- St. George's Cathedral
- Mount Entoto
- Ethiopian Coffee Ceremony
- Scenic drive in Addis Ababa City
Unique features of the Full Day Sightseeing Tour in Addis Ababa include: -
• Visit the places of interests on your own pace and travel style
• More places to visit and things to do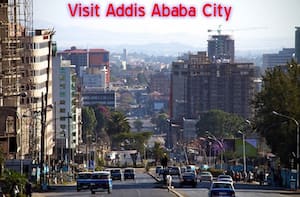 • Flexibility in choosing what to do and visit in Addis Ababa
• Visitors choose pick-up and drop off time
• Start tour from any hotel in Addis Ababa or Addis Ababa Bole International Airport
Addis Ababa City Tour includes visiting Ethnographic Museum and Saint George Cathedral. Ethnographic (or Ethnological Museum) is one of the best museums in Africa. St. George Cathedral is among the oldest churches in Addis.
The Addis Ababa tour also includes driving to Mount Entoto for the panoramic view of Addis. Enjoy this 8 hours Addis Ababa city visiting with the help of professional local tour guide. Addis Ababa layover tour is ideal for transit or stopover passengers at Bole International Airport.
The sightseeing tour covers best of what to see in Addis Ababa on a day transit. Your local tour guide in Addis Ababa doesn't only take you to the sites. You will gain deeper insights to places of visits included in the guided sightseeing city tour in Addis Ababa.
SAFTEY AND OTHER SECURITY MEASURES ON ADDIS ABABA TOUR
On Feb 5th, 2021, Ethiopia received World Travel and Tourism Council Safe Travels Stamp. This creates peace in the minds of travelers to Ethiopia on safety issues related with covid-19.
Merit Ethiopian Experience Tours [MEET] is a responsible tour company in Ethiopia. We adhere to all the safety measures advised by the Ethiopian Ministry of Health. We comply with global and regional safety precautions to keep you SAFE in our full day tours of Addis Ababa.
In response to the spread of Covid-19: -
- We keep a maximum group size of 6 visitors with 12-seat tour bus
- We provide free hand sanitizers, facemasks, and wipes
- We avoid tours to places with big crowds
- Our tour guides make sure all attendees are safe on Addis Ababa full day tours and others
- We use clean and regularly sanitized vehicles
- Social (physical) distancing regulations are respected on our tours
WHY BOOK THE FULL DAY CITY TOUR IN ADDIS ABABA WITH US?
• Free air-port pick up and drop off
• Flexible tour start and end time
• Visit sites of your preference
• Experience unique culture
• Gain insight into Ethiopian History and way of life from knowledgeable tour guide
• Visit the National Museum of Ethiopia to see the fossil remains of Lucy. Learn why Ethiopia is known as the "Cradle of Mankind"
• Get unforgettable experience by visiting Merkato or Addis Mercato Market.
• Learn about the Ethiopian Orthodox Christianity at the Holy Trinity Cathedral
• Drive to Mount Entoto (3,200 meters above sea level) for the panoramic view of Addis Ababa
• Take a scenic drive for a photo shoot of the city's historical monuments.
• See also major international buildings, and the main squares of Addis Ababa
FULL DAY CITY TOUR IN ADDIS ABABA ITINERARY
In the morning, meet your tour guide at your hotel in Addis Ababa. If you are arriving at Addis Ababa, tour guide waits for you at Addis Ababa Bole International Airport.
NATIONAL MUSUEM OF ETHIOPIA
After a brief introduction of the city tour, hop on your private vehicle. Drive to the National Museum of Ethiopia. Typical itinerary of all-day Addis Ababa tour starts with visiting the National Museum.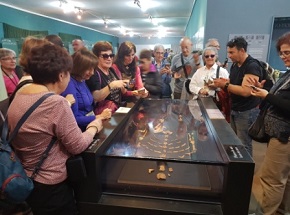 National Museum of Ethiopia in Addis Ababa is famous for the archeological exhibits. Start tour of the National Museum with visiting amazing archaeological finds. It includes some of oldest stone tools human beings ever invented and used.
See also the fossil remains of Lucy (3.2 million years old) discovered in the North East of Ethiopia. Lucy is known as "Dinknesh" in Ethiopia's official language (Amharic). Lucy's scientific name is 'Australopithecus Afarensis'. Lucy is the oldest hominid discovered in 1974 at Hadar, North East Ethiopia.
In addition to its archaeological exhibits, visiting National Museum helps you gain a deeper knowledge on Ethiopian Arts and Culture.
National Museum of Ethiopia is among the top sites in Addis to visit in rainy days. The entrance fee of the museum is 50 Ethiopian Birr (about 1 US Dollars) for adult foreign tourists per person.
NOTE - AFTER BEING CLOSED FOR PUBLIC VISITS BECAUSE OF CORONA VIRUS, THE NATIONAL MUSEUM OF ETHIOPIA IS NOW OPEN
HOLY TRINITY CATHEDRAL
Holy Trinity Cathedral is your next destination in visiting Addis Ababa. Trinity Cathedral is among the oldest cathedrals in Addis. Holy Trinity Cathedral is the highest-ranking religious site in Addis Ababa. Trinity cathedral is unique for its architectural style.
Emperor Haile Selassie I is the founder of Holy Trinity Cathedral. Holy Trinity Cathedral has unique architecture and beautiful stained glass windows. Inside the cathedral, see the graves of Emperor Haile Selassie I and his wife – Empress Menen.
Visit also the small museum of the cathedral – Trinity Museum. See ancient religious artifacts. Have a look at the real royal seats of Emperor Menelik II and Empress Taitu. See the crowns of Emperor Haile Selassie I and Empress Menen.
ETHNOLOGICAL MUSEUM
Before lunch, take a guided tour of the Ethnological (or Ethnographic) Museum. It was the former house of Emperor Haile Selassie I.
Ethnological Museum is in the compound of the Addis Ababa University. This university is Ethiopia's first university opened in March 20, 1950. 'Haile Selassie I University' was the first name of Addis Ababa University as he founded it. This museum is a great place to learn Ethiopia's history, culture, religion, and people.
At Ethnological Museum, learn about the cultural backgrounds of the people of Ethiopia. You will also visit the bedroom of Emperor Haile Selassie I.
LUNCH BREAK
Have lunch at Addis Ababa Restaurant, Finfine Adarash, or Taitu Hotel. These are few of the best traditional Ethiopian restaurants in Addis Ababa. Take this chance to taste the healthiest most flavorful Ethiopian meals.
MOUNT ENTOTO
After lunch, head north of Addis Ababa to the peak of Mount Entoto (3,200 Meters above sea level). Enjoy birds-eye view of Addis Ababa. At Mount Entoto, visit a family where you learn how to bake Enjera (Injera) – the flat Ethiopian bread. See how locals brew Tella – Ethiopian home brewed beer.
Visit locals at Mt. Entoto and experience Cultural Ethiopian Coffee Ceremony. The traditional Ethiopian coffee making ceremony with washing and roasting the coffee beans. After presenting the aroma of the roasting coffee for visitors, it is pounded by hand. Enjoy the best Ethiopian Coffee with a cultural ceremony. Contact us now to book the best of Addis Ababa tour.
SAINT GEORGE'S CATHEDRAL
Next attraction touring Addis Ababa takes you is to Saint George Cathedral. It is one of Addis Ababa's oldest churches of the Ethiopian Orthodox Christianity. St. George's Cathedral is notable for its octagonal architecture. Inside the cathedral, see beautiful wall paintings and mosaics.
The St. George Cathedral Museum displays ancient religious and historical artifacts. The Cathedral of St. George is where Emperor Haile Selassie I was crowned at. Walk around the cathedral and take photos of the statue of Emperor Menelik II - the founder of Addis Ababa.
MERKATO (ADDIS MERCATO) MARKET
After visiting St. George Cathedral, head to Merkato or Addis Mercato Market. Merkato is the largest open-air market in Africa. Visit the Spice Market and the hand woven baskets market. Continue to Chat (Mild Stimulant chewed by locals) Market, and the second hand items market.
Take half an hour walk in Merkato (Addis Mercato) market. Learn what life is like for the people who actually live/trade/work at Merkato Market. For local market enthusiasts, shopping at Merkato is additional experience of Addis tour.
SCENIC DRIVE IN ADDIS ABABA
Addis Ababa City Visit ends with driving on the famous streets of the city. With the scenic drive, see historical monuments, and major landmarks. Drive by the HQ of the United Nations Economic Commission for Africa. Continue to the HQ of the African Union and Meskel Square (Addis Ababa's major events hub and Downtown Square).
Finally, stop at a supermarket to buy the best Coffee from Ethiopia and local spices. For Coffee lovers, check out the best coffee shop in Addis Ababa - Tomoca Coffee.
OTHER INTERESTING PLACES TO VISIT ON A CUSTOM TOUR OF ADDIS ABABA
We customize Addis Ababa tour best according to visitors' interests and travel styles. Following are other interesting places to visit in Addis Ababa:-
Red Terror Martyrs' Memorial Museum

Addis Ababa Museum

Mausoleum of Emperor Menelik II

Shiro Meda Market

Unity Park

Zoma Museum

Medhane Alem Cathedral

Entoto Maryam Church

Be'ata Mariam Church
You can do even more in Addis Ababa, after the full-day visit of the city. Extend your tour with Addis Ababa Cultural Nightlife Experience. Visit Cultural Ethiopian Restaurants to make your Addis Ababa tour a complete experience.
If you around Bole Area, visit either Yod Abyssinia or 2000 Habesha Cultural Restaurant. At these restaurants, you can taste a variety of Ethiopian food. And watch dances of the different Ethiopian tribal groups LIVE.
If interested in Ethiopian Jazz Music, stop at African Jazz Village. It is among the most interesting things to do in Addis Ababa at night.
Enjoying Ethiopian Jazz Music at African Jazz Village is an alternative place to stop in the evening at Addis Ababa City.
You can extend Addis Ababa City Tours with 1 day tours from Addis Ababa. We also have two days and one night tours from Addis Ababa.
See how the famous TRAVEL GUIDE BOOK PUBLISHER - LONELY PLANET presents our Full-Day City Tour in Addis Ababa. Tours in Addis Ababa can be reserved in advance of 6 months. Travelers have a choice of free cancellation of our tours before 12 hours of tour start times.
PRICE OF FULL DAY CITY TOUR IN ADDIS ABABA
Below is the per person tour of Addis Ababa Full Day City Tour
| | |
| --- | --- |
| Visitors in Group | Price per person |
| 1 person | 90 US Dollars |
| 2 people | 80 US Dollars |
| 3 people | 75 US Dollars |
| 4 people | 65 US Dollars |
| 5 people | 55 US Dollars |
| 6 people | 50 US Dollars |
Price of Full Day City Tour in Addis Ababa City INCLUDES: -
Insured private vehicle with AC – Toyota Corolla (1 or 2 travelers) OR Toyota Minivan (3 to 6 visitors)

Fuel (gasoline), private driver, and insurance

English-speaking local tour guide

All Entrance (Admission) fees

Local family visits

Hotel/Airport pick up and drop offs

Ethiopian Traditional Coffee Ceremony Experience

Bottled water and local snacks

Tea/Coffee

And, all related taxes
Price DOES NOT INCLUDE: -
NOTE - Contact us for the updated Addis Ababa full day tour price conforming to your private visits with us. Specific price of the tour depends on places you visit, tour duration, services included and excluded.
FREQUENTLY ASKED QUESTIONS ABOUT ADDIS ABABA CITY TOUR AND ANSWERS
WHAT TIME DOES ADDIS ABABA FULL DAY TOUR STARTS AND ENDS?
This tour takes 8 to 9 hours according to the itinerary above. To book the city tour as it is, we advise starting at 8:00 AM, 8:30 AM or 9:00 AM from your hotel in Addis Ababa. This way the tour ends between 4:00 PM and 5:00 PM at your preferred destination in Addis Ababa. If you have only few hours, book our half day city tour in Addis Ababa.
DO YOU PICK ME UP FROM MY HOTEL IN ADDIS ABABA AND DROP ME OFF AT THE AIRPORT AT THE END OF THE TOUR?
YES, it is possible to start the full day Addis Ababa trip from any hotel in Addis Ababa or Bole Airport. And, finish tour at Addis Ababa Bole International Airport or any place in Addis Ababa you want. This tour allows flexible tour start and end time.
IS IT SAFE TO WALK IN MERKATO MARKET IN ADDIS ABABA?
Merkato is a busy local market in Addis Ababa repeatedly mentioned for its 'smart' pickpockets. Aggressive crimes or robberies are very rare (or no) in Merkato market in Addis Ababa. We always advise to leave items you don't want for immediate use in the vehicle. The tour bus driver is by the vehicle all time and keeps visitors' properties safe.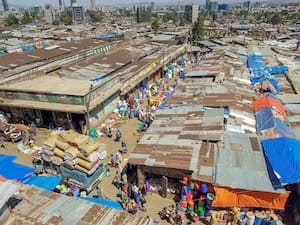 For safe walking and pleasant visit of Merkato (Addis Merkato),
Hang your cameras in the neck.

If you're using your phone for taking photos, keep it in your pockets/purse and take it out only when you want to use it. Merkato is also popular for snatch-and-run thieves.

Ask permission in advance if you are taking portraits of people.

Ask your tour guide how to bargain for price if you want to shop at Merkato. Bargaining for price is the rule of the game at Merkato.

Practicing few common Amharic words with locals at Merkato makes your visit more interesting.

Don't spend too long at one spot as you draw people's attention and attract the crowd around you. Move around.

If you are not sure of doing anything in Merkato, ask your local tour guide.
IS THE FULL DAY ADDIS ABABA TOUR FLEXIBLE?
The tour allows flexibility in terms of substituting places of visits, tour start/end time, pick-up and drop-off places in Addis Ababa. You can even custom this trip with a short excursion out of Addis Ababa.
WHICH ATTRACTIONS IN ADDIS ABABA ARE LESS CROWDED TO VISIT?
After the outbreak of Corona Virus, many tourist attractions in Addis Ababa were closed for public visit. Most places of visits are slowly re-opening but not crowded at all.
Regarding local markets, Shola (Sholla) market is less crowded to visit that the gigantic and busy Merkato Market.
IS ENTOTO PARK INCLUDED IN ADDIS ABABA TOUR?
The scheduled Full day city tour in Addis Ababa does NOT include a complete visit of Entoto Park. But, the tour has a stop at Entoto Park to enjoy/take snapshots of Addis Ababa City. If interested in visiting Entoto Park, let us know so that we customize the tour for you.
HOW MANY DAYS DO YOU NEED TO VISIT ADDIS ABABA?
You can visit top attractions of Addis Ababa city from half day (4 to 5 hours) to two days. Within 5 hours travelers can have the highlights of Addis Ababa - visiting National Museum of Ethiopia, Holy Trinity, and Merkato Market. For comprehensive citywide tour of the famous tourist attractions in Addis Ababa, you need at least two days.
If you are not in Addis during the day time, we have interesting night layover tour in Addis Ababa to visit the city after sunset.
BEST THINGS TO DO IN ADDIS ABABA AT NIGHT?
You may be wondering about what you can do in Addis Ababa if you are an overnight transit passenger through Addis.
Here are a few activities you can try at night (after sunset) in Addis Ababa.
Dine at a traditional Ethiopian restaurant to experience the food culture of Ethiopia

See LIVE cultural dance shows of Ethiopians at 2000 Habesha Traditional Ethiopian Restaurant

Stop at one of the few LIVE Ethiopian Jazz Clubs in Addis Ababa

Take part in Ethiopian Coffee Ceremony

Shop for quality Ethiopian Coffee and local spices at one of the best supermarkets in Addis Ababa

Experience Traditional Ethiopian bars known as 'Azmari Bet' where band of two (a couple normally) entertain guests playing Masinko (Ethiopian Fiddle), singing and dancing
Contact us on WhatsApp if you are on a short layover at Addis Ababa in the evening and want to try one of the above cultural nightlife activities in Addis. We customize our evening excursion of Addis Ababa to suit your situations best.
With day trips from Addis Ababa, experience culture, and enjoy great scenery. With our excursions near Addis Ababa, learn religion, and history. Enjoy beautiful scenery and explore some wildlife of Ethiopia.
For details of the Full Day City Tour in Addis Ababa, or for booking the tour, contact us soon.
Did you book Full Day City Tour in Addis Ababa with Merit Ethiopian Experience Tours? Please click the link below to share your tour experience in Addis Ababa with us on TripAdvisor.
GET THE SOLUTION WITH US TO HAVE IT YOUR WAY!
Contact us soon at meetmule@yahoo.co.uk or mulukengirma31@gmail.com, or info@meetmule.com
Call us on +251-911-360488 OR +251-963-078067
Drop us a message or chat with us on WhatsApp
Twitter - Follow us on Twitter