Full Day City Tour in Addis Ababa
Full Day City Tour in Addis Ababa
Private Full Day City Tour in Addis Ababa - Sightseeing Guided Tour of Addis Ababa with Merit Ethiopian Experience Tours
This is the complete Addis Ababa sightseeing visit to discover the best places in the city with knowledgeable local tour guide. Addis Ababa city tour itinerary is flexible to fit with your preferences as what to see in Addis Ababa on a day transit visit.
The private full day city tour in Addis Ababa is best for first-time visitors as it is a great combination of visits of museums, churches, local markets, scenic drives and unique activities to try in Addis Ababa city.
Addis Ababa (sometimes spelled as Addis Abeba) is the biggest and capital city of Ethiopia. "Addis Ababa - written as "አዲስ አበባ" means "New Flower" in Amharic language – the official language of Ethiopia. Addis Ababa was founded by Emperor Menelik II in 1880s. Please, see details of visiting Addis Ababa with us below.
This private tour of Addis Ababa is with a professional local tour guide by drive with a regularly sanitized private vehicle. Full Day City Tour of Addis Ababa is the extension of our Half Day Addis Ababa City Tour. Merit Ethiopian Experience Tours offers this flexible sightseeing tour of Addis Ababa. This trip in Addis Ababa is best for individuals, couples, family and small groups of visitors.
Visit interesting churches of Ethiopian Orthodox Christians, and busy local markets like Merkato (or Addis Mercato). This city sightseeing tour of Addis Ababa also includes learning Ethiopian history and culture by visiting museums, and famous historical monuments. Cultural activities include traditional Coffee Ceremony of Ethiopia. Tour also includes learning to cook local meals. Meeting locals and sharing experiences are part of Addis Ababa sightseeing tours.
Duration – 8 to 9 hours
Unique features of the Full Day Sightseeing Tour in Addis Ababa include: -
Longer visits of places of interest

More places to visit and things to do, and

More flexibility in choosing what to visit in Addis Ababa

Visitors preferred pick-up and drop off time

Start tour from any hotel in Addis Ababa or Addis Ababa Bole International Airport
Addis Ababa City Tour also includes visiting Ethnographic Museum and Saint George Cathedral. Ethnographic Museum (also called Ethnological museum) is one of the best museums not only in Ethiopia but in Africa. St. George Cathedral is one of the oldest churches in Addis.
The Addis Ababa tour also includes driving to Mount Entoto for the panoramic view of Addis.
Enjoy this 8 hours Addis Ababa city visiting with the help of professional local tour guide. Addis Ababa layover tour is ideal for transit passengers at Addis Ababa Bole International Airport.
Why book the Full Day City Tour in Addis Ababa?
At traditional Coffee Ceremony experience how Ethiopians enjoy their coffee with cultural ceremony
Full Day City Tour in Addis Ababa Itinerary
Meet your local professional tour guide at your hotel. If you are arriving at Addis Ababa, meet your tour guide at Addis Ababa International Airport.
After welcoming you and brief introduction of the tour, drive to National Museum of Ethiopia National Museum of Ethiopia is among the top museums in Addis Ababa, especially famous for its findings of archaeology. Here see mainly the fossil remains of Lucy (3.18 mil years old). Lucy or Dinknesh is the oldest hominid discovered in 1974 at Hadar, North East Ethiopia.
Next place of interest to visit with the sightseeing tour of Addis Ababa is the Holy Trinity Cathedral. Holy Trinity Cathedral is the most important religious site in Addis Ababa for Ethiopian Orthodox Christians. Emperor Haile Sillassie I is the founder of Holy Trinity Cathedral. Holy Trinity Cathedral has unique architecture and beautiful stained glass windows. Here, see the graves of Emperor Haile Sillassie I and his wife.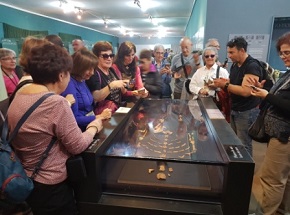 Before lunch, take a guided tour of the Ethnological (or Ethnographic) Museum. It was the former house of Emperor Haile Sillassie I.
The Ethnological Museum is at Addis Ababa University. It is a great place to learn Ethiopia's history, culture, religion, and people.
Have lunch at Addis Ababa Restaurant, Finfine Adarash, or Taitu Hotel. These are few of the best traditional Ethiopian restaurants in Addis Ababa.
After lunch, head north of Addis Ababa to the peak of Mount Entoto (3,200 Meters above sea level). Enjoy birds-eye view of Addis Ababa. At Mount Entoto, visit a family where you learn how to bake Enjera (Injera) – the flat Ethiopian bread. See how locals brew Tella – Ethiopian home brewed beer.
At the local family house at Entoto, be part of the Cultural Ethiopian Coffee Ceremony. The traditional Ethiopian Ceremony of enjoying best coffee starts with washing the coffee beans, and roasting the coffee beans. Then, presenting the aroma for visitors, pounding by hand, and enjoy the best coffee with a cultural ceremony.
City Tour in Addis Ababa continues with visiting St. George Cathedral. It is one of the oldest churches of the Ethiopian Orthodox Christianity. St. George Cathedral is known for its octagonal architecture, beautiful wall and ceiling hand paintings.
The St. George Cathedral Museum displays ancient religious and historical artifacts. St. George Cathedral is also where Ethiopia's last emperor – Emperor Haile Sillassie I was crowned at. Around St. George Cathedral, walk around and take photos of the famous statue of Emperor Menelik II - the founder of Addis Ababa.
Then, head to Merkato or Addis Mercato Market. Merkato is the largest open-air market in Africa. Here visit its most interesting cultural sections. The Spice Market, the hand woven baskets market, Chat (Mild Stimulant chewed by locals) Market, and the second hand items market.
With about half an hour walk in Merkato (Addis Mercato) market, go deeper in Addis experiencing Addis Ababa, and learn what life is like for the people who actually live/trade/work at Merkato Market. For local market enthusiasts, a bit of shopping in Addis Ababa can be added in the city tour.
Addis Ababa City Visit ends by driving on the famous streets of Addis Ababa. With the scenic drive in Addis Ababa City, see historical monuments, and major landmarks. Drive by the HQ of the United Nations Economic Commission for Africa. Continue to the HQ of the African Union and Meskel Square (the main square in the city).
Finally, stop at a supermarket to buy the best Coffee from Ethiopia and local spices. For Coffee lovers, check out the best coffee shop in Addis Ababa - Tomoca Coffee.
This private tour in Addis Ababa can be customized and organized by considering visitors' requests. Please, read and find out what to visit and do in Addis Ababa that interests you better.
If you want to do even more in Addis Ababa, after the full-day visit of the city, you can extend your tour. Visiting a couple of Cultural Ethiopian Restaurants make your stay in Addis Ababa a complete experience.
Visitors staying in one of the hotels around Bole Area may visit Yod Abyssinia Cultural Restaurant or 2000 Habesha Cultural Restaurant. At these restaurants, you can taste a variety of Ethiopian food and watch dances of the different Ethiopian tribal groups LIVE.
Enjoying Ethiopian Jazz Music at African Jazz Village is an alternative place to stop in the evening at Addis Ababa City.
You can extend your Addis Ababa City Tour with 1 day tours from Addis Ababa or two day tours from Addis Ababa.
See how the famous TRAVEL GUIDE BOOK PUBLISHER - LONELY PLANET presents our Full-Day City Tour in Addis Ababa. Tours in Addis Ababa can be reserved in advance of 6 months. Travelers have a choice of free cancellation of our tours before 12 hours of tour start times.
With day trips from Addis Ababa, experience culture, and enjoy great scenery. Excursions near Addis Ababa also help to learn religion, and explore some wildlife of Ethiopia.
For details of the Full Day City Tour in Addis Ababa, or for booking the tour, contact us soon.
Our previous guests, who visited Addis Ababa with Merit Ethiopian Experience Tours, please click the link below to share your tour experience in Addis Ababa with us on TripAdvisor.
GET THE SOLUTION WITH US TO HAVE IT YOUR WAY!
Email us soon at [email protected] or [email protected], or [email protected]
Call us on +251-911-360488 OR +251-963-078067
Drop us a message or chat with us on WhatsApp
Twitter - Follow us on Twitter