Half Day Addis Ababa City Tour
Short Layover Sightseeing City Tour of Addis Ababa especially best for transit passengers at Addis Ababa Bole International Airport
Title – Half Day Addis Ababa City Tour
The name of the Ethiopian Capital City "Addis Ababa or አዲስ አበባ" means 'New flower' in Amharic language. Founded by Emperor Menelik II, Addis Ababa has a lot of places of interest for foreign tourists.
Half day city tour allows first time visitors to learn Ethiopian's diverse tradition, ancient history, and local culture. Top attractions in Addis Ababa ranked on TripAdvisor, local cultural activities, best markets, and special-interest events are incorporated with this affordable half-day tour in Ethiopia's largest city – ADDIS ABABA.
We offer free hotel pickups and drop-offs. For visitors arriving early in the morning or late in the afternoon at Addis Ababa Bole International Airport, your private vehicle and great tour guide will welcome you on arrival.
Half Day Addis Ababa City Tour is the shorter version of Merit Ethiopian Experience Tours Full-Day City Tour of Addis Ababa. This is a private sightseeing half-day city tour of Addis Ababa to visit the best sites of Addis Ababa and do local activities. Professional English-Speaking local Ethiopian tour guides lead the half-day Addis Ababa city tours. This is private sightseeing half day city tour of Addis Ababa to visit best sites of Addis Ababa and do local activities.
Duration: 4 to 6 hours
We plan the short guided tour of Addis Ababa to help visitors get a great feel of Addis Ababa specifically and Ethiopia in a short time.
Best part of Addis Ababa half-day tour is that it is fully customizable to fit visitor's expectations and requirements.
Typical half day city tour of Addis Ababa includes visiting:-
National Museum of Ethiopia - especially to see the skeletons of Lucy or Dinknesh (the oldest human ancestor and 3.2 million-years old)
Holy Trinity Cathedral - to learn about Ethiopian Orthodox Christianity and to see the gravels of Emperor Haile Sillassie I
Merkato (Addis Mercato) market - the biggest outdoor cultural market in Africa and
Mount Entoto - for panoramic view of Addis Ababa and for cultural experience with family visit
Depending on visitors' interest and time limit, driving to Mount Entoto for view of Addis Ababa, and cultural experience in preparing Enjera (Injera) – the Ethiopian bread and attending Ethiopian Coffee Ceremony are arranged.
Activity Summary
With a professional English-speaking local tour guide and by a drive with comfortable private vehicle, make the best use of your short time in Addis Ababa.
The half day Addis Ababa City Tour itinerary takes 4 to 6 hours. Visit the Holy Trinity Cathedral and experience how life goes for locals at the giant open-air local market of Merkato. Enjoy the panoramic view of Addis Ababa from Mount Entoto and see the fossil remains of Lucy–the oldest hominid (3.2 million years old).
See the beautiful window glass works and appreciate the unique architecture of the Holy Trinity Cathedral. At Merkato market, visit the unique cultural sections to know of Ethiopian spices, colorful hand-woven grass baskets, secondhand items, and recycling section. Visit a local family to learn how to cook Ethiopian meals, see how Tella (Ethiopian homemade beer is made) and attend a typical Ethiopian traditional Coffee Ceremony.
Have a scenic drive on the major streets of Addis Ababa to see historical monuments, major squares, and important buildings of Addis Ababa.
Itinerary of short tour of Addis Ababa city
Your tour guide will meet you at your hotel in Addis Ababa. OR if you are just arriving, meet your guide at Addis Ababa Bole International Airport. Here's what you can expect, if you're hoping to book a half day trip in Addis Ababa with us.
Drive on Bole Road and via Meskel Square (the main square of Addis Ababa) to the Holy Trinity Cathedral–the most important religious site of the Ethiopian Orthodox Christians in Addis Ababa.
Take a 45 minutes to 1 hour guided tour of the Holy Trinity Cathedral to see its beautiful window glass works, unique architecture, and ancient historical and religious artifacts at the Trinity Museum.
Then, drive for half an hour to the busy local market of Merkato–the biggest outdoor market in Africa. With about an hour walking tour of Merkato, learn about the Ethiopian local spices, see the colorful hand-woven grass baskets, stop at the Chat (green leaves locals chew for stimulation) market, experience how life goes at the second hand items market and recycling section.
Next, crossing a scenic eucalyptus forest, head to Mount Entoto (the highest peak around Addis Ababa with 3,200 meters above sea level) to enjoy the panoramic view of Addis Ababa. At Mount Entoto, you will visit a local family to learn how to prepare Enjera (the Ethiopian national bread),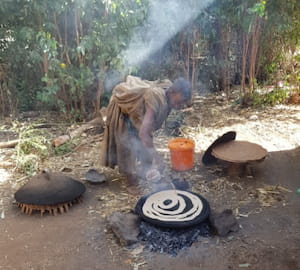 see how Tella (the local homemade beer) is brewed, and to take part in a typical Ethiopian Coffee Ceremony. See the entire process of the Coffee Ceremony starting from roasting the beans, pounding by hand using mortar and pestle, and brewing it.
On the way back from Mount Entoto to Addis Ababa, stop at Shiro Meda local market where you can shop for small local gift items and hand-woven cotton clothes.
Finally, before transferring in to your hotel/airport, have lunch at one of the best traditional Ethiopian restaurants in Addis Ababa where you will taste varieties of delicious Ethiopian meals.
Visitors who want to combine this quick tour of Addis Ababa with a bit of visiting the countryside with a one-day trip from Addis Ababa can customize it with us. Please, have a look at the list of interesting day tours from Addis Ababa offered by Merit Ethiopian Experience Tours.
Drive on routes that allow you to discover all the most important aspects of Addis Ababa. Explore best of Addis with our local Ethiopian tour guides. For vacationers who want to visit trendy sites in Addis Ababa, we organize the city tour of Addis Ababa by including Sheger Park, Entoto Park, or the new Andinet or Unity Park
Price of Half Day Addis Ababa City Tour includes professional English-speaking tour guide, private transportation, entrance (admission) fees, bottled water and local snacks in the vehicle, local family visit, and Ethiopian Coffee Ceremony attendance.
Half day tour of Addis Ababa Ethiopia can extend to Full day tour (8 to 9 hours). The comprehensive private city tour of Addis Ababa includes additional experiences and more places to visit such as: -
Ethnological Museum(also known as Ethnographic Museum) which was Emperor Haile Selassies's former palace. Ethnological Museum is one of the best museums in East Africa. Haile Selassie (formerly known as Ras Teferi or Ras Tafari before he became Emperor) lived here for more than 25 years. The Emperor is revered for Rastafarians.
St. George Cathedral is among the best places first time visitors of Addis has to visit. This Saint George Cathedral is historic for the Tabot (copy of the Ark of the Covenant) from this cathedral accompanied Ethiopians when they went to and defeated invader Italians in 1896.
Cultural Activities - Visitors learn how to and baking Injera (እንጀራ) – Ethiopian flat bread made of grain known as 'Teff' (ጤፍ), and have a great time with Ethiopian Coffee Ceremony.
Book Online - Addis Ababa Half Day Cultural Experience
Whether you are interested in the highlights or deeper engagement, we will make your layover tour in the city of Addis Ababa a complete SUCCESS.
Please, check out other interesting tours offered by Merit Ethiopian Experience Tours!
Contact us soon for details about visiting Addis Ababa in half day!
If you enjoyed your half-day tour of Addis Ababa city, please share your experience on TripAdvisor by clicking the following button.