2 Day Tours to Lalibela
Lalibela - Two Days private tour to visit the rock churches of Lalibela by flight from Addis Ababa
2-Days/1-Night private trip from Addis Ababa by flight to visit Lalibela monolithic churches
IN BRIEF - Visit Lalibela Rock Churches - 2-Days Private Tour by flight from Addis Ababa
Duration - 2 Days/1 Overnight at Lalibela
What you'll do (visit) in Lalibela - Visit the 11 monolithic churches of Lalibela with expert local tour guide, cultural experience visiting a local village, taste Tej (Ethiopian Honey Wine), and take part in cultural Ethiopian Coffee Ceremony
Price (per person) in US Dollars Price starts with 390 US Dollars for one person. Contact us for other details
Price INCLUDES - Accommodation at Lalibela, All ground transportations with Fuel (gasoline), transfer in and outs, tour guide, All Entrance (Admission) fees, Local family visits, Hotel/Airport pick up and drop offs, Ethiopian Traditional Coffee Ceremony Experience, Local snacks and bottled water, Tea/Coffee, and all applicable taxes.
Price EXCLUDES - Domestic flights, Meals and other expenses not mentioned above
For any of your questions, contact us on WhatsApp
Please, keep on reading to see how you will enjoy visiting the rock churches of Lalibela in 2 days from Addis Ababa with Merit Ethiopian Experience Tours.
VISIT THE 11 ROCK CUT CHURCHES OF LALIBELA IN 2 DAYS BY FLIGHT FROM ADDIS ABABA
✹Private Tour ✹Flexible Schedule ✹Expert Guide
Merit Ethiopian Experience Tours offers 2 days private guided tours to Lalibela rock churches.
DAY ❶ - ADDIS ABABA - LALIBEA

Take a 1-hour flight from Addis Ababa to Lalibela. Meet your guide at Lalibela Airport. Drive with private minivan to Lalibella town.
Visit 6 of the monolithic underground churches of Lalibela. Experience the Ethiopian Coffee Culture. Spend the night at one of the best hotels. Overnight at Lal Hotel
DAY ❷ - LALIBELA – ADDIS ABABA
Visit the remaining 5 churches with a tour guide. Get a private transportation to Lalibela Airport. Fly back to Addis Ababa.
UNESCO declared these incredible churches as World Heritages in 1978. Lalibela Rock churches date back to the 12th and 13th Century AD. All the 11 churches are active (still serve as churches). The rock-churches of Lalibela are the most remarkable tourist destination in Ethiopia.
NOTE: Currently, there is just one domestic flight each day to Lalibela from Addis Ababa. Ethiopian Airlines flies from Addis Ababa to Lalibela (ET120 – 11:40 – 12:40). And Lalibela to Addis Ababa (ET121 – 13:10 – 14:10) daily.
for any questions you may have about tours to Lalibela.
Lalibela (ላሊበላ) town is about 650 km north of Addis Ababa. "Roha" (ሮሃ) was the former name of Lalibela. It is famous for its amazing churches chiseled out of a single piece of rock. Lalibela rock churches were dug out of rock by the famous Saint Lalibela (ቅዱስ ላሊበላ) OR King Lalibela (ንጉስ ላሊበላ). King Lalibela ruled Ethiopia from 1181 to 1221. The name changed to Roha (ሮሃ) after King Lalibela founded the rock churches.
Things to do in 2-days Lalibela tours from Addis Ababa:-

Visit the 11 rock hewn churches of Lalibela

Enjoy the breathtaking scenery of Lasta Mountains

Attend a traditional Ethiopian Coffee Ceremony

Experience daily life of locals with a family visit
Duration – 2 Days/1 Night
Means of Travel – Flight from Addis Ababa to Lalibela and back - Bombardier DASH 8 (Q-400)
In Addis Ababa, for Hotel-Airport Transfers, we use Toyota Corolla for 1 or 2 people.
In Lalibela, we use Private Toyota Minibus for all groups (1 to 6 people). It is a comfortable 2017 Model Van with air-conditioned and seat belts.
ITINERARY
Day 1 – Fly Addis Ababa – Lalibela
Take a private shuttle service from your hotel/place of stay to Addis Ababa Airport. Head north with Ethiopian Airlines flight ET120 – 11:40 – 12:40 to Lalibela.
Check-in to your hotel in Lalibela (Lal Hotel). Have lunch at Ben Abeba Restaurant. Ben Abeba is a great outlook to the magnificent views of the mountainous landscape.
At Lalibela visit the incredible hand carved rock churches of Lalibela (UNESCO World Heritage Site and 13th Century AD). This afternoon, you will visit seven rock churches of Lalibela - the "First Group". Complete today's guided tour in Lalibela with visiting the "Third Group". The renowned cross-shaped church of Saint George is the only rock church in the third group.
The 11 churches of Lalibela are grouped as First Group, Second Group and Third Group. A small stream - "Jordan River" - separates the three clusters of Lalibela rock churches. YES, Lalibela's plan to carve these churches here was to establish the "New Jerusalem".
Note: - Women are advised to be fully dressed and cover hairs when visiting the churches at Lalibela.
At the end of the day, attend a traditional Ethiopian Coffee Ceremony. Taste the Ethiopian Honey Wine known as "Tej" which Lalibela is most famous for.
Overnight at Lal Hotel
The other best places to stay at Lalibela town are Mezena Resort & SPA (Lodge) and Mountain View Hotel.
Day 2 – Fly Lalibela – Addis Ababa
With an early start, visit four rock churches of the "Second Group" of Lalibela churches. If lucky, attend an Ethiopian Orthodox Church service at one of the churches.
Interested visitors may pass through a 15 meters tunnel which leads from the First Group to the Second Group. Locals believe that walking in the tunnel to the other end without using any light would lead one's soul to heaven at the end of earthly life.
Then, drive to Lalibela Airport for your flight ET 121 (13:10 – 14:10) back to Addis Ababa. Along the way to Lalibela Airport, take few minutes to stop at a local village. Experience the traditions and lifeways of the Amhara people.
In Addis Ababa, meet your driver at the airport, and transfer in to your hotel.
The 2 days private tour in Lalibela from Addis Ababa is customizable. We organize this trip to fit with how long you spend exploring Lalibela churches and sites around. Contact us to customize this trip to Lalibela.
Common questions about Lalibela and quick answers
Where is Lalibela?
Lalibela (ላሊበላ) is a small town in the northern part of Ethiopia. Lalibela is 650 km away North of Addis Ababa. It takes 1-hour flight from Addis Ababa to Lalibela, Ethiopia.
What is Lalibela known for?
Lalibela (ላሊበላ) is famed for its spectacular churches, which are carved out of one piece of volcanic rock. There are 11 underground stone churches in Lalibela town which date back to the 13th Century. Local worshipers and pilgrims use all the rock churches of Lalibela for regular church purposes. The most famous of the rock churches at Lalibela is the Church of Saint George.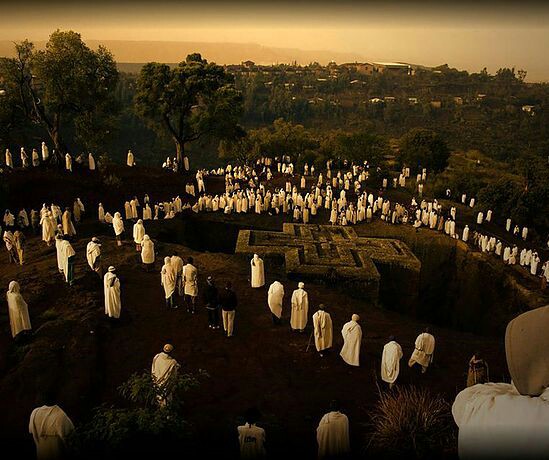 St. George church (Bete Giorgis Lalibela) is world renowned for its gorgeous cross shaped architecture. Lalibela's Saint George church is a great example of a monolithic rock-church. It is completely sculpted out of the ground.
The church of Saint George is detached from the mother rock with wide trench. All parts of the church – the doors, windows, domes, pillars, etc. were chiseled out a natural rock by hand. Bet Giorgis (House of Saint George) church is formed out of a single large block of stone.
Who carved the churches of Lalibela?
Lalibela churches are not built. They were carved out of a single piece of rock in the medieval times. The rock hewn churches of Lalibela were chiseled out of massive rocks by Ethiopian people known as AGEW.
The Ethiopian Dynasty in which the churches of Lalibela were carved in is the ZAGWE DYNASTY. 'Zagwe' means of Agew people or related to Agew (Agow) people. King Lalibela was one of the four kings of the Z'agwe Dynasty.
How old are the rock churches of Lalibela in Ethiopia?
The Ethiopian Emperor - Lalibela has carved the eleven rock churches of Lalibela. Lalibela underground rock churches were engraved with the orders of King-Saint Lalibela. Emperor Lalibela reigned from 1181 to 1221. That means the Ethiopian churches of Lalibela are older than 800 years.

When is the best time to visit Lalibela churches?
The best time to visit Lalibela churches is on January 6th and 7th. Besides visiting the churches, you will attend the Ethiopian Christmas. Ethiopian Orthodox Christians celebrate 'Genna' or the Ethiopian Christmas colorfully at Lalibela.
January is the peak season for Lalibela churches tourism. So, expect some crowd of visitors and plan your Lalibela tour ahead of time.
You can visit Lalibela churches at any time of the year. Consider that June to September is the rainy season at Lalibela which makes Lalibela tour uneasy. Lalibela Churches are one of the top pilgrimage sites in Ethiopia, especially for the Ethiopian Christmas (Jan 7th).
How many days to visit Lalibela churches and around?
Ideally, 1 day is enough to visit the 11 rock churches at the town of Lalibela. Plan three days for a complete tour of Lalibela churches and nearby. You'll make 1-day trips with start and end at Lalibela to visit other fascinating sites around.
What are other interesting places to visit around Lalibela?
If you have more time, don't miss Yemrehane Kirstos Cave Built up Church. Yemrehane Kirstos is 42 km from Lalibela. It is a famous pilgrimage site around Lalibela. It dates back to the 11th Century AD.
Asheton Mariam (Asheton Maryam Monastery) is another exciting place to visit with a day trip from Lalibela. Asheton Mariam is a semi-monolithic rock church from the 13th Century AD. The view from the top of the hill at Asheton Maryam is fantastic. It is more fun if you take a mule back ride from Lalibela to Asheton Mariam Monastery.
Ne'akuto Le'ab Monastery is the nearest attraction to visit with a day tour from Lalibela. You can extend your 2-days tour to Lalibela from Addis in exploring other rock-hewn churches near Lalibela. Genete Mariam and Arbatu Ensessa rock churches are worth-visiting sites around Lalibela, Ethiopia.

How to organize best Lalibela tour from Addis Ababa?
The best way to visit Lalibela churches from Addis Ababa is by using the domestic flights of the Ethiopian Airlines.
We customize this two-day private tour from Addis Ababa to Lalibela. We organize it to suit the time visitors want to spend in and around Lalibela. Let us combine this tour using other means of travel. We revise tour prices considering visitors' requests.
What's so unique about the rock cut churches of Lalibela? What makes Lalibela rock-hewn churches special?
Lalibela of northern Ethiopia is world-famous for its ancient rock churches. Here are some of the reasons Lalibela rock churches are special and unique.
All the rock churches in Lalibela were hand-carved from one solid piece of stone.
Out of over 200 rock cut Ethiopian churches, the Lalibela churches are the best in architectural features.

In Lalibela, regular church services of Ethiopian Orthodox Christians were and are still held in rock churches.

Bete Medhane Alem the biggest monolithic underground rock church in the world. It measures 11.5 meters in height and covering an area of about 800 square meters.
The churches at Lalibela were not carved into the sides of cliffs, but were dug into the ground and detached from the mother rock by trenches.
Among the most important pilgrimage sites in Ethiopia are the churches of Lalibela. Pilgrims and worshippers flock to Lalibela for the Ethiopian Christmas (Genna) held on January 6th and 7th every year.
Ethiopia's most popular tourist destination is the rock churches at Lalibela.
UNESCO has registered 13 sites in Ethiopia as World Heritage Sites – the largest number of UNESCO World Heritage sites in Africa. From the Ethiopian Heritages, Lalibela rock cut churches were the first to be designated World Heritage Sites by UNESCO (1978).

Bete Giorgis church (or Church of Saint George) at Lalibela has a design of a Greek cross.

Carving of all the 11 rock churches of Lalibela took only 23 years (late 12th and early 13th Century AD).
What are the 11 rock churches of Lalibela, Ethiopia?
Lalibela's eleven rock churches are Ethiopian Orthodox Tewahedo Christian churches. All the 11 churches in the northern Ethiopian town of Lalibela are carved in natural rock.
The names of 11 rock churches in Lalibela, as well as their meanings, are listed here. The table also lists the unique characteristics of Lalibela's rock-hewn churches, as well as which group they belong to.
List of Lalibela rock churches

No

Name of rock church

Name meaning (Dedication)

Special Feature of the rock church

Group the rock church belongs to

1

Bete Medhane Alem (ቤተ መድሃኔ ዓለም)

House of the Savior of the World

☀ World's biggest monolithic rock church

☀ Surrounded with external pillars

Group 1

2

Bete Maryam (

ቤተ ማርያም)

House of Saint Mary

☀ The first rock church carved in Lalibela

☀ Decorated with 15th Century Paintings (frescoes)

Group 1

3

Bete Meskel (ቤተ መስቀል)

House of the Cross

Semi-monolithic rock church with only the front side detached from the main rock

Group 1

4

Bete Denagel (ቤተ ደናግል)

House of Virgins

Group 1

5

Bete Golgotha

(ቤተ ሚካኤል)

House of Golgotha Mikael

☀ It is a twin rock church (two churches in one building)

☀ The tomb of Lalibela is found at Bete Golgotha.

Group 1

6

Bete Gabriel-Rafael (ቤተ ገብርኤል ሩፋኤል)

House of Gabriel Raphael

It was not originally carved for church purpose. It was probably a palace or prison.

Group 2

7

Bete Amanuel (ቤተ አማኑኤል)

House of Emmanuel

The only truly monolithic church from the second group, and artistically refined.

Group 2

8

Bete Lehem (ቤተ ልሄም)

House of Holy Bread

It is not used as a church now.

Group 2

9

Bete Mercoreos (ቤተ መርቆሬዎስ)

House of St. Mercoreos

Group 2

10

Bete Abba Libanos (ቤተ አባ ሊባኖስ)

House of Abbot Libanos

☀ It is unique that only its roof is connected with the living rock

☀ It is believed to be carved by the wife of King Lalibela (Meskel Kibra).

Group 2

11

Bete Giorgis (ቤተ ጊዮርጊስ)

House of St. George

☀ The most famous rock church of Lalibela

☀ Unique for its cross shaped architecture

☀ The last church carved by King Lalibela

Group 3
Note – Lalibela rock churches are clustered into three groups – Group 1(The Northern Group), Group 2 (The Eastern Group), and Group 3 (The Western Group).
FURTHER INFORMATION - If you are planning your travels to Lalibela by yourself, read this helpful Travel Guide to Lalibela Rock-Hewn Churches.
Please, check other two day trips from Addis Ababa with Merit Ethiopian Experience Tours. If you have other expectations and questions, we customize our tours to suit you. Contact us and plan your tour in Ethiopia with us including this two-days tour to Lalibela churches from Addis Ababa.
Have you booked one of our tours from Addis Ababa. Please, share your feedback on TripAdvisor using the following link. Thank you!
MERIT ETHIOPIAN EXPERIENCE TOURS [MEET]
Book EthioPerience!
---

Contact us soon at
Call us on +251-911-360488 OR +251-963-078067
Drop us a message or chat with us on WhatsApp
Twitter - Follow us on Twitter