2 Day Tours to Lalibela
Lalibela - Two Days private tour to visit the rock churches of Lalibela by flight from Addis Ababa
Two Days Tour from Addis Ababa by flight to visit Lalibela rock-churches
Merit Ethiopian Experience Tours offers 2 days private guided tours to Lalibela rock churches. UNESCO lists these incredible churches as World Heritage Sites. Lalibela Rock churches date back to the 12th and 13th Century AD. All the 11 churches are active (serve as church). The churches of Lalibela are the most famous tourist destination in Ethiopia.
Lalibela town is about 650 km north of Addis Ababa. "Roha" was the former name of Lalibela. It is famous for its amazing churches chiseled out of a single piece of rock. Lalibela rock churches were dug out of rock by the orders of the famous Saint Lalibela OR King Lalibela. King Lalibela ruled Ethiopia from 1181 to 1221. The name of Lalibela was "Roha". The name changed after King Lalibela founded the rock churches.
Activities included in Lalibela tour for two days are: -
Visiting the 11 rock hewn churches of Lalibela

Enjoying the breathtaking scenery of Lasta Mountains

Attending a traditional Ethiopian Coffee Ceremony

Experiencing daily life of locals with a family visit
Duration – 2 Days/1 Night
Means of Travel – Flight from Addis Ababa and back, and private vehicle in Lalibela
ITINERARY
Day 1 – Fly Addis Ababa – Lalibela
Fly ET 126 (07:10 – 09:30) from Addis to Lalibela. Meet your knowledgeable local tour guide at Lalibela airport and drive 23 km from Lalibela Airport to Lalibela town with a stop at viewpoints to enjoy great views of Lasta Mountains and to visit the local people of the Amhara people whose language is the official language of Ethiopia.
Before lunch, visit five of the still active hand cut rock churches of Lalibela (UNESCO World Heritage Site and 13th Century AD) which are known as the "First Group".
Have lunch at Ben Abeba Restaurant enjoying the breathtaking scenery of the surrounding mountains, and visit the remaining five churches of Lalibela known as the Second and Third Group. If interested you may pass through a 15 meters tunnel which leads from the First Group to the Second Group and which is believed by locals passing through the tunnel without using any light would lead one's soul to heaven at the end of earthly life.
Then, visit a local family to attend a typical Ethiopian Coffee Ceremony and see how Enjera (the Ethiopian pancake) is baked.
Late in the afternoon, enjoy the views of the surrounding mountains from the comfort of your hotel room. O/N- Mountain View Hotel
Day 2 – Fly Lalibela – Addis Ababa
With an early start, attend a church service of the Ethiopian Orthodox Church at one of the churches of Lalibela, take picture of St. George Church with a morning light, and then have breakfast. On the way to the airport, visit Ne'akuto Le'ab Cave built up church. Or visit a local village of the Amhara people. The Amhara are Ethiopia's second biggest ethnic (linguistic) group whose language is the official language of Ethiopia.
Next, transfer out to Lalibela airport for your flight ET 126 (10:10 – 11:10) back to Addis Ababa.
This two days private tour from Addis Ababa to Lalibela can be organized to suit the time visitors want to spend in and around Lalibela, means of travel, prices included in the tour offer.
Few frequently asked questions about Lalibela and quick answers
Where is Lalibela?
Lalibela is a small town in North Ethiopia. Lalibela is 650 km away North of Addis Ababa. It takes 1-hour flight from Addis Ababa to Lalibela, Ethiopia.
What is Lalibela is known for?
Lalibela is famous for its churches which are carved from one piece of rock. There are 11 churches in the town of Lalibela which date back to the 13th Century. All the rock churches of Lalibela are still serving for regular church purpose. The most famous rock church is the Church of Saint George Lalibela.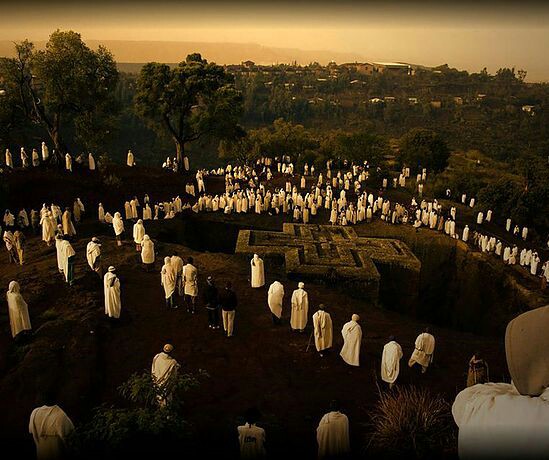 St. George church (Bete Giyorgis Lalibela) is world renowned for its beautiful cross shaped architecture.
Who carved the churches of Lalibela?
Lalibela churches are not built. They were carved out of a single piece of rock. The rock hewn churches of Lalibela were chiseled out of massive rocks by Ethiopian people known as AGEW. The Ethiopian Dynasty during the time these beautiful churches were carved was called ZAGWE DYNASTY. 'Zagwe' means of Agew people or related to Agew (Agow) people. King Lalibela was one of the four kings of the Z'agwe Dynasty.
How old are the rock churches of Lalibela in Ethiopia?
The Ethiopian Emperor - Lalibela (also referred to as King Lalibela and Saint Lalibela) is credited for carving of the eleven rock churches of Lalibela. Emperor Lalibela reigned from 1181 to 1221. That means the churches of Lalibela, Ethiopia are about 800 years old.

When is the best time to visit Lalibela churches?
The best time to visit Lalibela churches is January 6th and 7th when Ethiopian Orthodox Christians are celebrating 'Genna' or Ethiopian Christmas. January is the peak season for Lalibela churches tourism so expect some crowd of visitors and plan your Lalibela tour ahead of time. Lalibela churches can be visited any time of the year. Consider that June to September is the rainy season at Lalibela which makes Lalibela tour uneasy. Lalibela Churches are one of the top pilgrimage sites in Ethiopia especially for the Ethiopian Christmas (Jan 7th).
How many days to visit Lalibela churches and around?
Ideally, 1 day is enough to visit the 11 rock churches at the town of Lalibela. For a complete tour of Lalibela together with day trips from Lalibela to visit other interesting attractions around, plan two or three days.
What interesting places to visit around Lalibela?
If you have more time, don't miss Yemrehane Kirstos Cave Built up Church. Yemrehane Kirstos is 42 km from Lalibela. It is a famous pilgrimage site around Lalibela. It dates back to the 11th Century AD.
Asheton Mariam (Asheton Maryam Monastery) is another interesting place to visit with a day trip from Lalibela. Asheton Mariam is a semi-monolithic rock church from the 13th Century AD. The view from the top of the hill at Asheton Maryam is fantastic. It is more fun if you take a mule back ride from Lalibela to Asheton Mariam Monastery.
Ne'akuto Le'ab Monastery, Genete Mariam, and Arbatu Ensessa rock church are great places of interest to visit around Lalibela, Ethiopia.
How to organize best Lalibela tour from Addis Ababa?
The best way to visit Lalibela churches from Addis Ababa is by using the domestic flights of the Ethiopian Airlines.
We customize this two-day private tour from Addis Ababa to Lalibela. We organize it to suit the time visitors want to spend in and around Lalibela. Let us combine this tour using other means of travel. We revise tour prices considering visitors' requests.
What is unique about the rock cut churches of Lalibela? What makes Lalibela rock-hewn churches special?
Lalibela of northern Ethiopia is world famous for its ancient rock churches. Here are some of the reasons Lalibela rock churches are special and unique.
All the rock churches in Lalibela were hand-carved from one solid piece of stone.
Out of over 200 rock cut Ethiopian churches, the Lalibela churches possess the best architectural features.

In Lalibela, regular church services of Ethiopian Orthodox Christians were and are still held in rock churches.

The size of the rock church of Bete Medhane Alem (measuring 11.5 meters in height and covering an area of about 800 square meters) makes it the biggest monolithic church in the world.
Each of the rock churches at Lalibela has a unique design and architectural style.
The churches at Lalibela were not carved into the sides of cliffs, but were dug into the ground and detached from the mother rock by trenches.
Among the most important pilgrimage sites in Ethiopia are the churches of Lalibela especially during the Ethiopian Christmas (Genna) held on January 6th and 7th every year.
Ethiopia's most popular tourist destination is the rock churches at Lalibela.
UNESCO has registered 13 sites in Ethiopia as World Heritage Sites - the largest number of UNESCO World Heritage sites in Africa. From the Ethiopian Heritages, Lalibela rock cut churches were the first to be designated World Heritage Sites by UNESCO (1978).

Bete Giorgis church (or Church of Saint George) at Lalibela has a design of a Greek cross.

Carving of all the 11 rock churches of Lalibela took only 23 years (late 12th and early 13th Century AD).
Please, check other two day trips from Addis Ababa offered by Merit Ethiopian Experience Tours. If you have other expectations and questions, we customize our tours to suit you. Contact us and plan your tour in Ethiopia with us.
Have you booked one of our tours from Addis Ababa. Please, share your feedback on TripAdvisor using the following link. Thank you!
GET THE SOLUTION WITH US TO HAVE IT YOUR WAY!
Contact us soon at meetmule@yahoo.co.uk or mulukengirma31@gmail.com, or info@meetmule.com
Call us on +251-911-360488 OR +251-963-078067
Drop us a message or chat with us on WhatsApp
Twitter - Follow us on Twitter