Two Days Trip to the walled town of Harar by Flight
WELCOME TO HARAR - CITY OF SAINTS
2-days private tour of Harar Jugol (the walled city of Harar) by flight from Addis Ababa
Two days and one night guided sightseeing visit to see the best attractions of Harar city
100% customable trip to Harar from Addis Ababa with Ethiopian Airlines local flights
🤔 Have you heard of Harar, the 16th Century stone walled city in Eastern Ethiopia?
🤔 Ever seen a video of a man feeding wild hyenas? The "Hyena Man" at Harar, Ethiopia does so every night.
🤔 Did you know Harar city in east Ethiopia is World's fourth holiest city of Islam?
🤔 Thinking of a private short trip to visit the historical and cultural places of Harar? And see the "Hyena Man"?
We're here to make it all true with our two-day tour to Harar using local flights of Ethiopian Airlines from and back to Addis Ababa. Take a minute to see reviews about tours of Merit Ethiopian Experience Tours!
Read on, and if you have any questions, click below to send us text messages on WhatsApp.
IN BRIEF – Harar – Private 2-days tour to Harar by flight from Addis Ababa
Duration - Two days – one overnight
What you'll do (visit) - 1st Day - Transfer out to Addis Ababa Airport, Fly to Dire Dawa, Drive to Harar, Sightseeing city tour in Harar, Night at Harar,
2nd Day - More city visit of Harar, Drive to Dire Dawa Airport, Fly to Addis Ababa, Transfer in to your hotel in Addis Ababa
Price starts at 425 US Dollars for one person. Contact us to get quotes!
Price INCLUDES - All transfers and ground transportations, Petrol (gasoline), private driver, tour guide, All Entrance (Admission) fees, Accommodation at Harar, Hotel/Airport pick up and drop offs, Local snacks and bottled water, Tea/Coffee, and all applicable taxes.
Price EXCLUDES - Meals, domestic flight, and other expenses not mentioned above
Do you have any questions on customizing this 2-days private tour to Harar? Please contact us on WhatsApp
Merit Ethiopian Experience Tours [MEET] offers cultural and historical tour to Harar town. This trip is for two days and one overnight at Harar. This two days private guided trip uses two domestic flights of Ethiopian Airlines.
First day - Fly from Addis Ababa to Dire Dawa and visit Harar.
Second day - More sightseeing visit in Harar. And, fly back to Addis Ababa on the next day.
Tour includes private transportation for Dire Dawa to Harar transfers and back. We also use comfortable vehicle for the sightseeing city tour in Harar.
This Two Days Tours is to discover the best of the fortified ancient Islamic city of Harar. Written as 'ሃረር' or 'ሐረር' in Ethiopia's Amharic language, Harar (or "Harer") was the Medieval Muslim Capital of Ethiopia. Harar is located 525 km east of Addis Ababa.
Harar is famous for its strong walls and architecturally beautiful gates constructed in the 16th Century. Its five gates allow visitors to get to Jugal from five directions. Harar, an ancient religious center of Islam, is also known as holy city of Islam in the Horn of Africa.
UNESCO listed Harar as a World Heritage Site (in 2006) for the following reasons.
- Harar is the fourth Holy City of Islam after Mecca, Medina and Jerusalem,
- Harar has the largest concentration of Mosques in the world,
- There are 99 mosques in Harar each dedicated for the ninety nine names of Allah, in 1 square kilometers area
- Harar is unique for its fortified stone walls and five gates built in the 16th Century AD,
- Harar is a place where different ethnic and the religious groups lived in harmony for hundreds of years.
The ancient city of Harar has been a significant commercial hub for centuries. Trade routes connected Harar City to the rest of Ethiopia, the entire Horn of Africa, and the Arabian Peninsula. It was through Harar that this region of Africa communicated with the outside world.
This two-day tour of Harar includes visiting important sights, landmarks, and old mosques of the city. Visitng famous squares and Islamic tombs like Tomb of Amir Nur, Tomb of Sheikh Abadir, Jamia Mosque, and Feres Magala Square is part of Harar tour.
During the tour meet locals from Harar - Harari (Adere) at their beautiful traditional houses and at the colorful local Shoa Gate Market.
Walk the winding streets of Harar Jegol to see the stone walls and the original gates built in the 16th Century AD. Discover Shoa Gate, the Buda Gate (Bedri Bari), Erer Gate (Argob Bari), Sanga Gate (Suqutat Bari) and busy Fallana Gate (Assum Bari).
Visit Arthur Rimbaud's House where the famous French poet Arthur Rimbaud lived in Harar. See the fascinating Indian Architecture of the house. Enjoy displays of photographs taken by Arthur Rimbaud himself. Check out other pictures which show Harar's development and changes.
Other interesting places to visit with this 2-days tour in Harar are: -
✪ EMIR NUR'S TOMB (or Tomb of Amir Nur) - Emir Nur erected the protective stone walls and five gates of Harar. Emir Nur also established Harar as his capital in 1521 A.D.
✪ FERES MEGALA (Horses Market) is Harar's Central Square - Feres Magala. Five of the biggest roads in Harar Jegol Wall starting from the five gates of Harar meet at Feres Magala Square. Have a look around to see Medhane Alem Church - the only Church in the Harar Jegol.
✪ VISIT A TRADITIONAL ADERE HOUSE - Visit the colorful and unique two-story traditional houses of the Adere or Hararis.
✪ JAMIA OR JAMI MOSQUE – Have a look at the Great Jamia or Jami Mosque - the biggest mosque in Harar. According to local legends Jamia Mosque dates back to 10th to 12th century.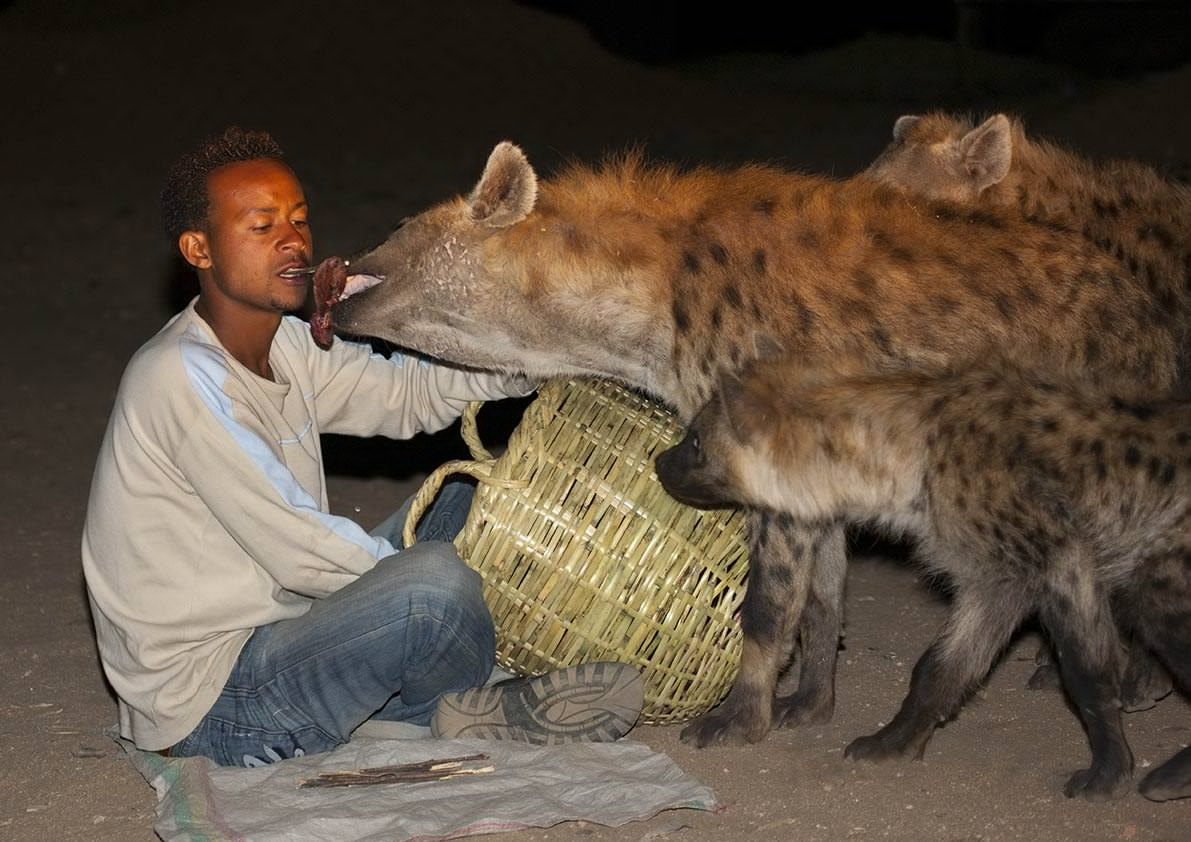 FEEDING WILD HYENAS
Drive to one of the gates of Harar, in the evening, to the Hyena Feeding Site. Gain a unique experience of feeding wild hyenas by hand. See how the "Hyena-Man" feeds hyenas calling by name. Give it a try!
The Tradition of feeding the hyenas began by leaving them some food by the gates of Harar during the drought season. This prevented the starved hyenas from breaking into livestock stables. The practice of making food accessible for the hyenas was the basis for Hyena feeding tradition.
ITINERARY
Day 1 - FLY Addis Ababa - Dire Dawa and drive to Harar
In the morning, take Ethiopian Airlines domestic flight ET 206 (07:00 - 08:00) or ET 214 (08:10 - 09:10) from Addis Ababa to Dire Dawa (55 km from Harar). Drive for about an hour to Harar enjoying the great scenery of the surrounding mountains.
Before lunch visit the walls and gates of Harar which marks and identifies the city's peculiarity. After having lunch at a local house of the Adere or the Harari people, visit the local market of Harar. This is a common cultural market of the tribal people of Amhara, Oromo, and Hararis (Adere).
Attend the ceremony of Chewing Chat (mild stimulanomo, and Adere (Harari). Then visit the House of Arthur Rimbaud - a famous French poet, who lived in Harar in the late 19th Century AD. Explore "Jugal" - Harar's old walled town by walking with a local tour guide.
If interested, check out one of Ethiopia's breweries - Harar Brewery. In the evening, drive to one of the gates of Harar where you can visit the 'Hyena Man' as he is feeding wild hyenas by hand and mouth.
Accommodation at Harar on this 2-day trip to Harar is organized at Ras Hotel or at Harari Cultural Guest House - Rewda Guesthouse.

Day 2 - Drive to Dire Dawa and FLY to Addis Ababa
Visit a coffee processing small scale industry. The Coffee from around Harar is one of the best types from Ethiopia. Then, attend a typical traditional Ethiopian coffee ceremony. Explore some of the oldest mosques and shrines of Harar. Finally, drive back to Dire Dawa and visit the colorful spice market and the old Train station which was founded by the French in the 1900s.
Take the Ethiopian Airlines domestic flight ET 221 (15:50 - 16:50) from Dire Dawa back to Addis Ababa.
If you traveled in Ethiopia with us, please review Merit Ethiopian Experience Tours. Click below for rating our service and your experience.
HARAR, ETHIOPIA - FREQUENTLY ASKED QUESTIONS WITH HELPFUL ANSWERS
Get facts and insightful answers about the fortified historic town of Harar, Eastern Ethiopia. We list common visitors' questions about Harar city and provide short useful answers.
Where is Harar city in Ethiopia?
The walled town of Harar is located 525 km (326 miles) east of Addis Ababa, Ethiopia's Capital City. Harar, the capital of Harari Region, has an elevation of 1,800 meters above sea level. The city of Harar is 50 km away from Dire Dawa town (where the closest airport to Harar is).
How to go to Harar from Addis Ababa?
You can go from Addis Ababa to Harar town by ground transportation (525 km), fly with Ethiopian Airlines to Dire Dawa and drive 50 km to Harar. Or use the Addis Ababa – Dire Dawa - Djibouti Railway Service and drive 50 km by private transportation from Dire Dawa to the city of Harar.
When was Harar founded?
Harar (Hārer) existed as part of the ancient Ethiopian Axumite Empire at least in the 7th Century AD. It was through Harar town that the first Muslim migrants arrived to Ethiopia from Arabia in the 7th Century AD.
Is Harar worth visiting? What makes Harar special?
Harar is a fascinating unique town even from Ethiopians perspective. The historic holy city of Harar is quite different from the famous historical and religious sites of Northern Ethiopia.
Few facts to qualify Harar as one of the best places to visit in Ethiopia: -
✺ The town of Harar was the medieval Muslim Capital of Ethiopia
✺ Harar (Harar Jugol) is enclosed with stone walls built in the 16th Century AD
✺ Harar is the 4th holiest city of Islam next to Mecca, Madinah and Jerusalem
✺ Harar is an ideal place to see authentic harmony and unity in diversity
✺ Harar is a site where you can feed wild hyenas with your own hands
✺ Harar is enlisted by UNESCO as a World Heritage Site
How many gates have Harar Jugol?
The 3.5 kms (2.2 miles) long stone walls of 5 meters (16 feet) high encircle the historic town of Harar. The original gates of Harar are five (5) in number namely Shoa Gate (ሽዋ በር), Buda Gate (ቡዳ በር), Sanga Gate (ሠንጋ በር), Erer Gate (ኤረር በር) and Fallana Gate (ፈላና በር).
Historically, the five gates linked Harar with the major trade routes of the time.
In 1889, one more gate is added to the walls of Harar – Duke's Gate.
What to buy from Harar, Ethiopia? Best souvenirs from Harar?
Coffee from Harar is one of the best coffee types in Ethiopia. Don't miss the chance to buy Coffee from Harar. Other best souvenir to buy from Harar is the colorful intricately woven grass baskets of the Harari people.
Harar is also famous for its jewelry made of silver. Frankincense and other resins are some other items visitors may want to buy from Harar.
What to see near Harar with 1-day tour?
You can extend the above 2 days tour of Harar by adding one more day. Best places to visit near Harar in a day excursion are: -
✅ Babile Elephant Sanctuary
With 7 to 8 hours private day trip from Harar, visit Babile Elephant Sanctuary. At Babile Sanctuary, see the unique elephant species of Loxodonta Africana Orleansi. This African Bush Elephant is endemic to the Horn of Africa.
Other animals you'll see Babile Elephant Sanctuary are the Hamadryas Baboon, Lesser Kudu, aand the Greater Kudu. If you are lucky, you'll encounter the black maned Abyssinian lions.
✅ The village of Koremi (Koromi)
Koremi Village is the settlement of the Argoba (Argobba) people. The setting of the village together with the stone architecture of the houses makes the village ideal for a day tour from Harar.
The Argobba people and their language are considered endangered.
The Semitic-speaking Argobba people trace their backgrounds to Arabia. The arrival of Argobba is related to the coming of Islam to Ethiopia. The population of the Argobba people is decreasing because of exogamy - marriage with other tribes e.g. Amhara, Oromo, etc.
If you have time for a half-day trip near Harar, drive to the villages of the Argobba people. At the Koromi village, visit old houses made of stone. Some of the stone-made houses of the Argoba are older than 500 years.
Extend your private tour of Harar from Addis Ababa by flight to visit the Koromi Village near Harar.
✅ The Camel Market at Babile Town
For visitors looking for short trips from Harar town on either Monday or Thursday, the camel market at Babile town is worth visiting. The Monday Camel Market at Babile Town is one of the biggest camel markets in Ethiopia.
If you are planning a half-day guided day tour from Harar to Babile Camel Market, make sure you visit the market in the morning. The Babile Camel Market is best visited before 10 AM.
✅ Dakata - Valley of Marvels
The amazing rock formation at Daketta or Dakata or Dakhata on your way to Babile is something not to miss. During your tour from Harar, stop at Dakata or Daketta Rocks. The Dakata Valley is also better known as the Valley of Marvels.
The hills are populated with phallic-shaped tall rocks. If you take a sidewalk to a nearby hill and take a moment to meditate while viewing the rocks, you will be stunned by the strangely sculpted rocks of Daketta.
NOTE - You can extend this 2 days tour to Harar city to three days tour
With the 3-days tour plan, you'll drive one way to Harar, visit Awash National Park, and fly back from Dire Dawa.
Did you reserve any tours in Ethiopia we offer? Please write review on Google for Merit Ethiopian Experience Tours, and share your feedbacks online.
We really appreciate if you can also rate (write review) on our guided tours in Ethiopia. Please click the link below to share your experience with us on TripAdvisor. Thank You!
MERIT ETHIOPIAN EXPERIENCE TOURS [MEET]
Book EthioPerience!
---

Contact us soon at
Call us on +251-91-136-0488 OR +251-96-307-8067
Drop us a message or chat with us on WhatsApp
Twitter - Follow us on Twitter
Facebook – Get in touch with us on Facebook
LinkedIn – Connect with us on LinkedIn
Instagram – See where we can take you in Ethiopia
Pinterest – Discover what you can do in Ethiopia with MERIT
Book your 2 days tour to Harar with Merit Ethiopian Tours!