Day Tour from Addis Ababa to Debre Libanos Monastery
Day Tour from Addis Ababa to visit Debre Libanos Monastery, Jemma Gorge and Portuguese Bridge
Guided Day Trip to visit Ethiopia's biggest monastery - Debre Libanos Monastery
With a private day tour from Addis Ababa to visit Debre Libanos Monastery. Debre Libanos Monastery is the largest Ethiopian Orthodox Christianity Monastery. See the 16th Century stone made Portuguese Bridge. Enjoy the magnificent views of Jemma River Gorge.
Duration – 8 to 9 hours
Total Distance Covered – 210 km
Means of Travel – Private Toyota Corolla (1 or 2 visitors) or Toyota Minivan (3 to 6 visitors)
With this day trip from Addis Ababa: -
• Visit local villages of the Oromo people to see how Injera (Ethiopia's national bread),
• See Gelada Baboons (found only in Ethiopia) and
• Attend traditional Ethiopian Coffee Ceremony
NOTE - June, July and August is the rainy season in Ethiopia. Enjoying the views of the Jemma River Gorge and seeing the Gelada Baboons is not guaranteed.
Women have to cover their hair and dress to cover their body when visiting the monastery.
Major Points of Interest and Attractions to visit: -
• Debre Libanos Monastery – 13th Century AD and the biggest in Ethiopia
• Portuguese Bridge (16th Century AD)
• Stop at a viewpoint to enjoy the breathtaking scenery of the Jemma River Gorge
• Attend a typical Ethiopian Coffee Ceremony
• See one of the endemic mammals of Ethiopia – the Gelada Baboon, and
• Cultural experience at the villages of the Oromo people
Itinerary: - Meet your professional local tour guide at your hotel in Addis Ababa at 8:00 AM. Get general information about the day trip from Addis Ababa from your tour guide. And, drive 100 km north of Addis Ababa to Debre Libanos with a private air conditioned vehicle.
On your way out of Addis Ababa, drive by Meskel Square – the central square in Addis Ababa. Stop at the stature of Emperor Menelik II – the founder of Addis Ababa.
Cross the beautiful Eucalyptus trees forest of Mount Entoto. Mount Entoto (3,200 meters or 10,500 feet above sea level) is the highest peak around Addis Ababa.
If the day tour to Debre Libanos Monastery is in September or October, stop at a few viewpoints along the way. With stopovers, enjoy the breathtaking scenery of the Sululta Plains. This time of the year is best to see the beautiful Adey Abeba flowers. This yellow daisy flower known as Meskel Flower is the National Flower of Ethiopia for many.
Before reaching Debre Libanos, stop for half an hour at the villages of the Oromo people. Indulge in a cultural experience to learn how Ethiopians bake Enjera. Enjera or Injera is the flat Ethiopian bread made of Teff Cereals. Take time to experience Ethiopian Coffee Ceremony with locals.
During this Addis Ababa day trip, take an hour visit to Debre Libanos monastery. Debre Libanos Monastery was established by Ethiopian Saint Abune Tekle Haimanot in the 13th Century AD. St. Tekle Haimanot prayed for seven years standing only on one leg.
At Debre Libanos Monastery, visit the church built by Emperor Haile Sillassie in the 1960s. This church is famous for its beautiful stained glass windows and mosaics.
Then, visit Debre Libanos Monastery Museum for half an hour. See ancient religious and historical artifacts, crowns, manuscripts, icons, and royal seats. The monastery's museum is quite interesting to learn the original history of why the monastery was built here by former Ethiopian leaders.
Continue excursion from Addis Ababa by driving 10 minutes to the Portuguese Bridge. Around the small stone made Portuguese Bridge, walk for half an hour to take photos of the bridge. If the day tour is in the rainy season of June to August, visit the powerful waterfall by the Portuguese Bridge.
According to local belief, Portuguese Bridge was built in the 16th Century. Some historians claim that Ras Darge built the Portuguese Bridge in the 19th Century. What is for sure, anyhow, is that Portuguese Bridge is worth visiting and offers fantastic scenery.
Walk over the Portuguese Bridge, head to the best outlook where you will have birds' eye view of the beautiful Jemma River Gorge. Jemma River is one of the rivers flowing into the bigger Blue Nile Gorge.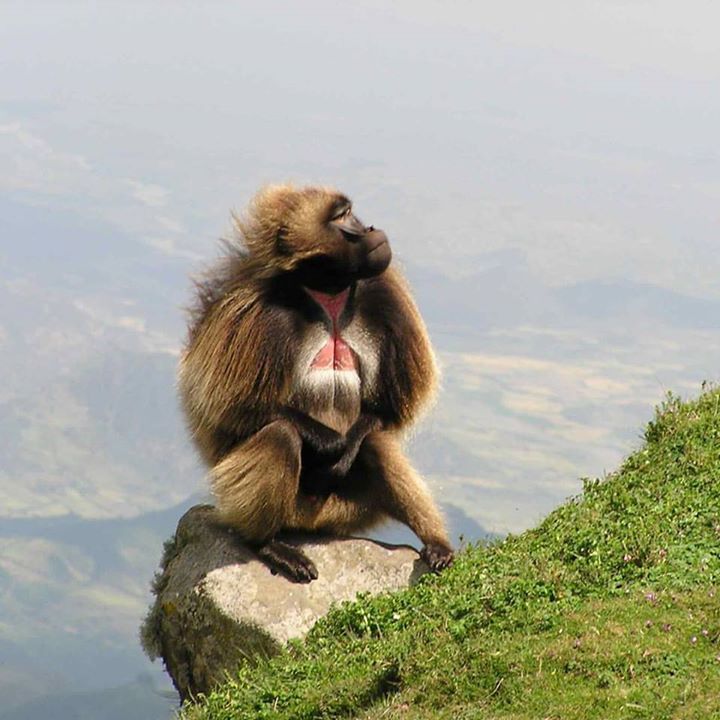 The wildlife part of this day tour from Addis Ababa helps visitors to see one of the endemic mammals of Ethiopia – the Gelada Baboon. The Debre Libanos area is the nearest place to Addis Ababa to see Gelada Baboons which are notable for their red patch on their chest. Gelada Baboons are also known as "the bleeding heart baboon.
Have lunch at a local Ethiopian restaurant where you will try tasty Ethiopian food.
For bird lovers, this Addis Ababa day tour gives chance to see the Ethiopian endemic birds of Rüppell's Chat, White-winged Cliff-chat and White-billed Starling.
Then, drive 100 km back to Addis Ababa with a couple of stops for scenic pictures along the way. 
This day trip is a great getaway from the busy daily life of Addis Ababa city.
It gives visitors opportunity to develop photography skills in taking photos of diiferent scenes - historical places like Debre Libanos monastery, wildlife including Gelada Baboons and some birds, cultural activities such as Ethiopian Coffee Ceremony, and unique landscape of the Jemma River Gorge (one of the biggest rivers forming Blue Nile Gorge).
The other best part of this Addis Ababa day trip is visit of local villages. With this cultural visit, see how HAPPY people live in difficult living conditions which make most visitors appreciate and give more value for their life.
The price of this day trip includes: -
• Comfortable Toyota Corolla or Toyota Minivan equipped with air conditioning and seat belts
• Fuel (gasoline) and driver's allowance
• Professional experienced English speaking tour guide
• Family Visits and attendance of Coffee Ceremony
• Bottled water in the car
• And, related government taxes
Price does NOT include: -
• Entrance (admission) fees
• Meals
• And, any other expense which is not mentioned in the "Included" list above
Please, contact us if you want the exact price of the tour.
This one day tour from Addis Ababa can be customized to meet visitors' interests and preferences best. And, the tour can be booked for up to six visitors with the same tour price. Let Merit Ethiopian Experience Tours help you get the most out of your one day in and around Addis Ababa.
This day trip can be extended to include the famous Blue Nile Gorge by driving 200 km more.
Contact us for booking this day tour from Addis Ababa or for further details!
GET THE SOLUTION WITH US TO HAVE IT YOUR WAY!
Contact us soon at [email protected] or [email protected], or [email protected] OR you can call us at +251 – 91136 04 88 or +251 - 963078067.
Twitter - Follow us on Twitter
Alternatively, you can contact us by WhatsApp:- +251911360488