About us
About Merit Ethiopian Experience Tours
Welcome to MERIT ETHIOPIAN EXPERIENCE TOURS [MEET]! We are established experience providers in Addis Ababa, Ethiopia. Our tour guides are experts in delivering personal private guided tours.
Of course, many tour companies say so and promise the same. WE DO IT – Our 5-Star Ratings and Reviews show it!!!
On recent news, Merit Ethiopian Experience Tours is chosen as one of the best 10 tour operators in Ethiopia for travelers in 2023.
Merit Ethiopian Experience Tours is proud of a long list of 5-Star ratings, and a couple of 4–Star feedback. We earned NO 3 or fewer star ratings.
Your Multi-day Tour in Ethiopia with us is as flexible as you wish. We are specialists in creating the best private tours and day trips in and near Addis Ababa.
Merit Ethiopian Experience Tours [MEET] helps you book best private tours in Ethiopia. Our focus on providing you great tour experience are:-
- Professionalism,
- Personalized tours,
- Insightful experiences, and
- Uniqueness.
Founded in 2008 by Mr. Muluken Girma Tamirat, Merit Ethiopian Experience Tours organizes custom tours of great Merit. Muluken (nicknamed as "MULÉ") is native Ethiopian born and grew up in Addis Ababa city.
WHO WE ARE
Muluken Girma (Mr.) - Founder and Tour Operator
Hello! I am Muluken. I'm a professional Ethiopian tour operator from Addis Ababa. I am a graduate in Accounting from Mekelle University Faculty of Business and Economics, Northern Ethiopia in 2001. But, soon after I started working as an accountant, I believed that it was not a job for me. I waited for a year until the academic year to study tourism started.

I quitted my Accounting job and started studying Travel Operations Management full-time at the Catering and Tourism Training Institute (CTTI) of Ethiopia in Addis Ababa. This institute was the only educational center in Ethiopia training students in Tourism. I was diligent enough to get graduated in Diploma with "Distinctions" Ranking after two years of studying.

After graduation, I worked as a tour guide and tour operator at Paradise Ethiopia Travel and Dinknesh Ethiopia Tour (on permanent basis). As a freelancer tour guide, I had worked at many local tour companies including Teddy Tour and Ethiopian Rift Valley Safaris.

Starting from September 2008, I run Merit Ethiopian Experience Tours. I've been enjoying the merits of providing private trips all over Ethiopia. Since 2015/2016, Merit Ethiopian Experience Tours [MEET] has mainly been serving visitors on few day tours in and around Addis Ababa.

I hope you enjoy our private city tours, day tours from Addis Ababa, and tailor-made tours in Ethiopia as much as we enjoy offering them to you. If you have any questions or comments, please don't hesitate to contact us.
Muluken Girma, Tour Operator and Guide at Merit Ethiopian Experience Tours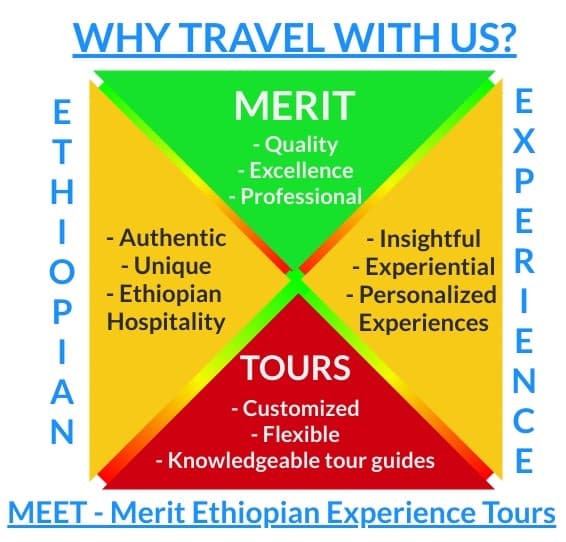 OUR NAME – MERIT ETHIOPIAN EXPERIENCE TOURS [MEET]
We chose the name of our tour company – "Merit Ethiopian Experience Tours" to reflect our values and what we do. We want and work hard to make our name the best travel brand in Ethiopia. We want our name to say a lot about us.
"MERIT" – To show our excellence, high-quality, and worth of our tours and travel services in Ethiopia. We treat you with utmost esteem and deliver world-class tour experiences in Ethiopia you deserve.
"ETHIOPIAN" – To reflect where our tours are and indicate the authenticity and originality of experiences we offer. Our tour guides help you know all about Ethiopia and experience it with its originality.
"EXPERIENCE" – To indicate our trips in Ethiopia are engaging, unique, insightful, and experiential. We present you unique experiences. We get you involved in the tours, try local activities, and make that experience your life-time memory.
"TOURS" – is the broad category our best experiences in Ethiopia we offer at Merit Ethiopian Experience Tours [MEET].
MEET the best and experience Ethiopia Merited!
OUR LOGO
As we tried to show what we do in our tour company name, we used a travel company logo to reflect our values. The logo of Merit Ethiopian Experience Tours [MEET] is a traditional Ethiopian coffee pot. For aesthetic qualities, the coffee pot is decorated with the national colors of Ethiopia – Green, Yellow, and Red with a blue crown top.
Our values and priorities we want to show with our Logo are: -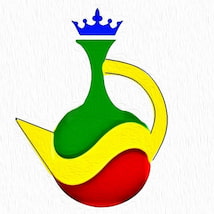 ORIGINALITY – Coffee is "Originally" from Ethiopia. As the name indicates, the birthplace of Coffee is at Kaffa (Keffa) area of Western Ethiopia. Trips with Merit Ethiopian Experience Tours are original (authentically unique experiences).
WELCOMINGNESS – Coffee, related with hosting guests on Ethiopian Cultural Coffee Ceremony, is a sign of showing respect, and being welcoming. WELCOME to Ethiopia! We are here to host you on tours and experiences in Ethiopia with genuine Ethiopian hospitality.
HIGHEST-VALUE – Coffee is Ethiopia's gift to the World. And Coffee is Ethiopia's biggest export item. We want this fact to reflect in our logo to indicate our highest value is delivering unique, rewarding, and worth-taking tours and activities in Ethiopia.
WHAT WE DO
WHY BOOK YOUR TOUR OF ETHIOPIA WITH US?
- MERIT – Tours of great Merit
- ETHIOPIAN – Authentic and unique trips
- EXPERIENCE – Insightful and life-enriching Experiences
- TOURS – Customized Tours with expert tour guides
MEET OUR TEAM
BIRUK EZRA - Tour Guide
"Great way to get around and get to know Addis Ababa. Lucy at the National Museum was the highlight of course but so many other things in the museum, like Selam. Mercato was an eye-opener. I could not have gone there on my own. And the coffee ceremony is a wonderful day-ender. I am very glad I booked this trip. My guide was Biruk (pronounced (Brk) and driver Ber, a great team. They went out of their way to make me feel welcome and accommodate weird requests: I needed to find refrigerator magnets for people back home and it ended up being our real day-ender." As reviewed on TripAdvisor
GETAHUN DEREJE - Tour Guide
"My wife and I had a 16-hour layover in Addis Ababa so we booked a one-day private tour of Addis through Viator. Our guide, Getahun from Merit Ethiopian Experience Tours, and driver Jemal picked us up from Bole Airport at 7am. They then took us to some famous sites such as the Ethiopian Museum, Trinity Church and Museum of the Red Terror. The traditional coffee ceremony in a small village in the hills north of Addis was especially lovely! Getahun kindly walked around the busy Mercato with us which was colorful and fun. We would highly recommend the tour of Addis with Getahun and Merit Ethiopian." As reviewed on TripAdvisor
KEDEMKACHEW WESSENSEGED - Tour Guide
"We took the tour on the rainy season, and the landscapes where just incredible... those cloudy mountains around Debre Libanos are beautiful. Also, it was some kind of religious festivity and the monastery was quite busy with people going to pray. The Portuguese Bridge and the river are also incredibly beautiful. Thanks to our guide, Kede, and our driver, Emush, for this wonderful day out!" As reviewed on TripAdvisor
Once again! Merit Ethiopian Experience Tours [MEET] would like to welcome you to Ethiopia – LAND OF ORIGINS!
MEET the best and travel Ethiopia Merited!
Please, read visitors' testimonials about their Addis Ababa City Tours, day trips around the city or other trips in Ethiopia they booked with Merit Ethiopian Experience Tours. You can also read other visitors' reviews about thier trips with Merit Ethiopian Experience Tours on TripAdvisor.
If you visited Addis Ababa with us or booked one of our tours, please share your experience for fellow travelers on TripAdvisor by clicking the following link. Thank you!
MERIT ETHIOPIAN EXPERIENCE TOURS [MEET]
Book EthioPerience!
---

Contact us soon at
Call us on +251-91-136-0488 OR +251-96-307-8067
Drop us a message or chat with us on WhatsApp
Twitter - Follow us on Twitter
Facebook – Get in touch with us on Facebook
LinkedIn – Connect with us on LinkedIn
Instagram – See where we can take you in Ethiopia
Pinterest – Discover what you can do in Ethiopia with MERIT
MEET the best - Travel Ethiopia with MERIT