Home
Merit Ethiopian Experience Tours (MEET) is a local tour operator in Addis Ababa, Ethiopia. We organize private tours exclusively in Ethiopia with a special focus on short trips in and around Addis Ababa. Our specialization is providing bespoke guided tours in Addis Ababa and the vicinity.

ETHIOPERIENCE™ is Ethiopian Tours of Great Merit tailored to your needs. Merit Ethiopian Experience Tours [MEET] designs your specific ETHIOPERIENCE™. We personalize your ETHIOPERIENCE™ to your specific interests, travel style, and expectations.

Organizing inquiry-based custom-built tours in Ethiopia is what we do best. Contact us to plan and book private Ethiopian trips prepared based on your specifications.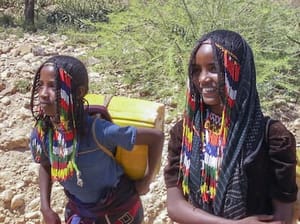 If you require quick assistance, please
Merit Ethiopian Experience Tours (MEET) specializes in organizing small group size private:-
City tours in Addis Ababa

- short layover city tour (half-day) and full-day Addis Ababa one day-tour. Customizable private single-day tours in Addis with free Hotel/Airport pick up and drop offs

Day trips from Addis Ababa

comprise 1-day tours to Debre Libanos Monastery and an excursion to Adadi Mariam Rock Church. Visit the Rift Valley lakes of Ethiopia, Lalibela rock churches, and Harar on 2-days tours.

Multi-day tours - two- and three-day trips near Addis Ababa and special interest tours in Ethiopia. You can work with us to adapt these multi-day tours to meet your needs.
Our most popular and often booked tours are:-
- Full-Day City Tour of Addis Ababa
- Addis Ababa Half-Day City Tour
- Day trip to Debre Libanos Monastery, and
- Day Tour to Adadi Mariam Rock Church and Tiya Cemetery
Visitors choose our full-day (9 hours) Addis Ababa private tour because it is a great mix of varieties of places to explore. It also includes indulging in local activities to experience. Allowing the freedom of where (when) to start (end), where to go, and what to do in Addis Ababa, this tour helps visitors know Addis Ababa in depth.
If you need any information on planning your tours in Addis, send us a text message on WhatsApp.
Along with the sightseeing, our private city tour incorporates visits to the city's most popular attractions. Check out the best things-to-do in Addis Ababa to include in your full-day visits. Our Addis Ababa tours are perfect for first-time visitors to the city. You're free to decide where to go and which attractions to visit in Addis Ababa. When booking the full-day guided tour in Addis Ababa, tell us what sort of local activities you wish to try.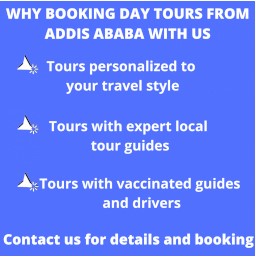 In addition to our most well-liked tours in Addis Abeba and day excursions outside the city, we've more to offer. We provide flexible 2 or 3-day trips from Addis with customable itineraries.
See the list of 2 days tours near Addis Ababa we organize, and contact us for booking or customizing.
The long journey of Ethiopia with us takes you to the historical sites of northern Ethiopia. Discover ancient rock-carved churches of Tigray and Lalibela in the northern Ethiopia.
If you are interested in unique culture, visit the colorful interesting tribal people of the OMO Valley of southern Ethiopia. You can extend your multi-day tour in Ethiopia to visit the walled city of Harar with us.
Merit Ethiopian Experience Tours [MEET] was established by Muluken Girma. Muluken is a professional Ethiopian tour operator and tour guide from Addis Ababa. Muluken Girma is shortly and fondly called MULÉ.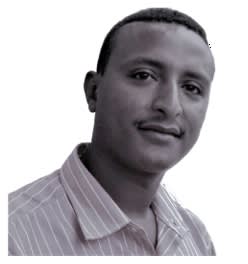 MULÉ welcomes you to Ethiopia warmly, MEET MULÉ and his partners at - https://www.meetmule.com/
As a small tour operator in ongoing updates and coping with current tourism industry trends, we aim to be the #1 tour company in Ethiopia. We always update our offers to present you with unique Ethiopian tours and experiences that MERIT your visit.
We strive our best to add the utmost value to your tour of Addis Ababa in: -
- offering customized private tours created just for you
- providing safe travel experiences at all times
- conducting sustainable tourism responsibly
- offering easy payment options including booking tours online
We accomplish the above core values in
1 - CUSTOMIZED PRIVATE TOURS - We know that no one tour suits and satisfies all travelers equally. We will tailor our finest private tours of Addis and around you based on the information you provide about your expectations. Your feedback guides our operators in tailoring your Addis Ababa city tour itinerary. We cooperate with you until all the specifics of your request are addressed.
The personalized travel experiences we design for you, which we call it EthioPerience, are guided by our expert tour guides. Of course, we allow you the highest degree of flexibility. Yes, it is EXCLUSIVELY YOUR TOUR.
Take a look at our interesting short day tours from Addis Ababa and allow us to assist you in traveling to Ethiopia with great MERIT.
2 – SAFE TRAVEL EXPERIENCES – The COVID-19 outbreak prompted us to update our travel standards, health protocol, and safety measures. It has become one of our top priorities to keep you as safe from Corona as possible during your Addis Ababa, Ethiopia tours with us.
During your visit, we will provide you with free hygiene items such as disposable facemasks, gloves, wipes, and hand sanitizers. We regularly clean our vehicles. Before and between stops during the tour, the driver sprays and cleans all high-touch surfaces of the car.
All our tour guides and drivers are vaccinated against Coronavirus. We follow globally accepted travel safety tips from international organizations. We apply advice and recommendations from the Ethiopian government health offices.
On your trips with us to Ethiopia, our knowledgeable tour guides make sure all the rules and regulations are followed. If you are more cautious, please tell us how to help you travel safely.
3 – SUSTAINABLE TOURISM - As you travel with Merit Ethiopian Experience Tours, we ensure you preserve the environment. We care for the destinations we take you to. We do our best to keep the environment in its originality (at least not ruining nature).
Our guides have a responsibility to make sure no waste (especially plastics) is left at the visited sites. During the rainy seasons in Ethiopia, we plant trees (two trees per visitor) at selected places our day tours from Addis Ababa run.
To take part in sustainable tourism in Ethiopia, we encourage our customers to use services by locals.
To enhance income-earning opportunities for residents, we encourage our visitors to: -
- buy domestically produced souvenirs,
- eat at local restaurants,
- employ local tour guides, and
- visit local villages (schools) when support is forwarded.
Travel with us to gain first-hand insightful information on authentic Ethiopian culture. With Merit Ethiopian Experience Tours, you help protect nature and contribute to the local economy at the same time.
4 – EASY PAYMENT OPTIONS – We work with the biggest OTAs (Online Travel Agents) to make it easier for you to book our tours online. Visit TripAdvisor, Tours by Locals, Viator, or TourHQ to find and book our Addis tours and short excursions around Addis Ababa.
To accept payments for tour bookings, we use secure and reliable third-party online payment systems. We also provide you with easy, affordable, and trusted online payment methods.
If you want to make payments using your credit cards, that is possible with us. Details are available upon request.
You can also schedule your trips and book directly with us. And pay in cash at the end of the tour in Addis Ababa. With Merit Ethiopian Experience Tours, you can book your trip with short notice. With a minimum of 6 hours' notice before the trip start time, you can see the best sights and things to do in Addis Ababa.
Our Mission
The mission of Merit Ethiopian Experience Tours [MEET] is to MEET and EXCEED our travelers' expectations. We do it by providing high-quality specialized tours in Ethiopia. We aim to be the Travelers' Choice Best Tour Operator in Ethiopia.
We accomplish our mission WITH YOU, honored travelers. YOU HELP US create your personalized Ethiopian holiday itinerary. Our knowledgeable and well-trained staff will HELP YOU enjoy the tailor-made private trip to Ethiopia.
It is our passion and daily routine to be our best at what we do. We do all to have you leave Ethiopia with lasting impressions and memories of your vacation in Ethiopia with us.
You deserve our Ethiopian tours of great MERIT! And we look forward to the AWARD – the prize of your authentic experiences in Ethiopia with us shared.
Merit Ethiopian Experience Tours (MEET) uses clean, modern, and fully insured comfortable vehicles.
The accommodations we use add great value to our excellence. We choose hotels for our tours in Ethiopia with careful assessment. We aim to make the overall travelers' tours and experiences Merited.
We put all our efforts into making your travels to visit interesting tourist attractions in Ethiopia the most enjoyable.
Are you a business traveler in Addis Ababa/Ethiopia? Use our expertise to create a personalized trip around you. Or customize itineraries to visit intriguing places in Ethiopia near your workstations.
To make the most of your time visiting Ethiopia, it is natural that you seek trusted tour suppliers offering reasonable prices. We are Ethiopian tourism professionals taking it a step ahead. Allow us to personalize your tour of Ethiopia to EthioPerience Level.
We define EthioPerience as customized, immersive, personalized, and enriching tour experiences in Ethiopia. Our biggest assets to do it are all the professional, friendly, and informed tour guides/operators. EthioPerience is what awaits you at Merit Ethiopian Experience Tours [MEET]. MEET the best now, travel to Ethiopia with MERIT.
About Logo of Merit Ethiopian Experience Tours
Merit Ethiopian Experience Tours (MEET) logo is a traditional Ethiopian coffee pot. We use the Ethiopian national colors of Green, Yellow, and Red to decorate MEET's business logo.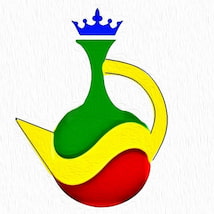 We choose the Ethiopian Coffee Pot as our logo, in relation to COFFEE, to show our:
- Authentic Ethiopian experiential tours – Coffee is originally from the Kaffa area in Western Ethiopia.
- Unique Ethiopian hospitality – Coffee is among the first things Ethiopians serve to welcome respected guests at home.
- Highest priority for customers' satisfaction – Coffee takes priority for Ethiopia's economy.
To achieve our values, we rely on the knowledge, experience, and passion of our guides and tour operators. Making ourselves the best local tour operator in Ethiopia is the common goal of all our staff.
Our team is set and ready to provide you with a satisfactory, ethical, and professional tour experience in Ethiopia. Our local tour guide partners are knowledgeable, experienced, and sympathetic to visitors' interests.
We know all our competitors promise to give you the best tour in Ethiopia. We are different in actually providing the best-personalized tour experience you look for.
Plan your holiday in Ethiopia with us and make your dream trip to Ethiopia a reality. If you are among the hundreds of visitors we hosted in Addis Ababa, please leave a review for Merit Ethiopian Experience Tours on Facebook.
Merit Ethiopian Experience Tours (MEET) organizes custom-made tours to all parts of Ethiopia. We fit fascinating things to do and the best places to visit in Ethiopia with your inquiry.
Things to do and activities you can expect to visit and experience in Ethiopia with us include:
Discover the national parks of Ethiopia like the Simien Mountains National Park (UNESCO World Heritage Site). See endemic mammals of Ethiopia – Gelada Baboon, Simien Fox, and Mountain Nyala.
Explore the Ethiopian wildlife at the Bale Mountains National Park. Enjoy game driving in Awash National Park to see Beisa Oryx and more.
Experience the unique and rich culture of Ethiopians. Visit the old and stone-walled city of Harar (UNESCO World Heritage Site) in eastern Ethiopia. Meet with the exotic cultural groups of the Omo Valley of Southern Ethiopia.
Learn the rich and ancient history of Ethiopia. Take a guided tour of the religious and historical sites of Northern Ethiopia. Know more about the rock churches of Lalibela and the castles of Gondar.
Merit Ethiopian Experience Tours (MEET) provides the best tours and experiences to the above places of visit in Ethiopia. We do our best to be the best tour and travel companies in Ethiopia. Plan your travels with the best Ethiopian tour operator. #Merit #Tours of #Ethiopia with us and experience with excellence.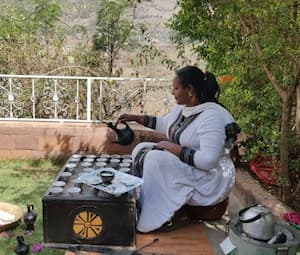 Addis Ababa City Tours is what set us apart and atop Ethiopian tour operators (companies). Tailor tours in Addis Ababa to include top things to do in Addis Ababa and your specific preferences.
Addis Tours is mainly for transit (layover) passengers at Addis Ababa Bole International Airport. Book our half-day private Addis Ababa tour to visit and enjoy the following activities.
Top places of visits you'll see with our city tour in Addis Ababa:
- National Museum of Ethiopia (home of Lucy - the fossils of the oldest hominid),
- Holy Trinity Cathedral (where you see the graves of Emperor Haile Selassie I), and
- Merkato Market (or Addis Mercato) - the biggest outdoor market in Africa.
We also help you enjoy local activities you shouldn't miss while you're in Addis Ababa. Learn and try cooking Enjera (Ethiopian Bread). Taste Tej (Ethiopian honey wine), and attend the cultural Ethiopian Coffee Ceremony. Your visit to Addis Ababa city is open for customization.
MERIT ETHIOPIAN EXPERIENCE TOURS [MEET]
Book EthioPerience!
---

Contact us soon at
Call us on +251-91-136-0488 OR +251-96-307-8067
Drop us a message or chat with us on WhatsApp
Twitter - Follow us on Twitter
Facebook – Get in touch with us on Facebook
LinkedIn – Connect with us on LinkedIn
Instagram – See where we can take you in Ethiopia
Pinterest – Discover what you can do in Ethiopia with MERIT