SURROUNDINGS
Surroundings –Top Attractions around Addis Ababa
The best tourist attractions near Addis Ababa, Ethiopia – Top attractions around Addis Ababa to visit in one day trip
Wondering what to do, and where to go near Addis Ababa?

Planning the best day trips to visit interesting places around Addis Ababa?

Looking for private excursions near Addis Ababa to fit with your personal interests?
You arrived at the right page to find the best attractions in the surroundings of Addis Ababa! Keep reading to see our helpful advice and
tour offers to neighboring Addis Ababa.
to visit attractions in Addis Ababa and its surroundings. We get back to you with quick help in planning a tour to visit must-see attractions in or out of Addis Ababa.
This page covers the top places to visit and fascinating things-to-do around Addis Ababa city. It is possible to visit the attractions in the surroundings of Addis Ababa in a one-day tour.
Old religious sites, historical attractions, and cultural activities are on the list. Find the best natural reserves, scenic stops, and wildlife resources around Addis Ababa. Include our recommendations in your day trip from Addis.
Attractions in the surroundings of Addis Ababa also include advice on how to visit these sites. We mention the respective private 1-day trips.
Please, read details below and contact MERIT ETHIOPIAN EXPERIENCE TOURS. We organize guided tours to the attractions in the environs of Addis Ababa.
Ethiopia is a big country with diverse places to visit, things to do, and local activities to try. The best attractions to discover and unique wildlife to explore are in different parts of the country. That is why all visitors don't have the time to visit all.
We are here to give you our professional and local insights. Consider our tips on the best attractions in the surroundings of Addis Ababa. You can take one of the five roads connecting Addis Ababa with the different parts of Ethiopia.
ATTRACTIONS TO VISIT IN ONE DAY NEAR ADDIS ABABA
NORTH OF ADDIS ABABA VIA SULULTA TOWN
Places of visits and things to do
1. Debre Libanos Monastery (13th Century AD)
2. Portuguese Bridge (stone bridge built in the 16th Century AD)
3. Jemma River Gorge
4. Visiting villages of Oromo people
5. Blue Nile River Gorge
6. See Gelada Baboons and spot unique birds
Debre Libanos Monastery (ደብረ ሊባኖስ ገዳም) is Ethiopian Orthodox Tewahedo Church's largest monastery in Ethiopia. The Ethiopian Saint Tekle Haymanot founded Debre Libanos Monastery in the 13th Century AD.
The Monastery of Debre Libanos is 100 km north of Addis Ababa. Trippers taking a day tour from Addis Ababa to Debre Libanos Monastery can visit Portuguese Bridge (16th Century AD). Visits to Jemma River Gorge and villages of the Oromo people are part of the day trip. See Gelada Baboons (Ethiopian endemic) around Debre Libanos Monastery.
Other interesting stops along this route are Yaya Village and Haile Museum. Yaya Village is a resort owned by the famous long-distance runner Athlete Haile Gebre Sellassie. Yaya Village is about 10 km north of Addis Ababa.
The famous sports resort of Yaya Village is a well-established and high altitude training center with its own running track. Many renowned long-distance runners prefer it for training. If you are at Yaya Village, visit also Haile Museum.
One hundred km farther north, after Debre Libanos, you can enjoy the magnificent views of the Blue Nile River Gorge. The Blue Nile River originates from Lake Tana and flows west to Sudan. Blue Nile (Abay in Amharic) shares over 75% of the waters of the Nile.
SOUTHWEST OF ADDIS ABABA VIA ALEM GENA TOWN
Southwest of Addis Ababa to Butajira is via Alem Gena town. It has intriguing cultural, historical, scenic and religious attractions.
Places of interest southwest of Addis Ababa include: -
— Best outlooks to enjoy the dramatic views of the Rift Valley
— Melka Kunture Prehistoric archaeological site
— Adadi Mariam Rock Cut Church
— UNESCO World Heritage Site of Tiya Steles
— The cultural Thursday and Sunday market of Adadi town
— Village visits of the Oromo people along the road
— Gurage people's cultural experience
Stop for the great scenery of the Great East African Rift Valley. The best viewpoints to see and take pictures of it are at 23 km and 45 km from Addis Ababa.
Crossing the Awash River, one of the biggest rivers in Ethiopia, by walking is interesting. Awash River is an inbound river which doesn't reach the sea.
The first attraction to see on this route is the prehistoric site of Melka Kunture. This archaeological site is 52 km south of Addis Ababa. Melka Kunture prehistoric site has four small museums. See ancient archaeological finds including stone hand tools, fossils of animals and human beings. Visit the actual excavation site, which was a butchery site some 800,000 years ago.
The next attraction in the surroundings of Addis Ababa to visit is Adadi Mariam Rock Church. The unique rock church of Adadi Mariam is excavated out of the surrounding rock. King Lalibela carved the church of Adadi Mariam from a single piece of rock in the 13th Century AD.
The Ethiopian Orthodox Tewahido Church of Adadi Mariam is still providing religious service. Check out our post on the rock church of Adadi Mariam for detailed information. The best date of the month to visit Adadi Mariam rock church is the 21st of Ethiopian Calendar. That is the date of Saint Mary, whom the church is dedicated to.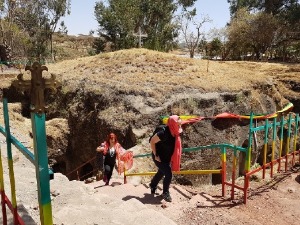 The best days of the week to visit Adadi Mariam are Thursday and Sunday. You can visit the cultural colorful market of the Oromo people held twice a week on Thursdays and Sundays. Merit Ethiopian Experience Tours organizes private tours to visit the Thursday and Sunday Market at Adadi.
Adadi Mariam is located 12 km off the main road, driving on dirt (gravel) road. An interesting break on this road is to stop at a village to experience their culture and learn their ways of life.
30 km farther south from the main road, you find the other exciting tourist attractions around Addis Ababa. It is the cemetery site at Tiya which dates back to the 14th Century AD.
At Tiya, there are huge gravestones with carvings, which were erected in memory of local warriors. The Stelae of Tiya is one of Ethiopia's attractions listed by UNESCO as a World Heritage Site. It is the nearest of such sites to Addis Ababa.
Around Tiya, visit a village of the Gurage Tribe. Learn how they prepare bread (known as Kotcho) or oatmeal (Bulla). They use the roots of Enset (or False Banana Tree).
If you are driving to Addis Ababa the same way back, Tiya is the farthest attraction to visit.
Merit Ethiopian Experience Tours offers private excursions from Addis Ababa to Adadi Maryam, Tiya and Melka Kunture.
Other interesting places of visits along the South West Route
Another option for visitors is to make a loop (round trip) to Addis Ababa.
Drive back via Ziway, Modjo and Debre Zeit (Bishoftu) town. This route from Addis Ababa connects with EAST OF ADDIS ABABA ATTRACTIONS.
Best sites to stop at on the round trip to Addis Ababa are: -
• Outlooks for even more picturesque and breathtaking scenery of the Rift Valley
• The Rift Valley Lake of Ziway, and
• The Crater Lake of Bishoftu (Debre Zeit)
Trippers can extend their vacations farther south to visit the Rift Valley Lakes of Langano and Awassa.
Abijatta-Shalla Lakes National Park is worth visiting on the way to Awassa. Arba Minch, Dorze villages and Lake Chamo are fascinating places to explore in Southern Ethiopia.
Take our Day Trip from Addis Ababa to Rift Valley to visit the above attractions in the surroundings of Addis.
EAST OF ADDIS ABABA VIA TULU DIMTU
The renowned crater lakes of Bishoftu (Debre Zeit) are the closest tourist attractions to visit around Addis Ababa, taking the new Addis Ababa–Adama Expressway.
Debre Zeit (Bishoftu) crater lakes are 45 km (27.96 miles) east of Addis Ababa. These lakes are notable for their beautiful scenery, bird life, and water sports. Tourists with kids find Kuriftu Water Park at Debre Zeit interesting.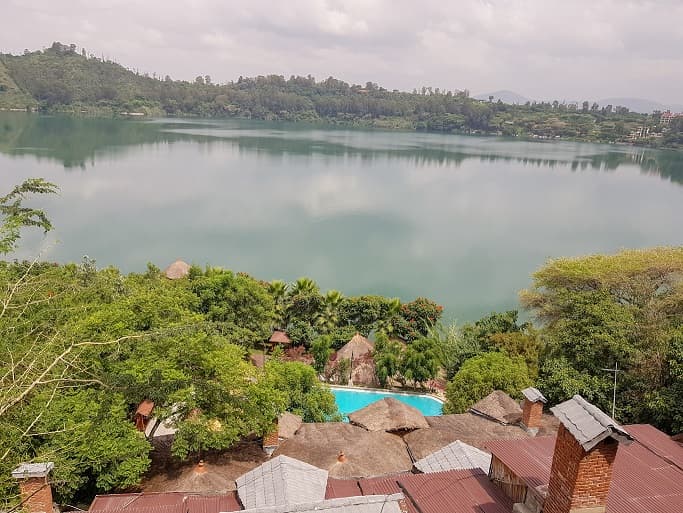 Another appealing place to visit at Debre Zeit (Bishoftu) is Lemma Guya Art Gallery. It displays a unique piece of art – paintings on goatskin, using the hairs as part of the hand painting.
It is possible to make a round trip from Addis Ababa driving east via Bishoftu. And return to Addis Ababa via Ziway, Butajira and Alem Gena.
Further east, continuing on Addis-Adama Expressway, visit captivating attractions like Awash National Park and the UNESCO World Heritage Site of Harar Town –225 km and 525 km east of Addis Ababa, respectively.
Check out also Merit Ethiopian Experience Tours 2 days tours from Addis Ababa for best private trips of two days around Addis Ababa.
If you are a first-time visitor to Addis Ababa, you can start exploring the city with our Half Day City Tour in Addis Ababa. And, feel free to contact us for private trips adjusted to your wants.
MERIT ETHIOPIAN EXPERIENCE TOURS [MEET]
Book EthioPerience!
---

Contact us soon at meetmule@yahoo.co.uk or mulukengirma31@gmail.com, or info@meetmule.com
Call us on +251-911-360488 OR +251-963-078067
Drop us a message or chat with us on WhatsApp
Twitter - Follow us on Twitter