DAY TOURS FROM ADDIS ABABA
List of private one-day trips around Addis Ababa
Merit Ethiopian Experience Tours offers fascinating excursions from the city of Addis Ababa. This page is about what visitors can do and visit in one day around Addis Ababa.
It lists our best day trips nearby Addis Ababa City. Whether it is your first time to Addis Ababa or you visited the city before, you can find something interesting in our Addis Ababa day tours.
Looking for a day tour from Addis Ababa with short notice? to book a private 1-day trip near Addis Ababa.
Are you a first-time visitor to Addis Ababa? Welcome! We cordially invite you to experience our well-liked half-day or full-day sightseeing tour of the Ethiopian city.
You already visited some attractions in Addis Ababa? Let us help you create your personalized Addis Ababa city tour itinerary.
Are you a new expat in Addis Ababa? Wondering on what to do in one-day from Addis? Keep reading. You'll find our day trips from Addis Ababa worth booking. Please, check out our day tours from Addis Ababa to Debre Libanos Monastery, and to Adadi Mariam rock hewn church.
We work hard to make two or three days' Ethiopian tours from Addis Ababa readily available for visitors. If you can't find what you are looking for, contact us. Create your dream travel in Ethiopia with local tourism professionals.
We consider every detail from you information (tour inquiry). Then, we send you our best suggested private tour plan. You'll visit cultural, natural and historical tourist attraction sites of Ethiopia your way.
With our private one-day tours from Addis Ababa, visit religious and historical sites. Adadi Mariam Rock Church and Debre Libanos Monastery are the best destinations for 1-day Addis excursions.
Take a day to go out of Addis Ababa and experience culture with Ethiopian Coffee Ceremony and local family visits. Admire nature and wildlife with boat picnic on Lake Ziway, and views of the Rift Valley.
We offer day tours with expert tour guides to the four directions from Addis Ababa. See other best attractions in or near Addis Ababa to visit.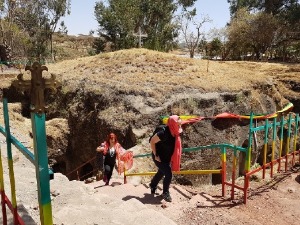 Why take day tour from Addis Ababa with us?
• We offer day trips around Addis Ababa tailored to all tastes
• Our day tours are ideal for First-Timer Visitors to get the real feel of Ethiopian culture and history
• Our day trips are flexible enough to cater visitors with extra (personal) expectations
• Professional passionate knowledgeable local tour guides lead the day excursions near Addis Ababa
Following is a list of day tours from Addis Ababa to see historical, cultural and natural sites of Ethiopia near Addis Ababa. Get immersive cultural experience with locals in learning cooking Ethiopian meals. Take part in sharing Ethiopian Coffee Ceremony. With one-day expeditions from Addis Ababa visit historical and religious sites. Enjoy views of breathtaking scenery, and discover Ethiopian bird life and wildlife.
Places of interests to visit with day tours from Addis Ababa are: -
• Adadi Mariam Rock Cut Church is 65 km south of Addis Ababa. It is carved out of one piece of rock in 13th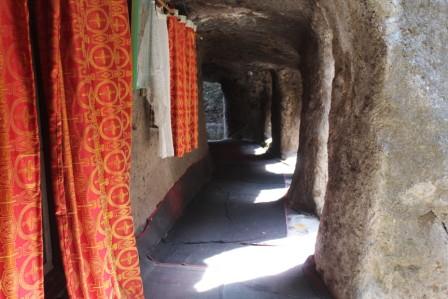 Century AD by King Lalibela. Adadi Mariam is a still-functional Ethiopian Orthodox Christianity Church.
• Steles of Tiya – The cemetery site at Tiya is found 85 km south of Addis Ababa. The Steles of Tiya is Ethiopia's UNESCO World Heritage Site nearest to Addis Ababa. The grave site of Tiya has about 40 stone grave markers erected between the 12th and 14th Century AD
• Debre Libanos Monastery – is 100 km north of Addis Ababa. Debre Libanos Monastery is the biggest Ethiopian Orthodox Christians Monastery in Ethiopia. It is established in the 13th Century AD by an Ethiopian Saint – Abune Tekle Haimanot
• Portuguese Bridge is a small stone walking bridge near Debre Libanos Monastery. Cross the bridge to overlook the beautiful Jemma River Gorge. Portuguese Bridge is 16th Century AD construction.
• View of Jemma River Gorge – The Jemma River Gorge has stunning scenic beauty. Jemma River is one of the tributaries of the Blue Nile River
• Crater lakes of Bishoftu (Debre Ziet) is 45 km east of Addis Ababa. With a day tour from Addis Ababa, visit the
five beautiful crater lakes.
• Rift Valley Lake of Ziway – The Northernmost Rift Valley Lake of Ziway is found 160 km south of Addis Ababa. With a boat ride of an hour, it is possible to see many water birds and few hippos.
Nature and wildlife aspect of the day tours from Addis Ababa include seeing Ethiopian endemic Gelada Baboon. Have a boat ride on the Rift Valley Lake of Ziway to see hippos and different birds. And to enjoy the great view of the Ethiopian part of the Great Rift Valley.
List of Day trips offered by Merit Ethiopian Experience Tours: -
Our trips from Addis Ababa are all private and customizable tours. It is only for your group with professional English-speaking tour guide.
These excursions are by drive with comfortable Toyota Corolla (1 and 2 people) and Toyota Minivan (2 – 6 people) which are equipped with air conditioning and shoulder seat belts.

The above excursions from Addis Ababa are free to modify to fit visitor's time limit, personal schedule, and expectations, and be combined with other day tours.
Please, contact us for details about the day tours from Addis Ababa.
If you booked a tour with Merit Ethiopian Experience Tours before, we would appreciate reading your reviews on TripAdvisor. Please, click the following link to rate our tour services and share your feedbacks. Thank you!
Use the contact addresses below to reach us to plan your 1-day tours from Addis Ababa.
MERIT ETHIOPIAN EXPERIENCE TOURS [MEET]
Book EthioPerience!
---

Contact us soon at
Call us on +251-91-136-0488 OR +251-96-307-8067
Drop us a message or chat with us on WhatsApp
Twitter - Follow us on Twitter
Facebook – Get in touch with us on Facebook
LinkedIn – Connect with us on LinkedIn
Instagram – See where we can take you in Ethiopia
Pinterest – Discover what you can do in Ethiopia with MERIT